Cuerpos femeninos en Afganistán: territorios de inseguridades y resistencias
Female bodies in Afghanistan: territories of insecurities and resistances.
Corpos femininos no Afeganistão: territórios de insegurança e resistência.
Palabras clave:
Afghanistan, body, women, insecurities, political resistance
(en_US)
Palabras clave:
Afganistán, cuerpo, mujeres, inseguridades, resistencia política
(es_ES)
Palabras clave:
Afeganistão, corpo, mulheres, insegurança, resistência política
(pt_BR)
Resumen (es_ES)
Durante la invasión de Afganistán por parte de la coalición liderada por la OTAN y EE. UU., se utilizaron los cuerpos femeninos, explícitamente, para legitimar la guerra con base en la retórica de la liberación de las mujeres de la dominación de los talibanes. Actualmente, el escenario "postguerra" demuestra que se han exacerbado las inseguridades para las mujeres, ya que se han institucionalizado prácticas misóginas que se relacionan directamente con la situación política actual. Basado en investigaciones anteriores, este artículo pretende explorar, desde los estudios de género, los territorios de inseguridades y los escenarios de resistencias corporales en el periodo "postguerra" en Afganistán. El texto aborda un breve recuento histórico sobre el contexto político; posteriormente indaga sobre las inseguridades vividas por el cuerpo femenino y, finalmente, busca comprender los aspectos afectivos y corporales de la resistencia femenina en este país.
Resumen (en_US)
In the wake of the invasion of Afghanistan by the coalition led by the US-led NATO coalition, female bodies have been explicitly used to legitimize the war on the basis of rhetoric concerning women's liberation from Taliban domination. Currently, the postwar setting shows increasing levels of insecurities for women as misogyny practices have been institutionalized, directly related to the current political situation. Based on previous research, this article aims at exploring, from Gender Studies, the territories of insecurities and the scenarios of bodily resistance of women in the "post-war" scenario in Afghanistan. The text deals with a brief history of the political context, then it explores the insecurities experienced by the female body and, finally, it seeks to understand the emotional and physical aspects of female resistances in this country.
Resumen (pt_BR)
Durante a invasão do Afeganistão por parte da coalizão liderada pela OTAN e os EUA, corpos femininos foram explicitamente utilizados para legitimar a guerra, com base na retórica da libertação das mulheres do domínio do Taliban. Atualmente, o cenário "pós-guerra" demonstra que a insegurança para as mulheres se exacerbou, já que se institucionalizaram práticas misóginas que se relacionam diretamente com a situação política atual. Com base em investigação anterior, o objetivo desse artigo é explorar, a partir de uma perspectiva de gênero, os territórios de insegurança e os cenários de resistências corporais no contexto "pós-guerra" no Afeganistão. O texto aborda uma breve revisão histórica do contexto político; em seguida indaga sobre as inseguranças vividas pelo corpo feminino e, ao final, busca compreender os aspectos afetivos e corporais da resistência feminina nesse país.
Descargas
La descarga de datos todavía no está disponible.
Referencias
Abirafeh, L. (2009). Gender and internacional aid in Afghanistan: The politics and effects of intervention. Jefferson, United States: McFarland & Company.
Ahmad, L. (2013). Sexual violence in war and post-war Afghanistan. (Tesis de maestría). Universitat Jaume I, Castellón, España.
Ahmed-Ghosh, H. (2006). Afghan women: stranded at the intersection of local and global patriarchies. In A.P. Chatterji y L.N. Choudhury (Eds.). Contesting nation. Gendered violence in South Asia: Notes on the postcolonial present. New Delhi, India: Zubaan Press.
Banner, F. (2009). 'Beauty will save the world': Beauty discourse and the imposition of gender hierarchies in the post-war Chechen Republic. Studies in Ethnicity and Nationalism, 9(1), 25-48. Bobin, F. (20 de septiembre de 2014). Ashraf Ghani, nouveau président afghan: «Je serai le servant en chef du peuple». Le Monde. Recuperado de http://www.lemonde.fr/asie-pacifique/article/2014/09/20/ashrafghani-la-commission-electorale-devrait-me-proclamer-president-d-afghanistan_4491437_3216.html
Butler, J. (1988). Performative acts and gender constitution: An essay in phenomenology and feminist theory. Theater Journal, 40(4), 519-531.
Butler, J. (2003). Violence, mourning, politics. Studies in Gender and Sexuality, 4(1), 9-37. Butler, J. (2009). Frames of war: when is life grievable? London & New York: Verso.
Butler, J. (2011). Bodies in alliance and the politics of the street. European Institute for Progressive Cultural Policies. Recuperado de http://eipcp.net/transversal/1011/butler/en. ECP. (julio-septiembre, 2014). Barómetro 36 – Sobre conflictos y construcción de paz. Escola de Cultura de Pau. Barcelona. Fernández-Savater, A. (20 de febrero de 2015).
Jon Beasley-Murray: "La clave del cambio social no es la ideología, sino los cuerpos, los afectos y los hábitos". El Diario. Recuperado de http://www.eldiario.es/ interferencias/Podemos-hegemonia-afectos_6_358774144.html
Fierke, K.M. (2013). Political self-sacrifice: Agency, body and emotion in international relations. New York, United States: Cambridge University Press. Fluri, J.L. (2011). Bodies, bombs and barricades: Geographies of conflict and civilian (in)security. Transactions of the Institute of British Geographers, 36, 280-296.
Galtung, J. (1996). Peace by peaceful means: Peace and conflict, development and civilization. Oslo, Noruega: SAGE.
Gentry, C. E. (2011). The neo-orientalist narratives of women's involvement in al-Qaeda. In Sjoberg, L., y Gentry, C.E. (Eds.). Women, gender, and terrorism (pp. 176-193). Athens and London: The University of Georgia Press.
HRW. (2015). "Today we shall all die": Afghanistan's strongmen and the legacy of impunity. Human Rights Watch. Estados Unidos. Jackson, R., Smyth, M.B. y Gunning, J. (2009). Critical terrorism studies: A new research agenda. Londres, Reino Unido: Routledge.
Jones, A. (9 de octubre de 2013). The Forgotten war: 12 years in Afghanistan down the memory hole. Aljazeera. Recuperado de http://www.aljazeera.com/indepth/opinion/2013/10/forgotten-war-12-yearsafghanistan-down-memory-hole-2013102125553350535.html LWJ. (5 de marzo de 2015). Mapping the emergence of the islamic state in Afghanistan. The Long War Journal. Recuperado de http://www.longwarjournal.org/archives/2015/03/mapping-the-emergenceof-the-islamic-state-in-afghanistan.php
Madrid, M. (1 de octubre de 2012). Claves para comprender el conflicto afgano. Panamá América. Recuperado de http://www.panamaamerica.com.pa/content/claves-para-comprender-el-conflictoafgano
Malikyar, H. (23 de marzo de 2015). Farkhunda's Murder Reveals a Nation that Has Changed. Aljazeera. Recuperado de http://www.aljazeera.com/indepth/opinion/2015/03/farkhunda-murder-revealsnation-changed-150323081503908.html
Mann, C. (2010). Femmes afghanes en guerre. Brignais, Francia: Éditions du Croquant. Recuperado de http://www.reseau-terra.eu/article1073.html McCardell, E.E. (2001). Catching the ball: Constructing the reciprocity of embodiment. (Tesis de maestría). Murdoch University. Murdoch, Australia.
McSorley, K. (7 de junio de 2010). The reality of war? Politics written on the body. Newstatesman. Recuperado de http://www.newstatesman.com/blogs/cultural-capital/2010/06/war-politics-bodiesbody McSorely, K. (2013). War and the body: Militarisation, practice and experience. New York, United States: Routledge.
McSorley, K. (2014). Towards an embodied sociology of war. The Sociological Review, 62(S2), 107-128.
Merleau-Ponty, M. (2002). Phenomenology of perception. Nueva York, Estados Unidos: Routledge. NATO – North Atlantic Treaty Organization. (2016). Basic points. Recuperado de http://www.nato.int/ nato-welcome/index.html
Repo, J. (2006). Gendering the militarisation of the war on terrorism: Discourses and representations of masculinities and femininities. (Tesis de maestría). University of Helsinki, Helsinki, Finlandia.
Rostami-Povey, E. (2007). Afghan women: Identity and invasion. Londres, Reino Unido: Zed Books. Shinko, R. E. (2012). Theorizing embodied resistance practices in international relations. International Relations Research in Progress Seminar Series. Recuperado de https://www.sussex.ac.uk/webteam/ gateway/file.php?name=theorizing-embodied-resistance-practices-in-international-relationsedited. pdf&site=12 WCLRF. (2008). Early marriage in Afghanistan. Women and children legal research foundation. Kabul, Afghanistan. Recuperado de http://www.wclrf.org.af/wp-content/uploads/2013/09/Early-Marrigewith-cover.pdf
Cómo citar
Anctil Avoine, P. (2016). Cuerpos femeninos en Afganistán: territorios de inseguridades y resistencias. Corpo Grafías Estudios críticos De Y Desde Los Cuerpos, 2(2), 14-29. https://doi.org/10.14483/cp.v2i2.11142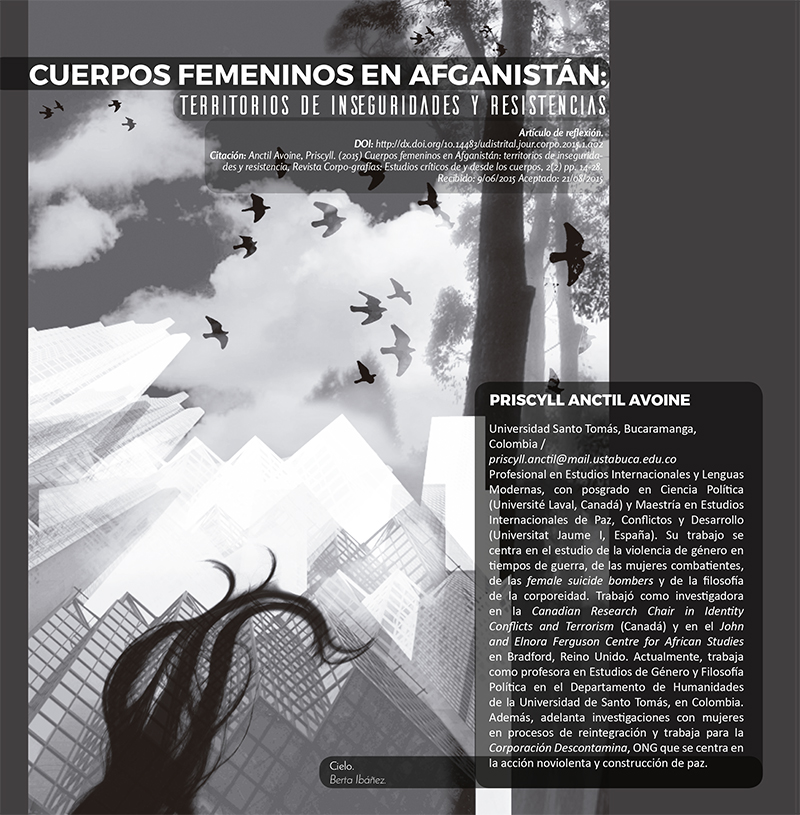 Publicado: 2016-11-11