Tensión en la superficie: Improvisando el Performance de la Materialidad Tecnológica en la Obra Glitchbody/Nanostalgia [1454-2015]
Jamming Performance with Media Materiality in Glitchbody/ Nanostalgia [1454-2015]
Tensão na superfície: Improvisando o Performance da Materialidade Tecnológica no Trabalho Glitchbody/Nanostalgia [1454-2015]
Resumen (es_ES)
En la primavera de 2015, UC (Universidad de California) Davis invitó al artista del performance Guillermo Gomez-Peña a colaborar en una pieza llamada Glitchbody / Nanostalgia [1454-2015]. Glitch intentó involucrar tecnologías de vigilancia social como Google Glass con las carnes, movimientos e imaginarios de cuerpos humanos. La performance final fue precedida por una semana de juegos y talleres intensivos, un ensayo realizado en colaboración con muchos de la comunidad de UC Davis. Este documento comienza repitiendo el marco que Glitchbody promulgó: uno que separaba el juego afectivo e improvisatorio del espacio de ensayo de un más representacional y en ocasiones fetichista, despliegue de tecnología en el performance. Al segregar los procesos para desarrollar el trabajo en el ensayo de las tecnologías digitales y conexiones en red que formaron tanto la ocasión para, como la atmosfera del performance, éste enmarcó la tecnología en un modo "prostético", descuidando el potencial incorporado y las consecuencias materiales de los medios digitales. En este escrito, yo argumento que las nuevas tecnologías mediáticas, además de ser parte del medio (milieu) socio-situado para el performance, deben ser vistas como cuerpos con los cuales contender e improvisar.
Performance jams' son las metodologías pedagógicas desarrolladas por Gómez-Peña (2011) en conjunción con el colectivo transdisciplinario de arte "La Pocha Nostra". El jam es utilizado para germinar nuevas ideas, imágenes y personas para la noche del performance final. En estos espacios de improvisación, cuerpos entrenados de formas distintas se tocan y se mueven entre sí de maneras innovadoras. Al interceptar pensadores como Lipsitz (2013) y Goldman (2007) con trabajos de estudios de los medios sobre prótesis (Sobchack, 2004) glitches (Krapp, 2011), y estudios de la ciencia y la tecnología sobre materialidad (Rubio, 2014), yo argumento que la necesidad política de la improvisación tanto en las artes como en el activismo debe incluir una nebulosa más amplia de contacto y del tocar que incluye cuerpos no humanos y escalas de tecnologías digitales. Involucrar la tensión superficial que existe a los bordes de la piel y la pantalla requiere que atendamos a cómo las prácticas de ensayo excluyen posibilidades a través del enmarcar la tecnología fuera de las técnicas.
Resumen (en_US)
Over the spring of 2015, UC (University of California) Davis invited the performance artist Guillermo Gomez-Peña to collaborate on a piece called Glitchbody/Nanostalgia [1454–2015]. Glitch intended to engage social-surveillance technologies such as Google Glass with the meats, movements, and imaginaries of human bodies. The final performance was preceded by a week of intensive performance games and workshops, a rehearsal done in collaboration with many from the UC Davis community. This paper begins by repeating the frame that Glitchbody enacted: one that separated the affective and improvisatory play of the rehearsal space from the more representational, and at times fetishistic, deployment of technology in the performance. By segregating the processes for developing work in rehearsal from digital technologies and networked connections that formed both the occasion for, and atmosphere of, the performance, the performance framed technology in a "prosthetic" mode, neglecting the embodied potential and material consequences of digital media. In this paper I argue that new media technologies, in addition to being part of the socio-situated milieu for performance, must be seen as bodies with which to contend and improvise. 'Performance jams' are the pedagogical methodologies developed by Gomez-Peña (2011) in conjunction with the trans-disciplinary arts collective "La Pocha Nostra". The jam is utilized to germinate new ideas, images, and personas for the night of the final performance. In these improvisatory spaces, differently-trained bodies touch and move with one another in innovative ways. By intersecting thinkers such as Lipsitz (2013) and Goldman (2007) with work from media studies on prosthetics (Sobchack, 2004) and glitches (Krapp, 2011), and science and technology studies on materiality (Rubio, 2014), I argue that the political necessity of improvisation in both the arts and activism must include a wider nebula of touching that includes the non-human bodies and scales of digital technologies. Engaging the surface tension that exists at the borders of skin and screen requires us to attend to how rehearsal practices foreclose possibilities through framing technology outside of technics.
Resumen (pt_BR)
Na primavera de 2015, UC (Universidade da Califórnia) Davis convidou o artista performático Guillermo Gómez-Peña para colaborar em uma peça chamada Glitchbody / Nanostalgia [1454-2015]. Glitch tentou envolver tecnologias de vigilância social como o Google Glass com as carnes, movimentos e imaginações de corpos humanos. O performance final foi precedido por uma semana de jogos intensivos e workshops, um ensaio em colaboração com muitos membros da comunidade da UC Davis. Este artigo começa por repetir o quadro Glitchbody promulgada: um que separava o teste espaço emocional e improvisação uma implantação de representação e por vezes fetichista, da tecnologia no jogo p performance. Segregando processos para desenvolver o trabalho em testar tecnologias digitais e conexões de rede que se formaram tanto a ocasião como a atmosfera da performance, ele estruturou a tecnologia em um modo de "prótese", negligenciando as construídas potenciais consequências e materiais de mídia digital. Neste artigo, argumento que novas tecnologias de mídia, bem como sendo parte do meio (milieu) socio-localizados para o desempenho deve ser visto como corpos com os quais lidar e improvisar. 'Performance jams' estão ensinando metodologias desenvolvidas pela Gómez-Peña (2011) em conjunto com o coletivo de arte transdisciplinar "La Pocha Nostra". A jam é usada para germinar novas idéias, imagens e pessoas para a noite da apresentação final. Nesses espaços de improvisação, corpos treinados de diferentes formas se tocam e se movem uns com os outros de maneiras inovadoras. Ao interceptar pensadores como Lipsitz (2013) e Goldman (2007) com trabalhos de estudos de mídia sobre próteses (Sobchack, 2004) Glitches (Krapp, 2011), e estudos de ciência e tecnologia na materialidade (Rubio, 2014) defendo que a necessidade política de improvisação nas artes e ativismo deve incluir um contato mais amplo e vago toque incluindo corpos não-humanos e escalas de tecnologias digitais. Envolver a tensão superficial que existe nas bordas da pele e da tela exige que abordar como práticas de teste excluir possibilidades de enquadramento através de tecnologia fora de técnicas.
Descargas
La descarga de datos todavía no está disponible.
Cómo citar
Johnson, C. (2018). Tensión en la superficie: Improvisando el Performance de la Materialidad Tecnológica en la Obra Glitchbody/Nanostalgia [1454-2015]. Revista Corpo-grafías, Estudios críticos De Y Desde Los Cuerpos, 6(6). Recuperado a partir de https://revistas.udistrital.edu.co/index.php/CORPO/article/view/14235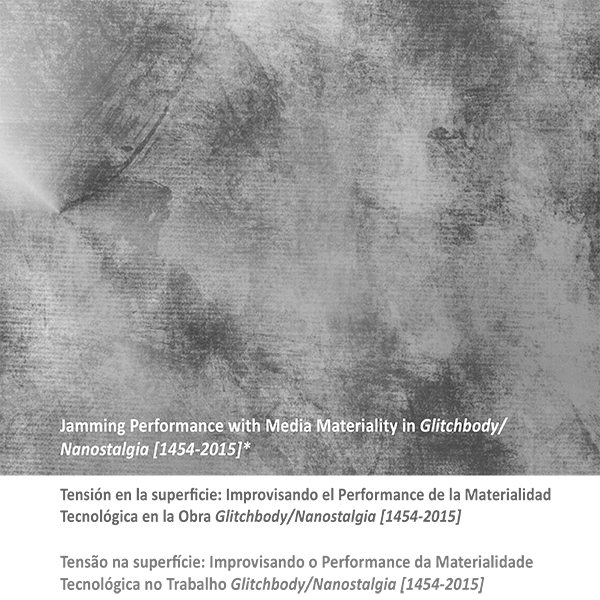 Publicado: 2018-12-07
Derechos de autor Sonia Castillo-Ballen
Esta obra está bajo licencia internacional
Creative Commons Reconocimiento-NoComercial-SinObrasDerivadas 4.0
.