Research inteligencia de negocios: estudio de caso sector tecnológico colombiano
Research Business Intelligence: Case Study Colombian Technology Sector
Angie Alexandra Gutierrez Camelo

Universidad Distrital Francisco José de Caldas

Miguel Angel Devia Llanos

Universidad Distrital Francisco José de Caldas

Giovanny Mauricio Tarazona Bermudez

Universidad Distrital Francisco José de Caldas
Palabras clave:
big data, business intelligence (bi), decision making, models
(en_US)
Palabras clave:
big data, inteligencia de negocios (bi), modelos, toma de decisiones
(es_ES)
Resumen (es_ES)
Este artículo presenta los resultados de un estudio realizado a 90 empresas colombianas en su mayoría del sector tecnológico para establecer una visión panorámica del estado del arte de la inteligencia de negocios, desde su concepto hasta los modelos de implementación, con el objetivo de  analizar cómo la cultura colombiana afecta su adaptación como herramienta fundamental en el desarrollo competitivo de las organizaciones y la toma de decisiones acertadas.
Resumen (en_US)
This article presents the results of a study of 90 Colombian companies mostly in the technology sector to establish an overview of the state of the art business intelligence, from concept to deployment models, with the aim of analyzing how Colombian culture affects its adaptation as a fundamental tool in the competitive development of organizations and making decisions.
Descargas
La descarga de datos todavía no está disponible.
Referencias
Q.-s. Xie y Gui-xian Zhou, "Developing a Framework for Business Intelligence Systems Based on RosettaNet Frame". IEEE, pp. 1-6, 2008.
A. A. Rosado Gómez y D. W. Rico Bautista, "Inteligencia de negocios: estado del arte". Scientia et Technica Año XVI, pp. 321-326, 2010.
M. M. Rojas and J. C. Mesa, "Collective Knowledge of the Web: source of information of process of Business Intelligence". IEEE, pp. 1-6, Septiembre 2011.
E. Ahumada Tello y J. M. A. Perusquia Velasco, "Inteligencia de negocios, estrategia para el desarrollo de competitividad en empresas de base tecnologica". Universidad Autonoma de Baja California, Mexico - Contaduria y Administración, pp. 127-158, 2014.
J. Ranjan, "Business Intelligence: Concepts, Components, Techniques and Benefits". Journal of Theoretical and Applied Information Technology, pp. 60-70, 2009.
K. Dragoljub , D. Radosav and B. Radul, "Realization Business Intelligence in Commerce using Microsoft Business Intelligence". IEEE, 2008.
R. Fitriana, Eriyatno y T. Djatna, "Progress in Business Intelligence System research : A literatura Review". International Journal of Basic & Applied Sciences, pp. 96-105, 2011.
B. Dinter y A. Lorenz, "Social Business Intelligence: a Literature Review and Research Agenda". Thirty Third International Conference on Information Systems, pp. 1-21, 2012.
G. Barash, L. Wu y C. Bartolini, "A Service-oriented Architecture for Business Intelligence".
IEEE International Conference on Service-Oriented Computing and Applications, 2007.
H. Cuihua y Y. Shiquan , "Research on Business Intelligence for Securities Companies' Risk Management". IEEE, 2008. [11] R. Bogza y Dorin Zaharie, "Business Intelligence as a Competitive Differentiator". IEEE, pp. 15-21, 2008.
M. Safeer y S. Zafar, "Impact of Business Intelligence Competency Center in Success/ Failure of B.I. Applications". IEEE, pp. 267-272, 2011.
A. Martin, T. Miranda Lakshmi y V. Prasanna Venkatesan, "An Analysis on Business Intelligence Models to Improve Business Performance". IEEE- International Conference On Advances In Engineering, Science And Management, pp. 503-308, 2012.
D. Serrano, "Big Data for Data Warehousing". Tata Consultancy Services Ltd (TCS), 2013.
Y. Qiongwei, L. Yaotang y N. Qiuyun, "Research on the Application Model of Business Intelligence (BI) in E-Business from the Perspective of Chinese Culture". 2nd International
Conference on Computer Science and Network Technolog, pp. 907-911, 2012.
G. Frye, "Using Business Intelligence To Build Optimal Decision Support". Benefits & Compensation Digest, 47(2), pp. 1-21., 2010.
A. Peña Ayala, "Inteligencia de Negocios: Una Propuesta para su desarrollo en las organizaciones". México: Instituto Politécnico Nacional, 2008.
A. G. d. P. Restrepo, "Inteligencia de negocios (BI) al alcance de las PyMEs". Departamento de Informática y Sistemas. Medellín: Escuela De Ingeniería Universidad Eafit, 2009.
GODI, "Global Open Data Index". 2015. [En línea]. Recuperado de: http://index.okfn.org/
J. H. Martínez García, "La inteligencia de negocios como herramienta para la toma de decisiones estratégicas en las empresas. Análisis de su aplicabilidad en el contexto ". Bogotá D.C.: Universidad Nacional de Colombia, 2010.
Abits, "Abits". Junio 2015. [En línea]. Recuperado de: http://www.abits.com/clientesabits-inteligencia-de-negocios/casos-de-exitointeligencia-de-negocios
Cómo citar
Gutierrez Camelo, A. A., Devia Llanos, M. A., & Tarazona Bermudez, G. M. (2016). Research inteligencia de negocios: estudio de caso sector tecnológico colombiano. Redes De Ingeniería, 7(2), 156-169. https://doi.org/10.14483/udistrital.jour.redes.2016.2.a05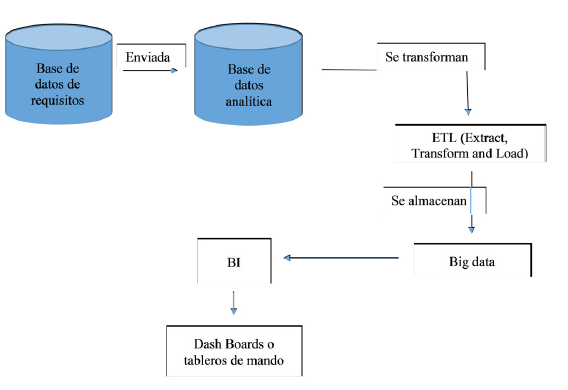 Publicado: 2016-12-22
Reconocimiento – NoComercial – CompartirIgual (by-nc-sa): No se permite el uso comercial de la obra original, las obras derivadas deben circular con las mismas condiciones de esta licencia realizando la correcta atribución al autor.
Esta obra está bajo una licencia de Creative Commons Reconocimiento-NoComercial-CompartirIgual 4.0 Internacional