Industria 4.0 y Manufactura Digital: Un Método de Diseño Aplicando Ingeniería Inversa
Industry 4.0 and Digital Manufacturing: a design method applying Reverse Engineering
Jorge Carro Suárez

Universidad Politécnica de Tlaxcala

http://orcid.org/0000-0002-8464-2566

Fabiola Flores Salazar

Universidad Politécnica de Tlaxcala

Irma Flores Nava

Universidad Politécnica de Tlaxcala

Ramón Hernández Hernández

Universidad Politécnica de Tlaxcala
Abstract (es_ES)
Contexto: Para la presente investigación se revisó la literatura y actualidad sobre Ingeniería 4.0 e Ingeniería Inversa con el objetivo de  proponer un método de diseño para la digitalización y fabricación de piezas en 3D a través del uso de Manufactura Digital.
Método: Se realiza una revisión teórica y sistemática sobre Industria 4.0 e Ingeniería Inversa para determinar la relación entre ambos conceptos. Posteriormente, se analizan diversos métodos de diseño publicados para seleccionar uno como referencia. Finalmente, de los resultados obtenidos del análisis teórico, se presenta una propuesta de método de diseño para realizar la digitalización y manufactura de una pieza 3D. Como comprobación, el método se aplica en la captura, modelado e impresión 3D de una pieza.
Resultados: Se encuentra que el punto de relación entre Industria 4.0 e Ingeniería Inversa es la Manufactura Aditiva y que el método de diseño ideal para el desarrollo de la investigación es el de Archer a través de las perspectivas de Liu y Boyle, ya que el modelo propuesto se enfocará en el criterio del diseñador a través de un proceso de digitalización. Finalmente, su aplicación demuestra la relevancia de considerar a la Manufactura Digital como un componente determinante para la Industria 4.0 en la actualidad.
Conclusiones: Las condiciones, particularidades y costos de los nuevos procesos aplicados por la Industria 4.0 hacen necesario que se planteen nuevos modelos que generen beneficios a las empresas para ser más competitivas, rentables y sustentables. En este contexto, la Manufactura Digital se presenta como una alterativa de diseño, que a pesar de que lleva años siendo aplicada, no ha sido reconocida como una nueva tendencia tecnológica, por lo que su inclusión en la Industria 4.0 es pertinente y necesaria.
Abstract (en_US)
Context:  This research presents a review of literature and current state of the Industry 4.0 and Reverse Engineering process with the aim of proposing a design method for the digitization and manufacturing of 3D parts through the use of Digital Manufacturing.
Method: A theoretical and systematic review about Industry 4.0 and Reverse Engineering is carried out to determine the relationship between them. Subsequently, several published design methods are analyzed to select one as a reference. Finally, according to the results obtained from the theoretical analysis a proposal of the design method to perform the digitization and manufacture of a 3D piece. The application of the proposed method is validated with the digitalization of one piece and its 3D modeling and printing.
Results: We identified that the relationship between Industry 4.0 and Reverse Engineering is the Additive Manufacturing and that the ideal design method for the development of the research is the Archer's model through the perspective of Liu & Boyle, since the proposed model will focus on designer through a process of digitalization. Finally, its application demonstrates its relevance, considering that nowadays the Digital Manufacturing must be a determinant component for Industry 4.0
Conclusions: The conditions, particularities and operating costs of the new processes applied by Industry 4.0 imply the need to consider new models to generate benefits for companies in order to become more competitive, profitable and sustainable companies on a global scale. In this context, Digital Manufacturing is presented as an alternative design, which although it has been applied for years, it has not been recognized as a new technological trend, so its inclusion on Industry 4.0 is relevant and necessary.
Downloads
Download data is not yet available.
References
C. Herrmann, C. Schmidt, D. Kurle, S. Blume and S. Thiede, "Sustainability in Manufacturing and Factories of the Future", In-ternational Journal of Precision Engineering and Manufacturing-Green Technology, Vol. 1, No. 4, 2014, pp. 283-292.
S. Sarmiento, "Innovación, un imperativo en las pymes textiles", Administración Contemporánea. Revista de Investigación, Vol. 7, No. 24, 2015, pp. 77-86.
E. Abele and G. Reinhart, Zukunft der Produktion. Hanser, Germany, 2011, pp. 07-31.
S. Vaidya, P. Ambad and S. Bhosle, "Industry 4.0 – A Glimpse", 2nd International Conference on Materials Manufacturing and Design Engineering, 2018, pp. 233-238.
T. K. Sung, "Industry 4.0: A Korea perspective", Technological Forecasting & Social Change, Vol. 132, July, 2018, pp. 40-45.
C. B. Ynzunza, J. M. Izar, J. G. Bocarando, F. Aguilar and M. Larios, "Implications and Perspectives of Industry 4.0", Conciencia Tecnológica, No. 54, 2017, pp. 01-26.
J. Carro, I. Flores and F. Flores, "Ingeniería Inversa e Ingeniería Asistida por Computadora como factores de innovación en los procesos de embutido", Revista Coloquio de Investigación Multidisciplinaria, Vol. 2, No. 1, 2014, pp. 456-464.
C. A. Ospina, Aplicación de la Ingeniería Inversa en la reproducción de una pieza plástica inyectada, Mayo 2015, disponible en http://repositorio.utp.edu.co/dspace/bitstream/handle/11059/5443/668412O83.pdf?sequence=1
ACAN, La industria 4.0 Tecnologías habilitadoras, Asociación Clúster de Automoción de Navarra, 2017, disponible en http://clusterautomocionnavarra.com/wp-content/uploads/2017/10/ACAN-Tecnolog%C3%ADas_habilitadoras.pdf
V. Ortega, Manufactura digital directa, 2011, disponible en http://www.usmp.edu.pe/vision2011/exposiciones/5.manufactura%20y%20prototipado.pdf
J. Lee, E, Lapira, B. Bagheri and H. Kao, "Recent advances and trends in predictive manufacturing systems in big data environ-ment", Manufacturing letters, Vol. 1 No. 1, 2013, pp. 38-41.
S. Erol, A. Jäger, P. Hold, K. Ott and W. Sihn, "Tangible Industry 4.0: a scenario-based approach to learning for the future of production", 6th CIRP Conference on Learning Factories, 2016, pp. 13-18.
C. Baur and D. Wee, Manufacturing's next act, June 2015, disponible en https://www.mckinsey.com/business-functions/operations/our-insights/manufacturings-next-act
M. Rubmann, M, Lorenz, P. Gerbert, M. Waldner, J. Justus, P. Engel and M. Harnisch, Industry 4.0: The future of productivity and growth in Manufacturing Industries, April 9, 2015, disponible en https://www.bcg.com/publications/2015/engineered_products_project_business_industry_4_future_productivity_growth_manufacturing_industries.aspx
J. J. Camargo-Vega, J. F. Camargo-Ortega and L. Joyanes-Aguilar, "Knowing the Big Data", Revista Facultad de Ingeniería, Vol. 24, No. 38, 2015, pp. 63-77.
M. A. K. Bahrin, M. F. Othman, N. H. N. Azli and M. F. Talib, "Industry 4.0: a review on industrial automation and robotic", Jurnal Teknologi, Vol. 78, No. 6, 2016, pp. 137-143.
T. Stock and G. Seliger, "Opportunities of Sustainable Manufacturing in Industry 4.0", 13th Global Conference on Sustainable Manufacturing – Decoupling Growth from Resource Use, 2016, pp. 536-541.
E. Hozdic, "Smart factory for industry 4.0: a review", International Journal of Modern Manufacturing Technologies", Vol. 7, No. 1, 2015, pp. 28-35.
J. Hall, La internet industrial de las cosas y la industria 4.0 en colada por gravedad, 2018, disponible en http://www.cmhmfg.com/pdf/SS_2018_Spring_CMH_SP.pdf
L. A. García, J. Ruiz, E. Jiménez, L. Reyes, G. Luna, S. R. Ontiveros, V. Rodríguez, F. Ochoa and E. Carrillo, "Clasificación de pro-gramas y modelos de la Ingeniería Inversa: aplicaciones a un caso de estudio", 14 Congreso Internacional Anual de la SOMIM, 2008, pp. 711-723.
G. Torres, "Ingeniería Inversa: una herramienta para la iniciación al diseño", V Congreso Bolivariano de Ingeniería Mecánica, 2008, pp. 184-190.
V. Borja-Ramírez, R. Bell, M. López-Parra, S. D. Santillán-Gutiérrez and L. A. González-González, "Estado del arte y tendencias futuras en ingeniería inversa", Ingeniería Investigación y Tecnología, Vol. 1, No. 2, 1999, pp. 51-58.
M. Dúbravcik and S. Kender, "Application of reverse techniques in mechanics system services", MMaMS, 2012, pp. 96-104.
K. Chang and Ch. Chen, "3D shape Engineering and Design Parameterization", Computer-Aided Design & Applications, Vol. 8, No.5, 2011, pp.681-692.
M. Pollefeys, L. V. Gool, M. Vergauwen, F. Verbiest, K. Cornelis, J. Tops and R. Koch, Visual modeling with hand-held camera, 2004, disponible en http://www-oldurls.inf.ethz.ch/personal/marc.pollefeys/pubs/PollefeysIJCV04.pdf
S. Barone, A. Paoli and A. V. Razionale, "Multiple alignments of range maps by active stereo imaging and global marker fram-ing", Optics and Lasers in Engineering, Vol. 51, No. 2, 2013, pp. 116-127.
M. Paulic, T. Irgolic, J. Balic, F. Cus, A. Cupar, T. Brajlih and I. Drstvensek, "Reverse Engineering of Parts with Optical Scanning and Additive Manufacturing", 24th DAAAM International Symposium on Intelligent Manufacturing and Automation, 2013, pp. 795-803.
H. Yue, W. Chen, X. Wu and J. Liu, "Fast 3D modeling in complex environments using a single Kinect sensor", Optics and La-sers in Engineering, Vol. 53, No. 1, 2014, pp. 104-111.
D. M. Cole and P. M. Newman, Using laser range data for 3D SLAM in outdoor environments, 2006, disponible en http://www.robots.ox.ac.uk/~mobile/Papers/3DScanMacthingCole_ICRA2006.pdf
X. Xiong, A. Adan, B. Akinei and D. Huber, Automatic creation of semantically rich 3D building models from Laser Scanner Data, 2013, disponible en http://citeseerx.ist.psu.edu/viewdoc/download?doi=10.1.1.295.3009&rep=rep1&type=pdf
E. G. Iserte, M. M. Espinosa and M. Domínguez, "Métodos y metodologías en el ámbito del diseño industrial", Técnica Indus-trial, No. 300, 2012, pp. 38-44.
L. B. Sosa, Métodos y técnicas de diseño, 2010, disponible en http://eprints.uanl.mx/8993/1/Metodos%20y%20Tecnicas%20de%20Dise%C3%B1o.pdf
M. Guerrero, B. Hernandis and B. Agudo, "Comparative study of actions to consider in the process of conceptual design from the engineering and the product design", Ingeniare Revista Chilena de Ingeniería, Vol. 22, No. 3, 2014, pp. 398-411.
L. Rodríguez, Diseño: estrategia y táctica. Siglo XXI Editores, México, 2004, pp.79-94.
R. L. Mott, Diseño de elementos de máquinas. Pearson Prentice Hall, México, 2006, pp. 09-14.
S. Liu and I. M. Boyle, "Engineering Design: perspectives, challenges and recent advances", Journal of Engineering Design, Vol. 20, No. 1, 2009, pp. 07-19.
M. Jiménez, J. Porras, I. A. Rodríguez and M. M. Espinosa, La fabricación aditiva: la evidencia de una necesidad, 2013, dispo-nible en https://www2.uned.es/egi/publicaciones/articulos/La_fabricacion_aditiva_La_evidencia_de_una_necesidad.pdf
F. A. Cardona and G. A. Peña, "Implementación del prototipado rápido en la Universidad Católica de Pereira", Revista Pági-nas, No. 96, 2014, pp. 13-24.
J. Jamshidi, A. R. Mileham and G. W. Owen, "Dimensional tolerance approximation for reverse engineering applications", International Design Conference-Design, 2006, pp. 855-862.
T. Miklos and M. E. Tello, Planeación prospectiva. Una estrategia para el diseño del futuro. Editorial Limusa, México, 2007, pp. 68-69.
PRODUCTO3D, Propiedades ABS-M3, 2015, disponible en http://producto3d.com/wp-content/uploads/2015/02/Propiedades-ABS-M30-.pdf
How to Cite
Carro Suárez, J., Flores Salazar, F., Flores Nava, I., & Hernández Hernández, R. (2019). Industry 4.0 and Digital Manufacturing: a design method applying Reverse Engineering. Ingeniería, 24(1), 6-28. https://doi.org/10.14483/23448393.13821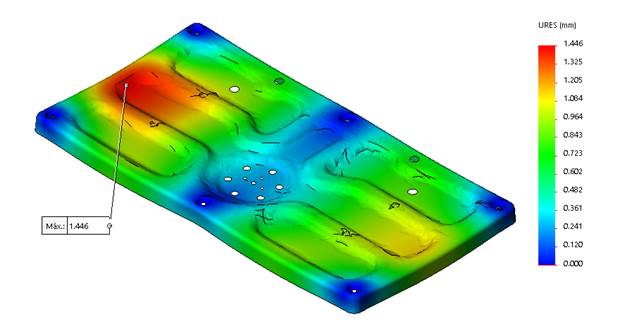 Published: 2019-01-30
Section
Industrial Engineering
Copyright (c) 2019 Ingeniería
This work is licensed under a Creative Commons Attribution-NonCommercial-ShareAlike 4.0 International License.