Sistema de Monitoreo de Nivel de Líquido en Grandes Depósitos
Liquid level monitoring system in big deposits
Reinier Quiala Llorens

CIDP "Grito de Baire"

Ailén Pérez Molinet

Universidad Tecnológica de la Habana "José Antonio Echeverría"

Fidel Ernesto Hernández Montero

Universidad Tecnológica de La Habana "José Antonio Echeverría"
Abstract (es_ES)
Contexto: El presente trabajo tiene como objetivo diseñar y construir un sistema capaz de realizar el control de nivel de líquidos que se encuentren almacenados en grandes depósitos, también está orientado a su utilización en prácticas de control automático y a la transmisión de la información a distancia. Una energía renovable, sostenible y amigable con el medio ambiente, usada como alternativa para mitigar el cambio climático causado por uso de energías provenientes de los combustibles fósiles; pensando en ello, es muy importante estudiar el comportamiento de los módulos fotovoltaicos en condiciones realesnde funcionamiento.
Método: Consta de diferentes etapas que satisfacen el cumplimiento del objetivo propuesto, está compuesto por alarmas sonora y lumínica en caso de derrames en los depósitos o por falta de comunicación entre sus componentes. La realización del control digital dentro del sistema requirió de un procedimiento de adquisición de datos implementado por Arduino con módulos XBee para la comunicación, además de una computadora personal.
Resultados: Este tipo de procedimiento para implementar el control se escogió debido a la facilidad de ejecución, los beneficios y los bajos costos del sistema respecto a los existentes en el mercado; otra de las tareas realizadas fue el estudio práctico de las diferentes técnicas de control aplicadas a un sistema real para el monitoreo de nivel de líquidos en depósitos de gran capacidad.
Conclusiones: La validación del sistema de medición fue realizada a través de una comparación entre los valores reales obtenidos con los instrumentos de medición y los valores mostrados por el sistema a través de la aplicación web que fue diseñada; el correcto funcionamiento de dicho sistema permitió su posterior instalación en depósitos reales.
Abstract (en_US)
Context: The objective of this work is to design and build a system capable of controlling the level of liquids stored in large tanks. The system is also oriented to its use in automatic control practices and the transmission of information from a distance.
Method: It consists of different stages that meet the fulfillment of the proposed objective. In addition, it is composed of sound and light alarms in case of spills in the tanks or lack of communication between its components. The realization of digital control within the system required a data acquisition procedure implemented by Arduino with XBee modules for communication, and a personal computer.
Results: This type of procedure to implement the control was chosen due to the ease of implementation, the benefits and the low costs of the system with respect to those existing in the market. Another task was the practical study of the different control techniques applied to a real system for monitoring the level of liquids in large capacity tanks.
Conclusions: The validation of the measurement system was made through a comparison between the real values obtained with the measurement instruments and the values shown by the system through the web application that was designed. The correct operation of this system allowed its subsequent installation in real deposits.
Downloads
Download data is not yet available.
How to Cite
Quiala Llorens, R., Pérez Molinet, A., & Hernández Montero, F. E. (2019). Liquid level monitoring system in big deposits. Ingeniería, 24(1), 29-48. https://doi.org/10.14483/23448393.13837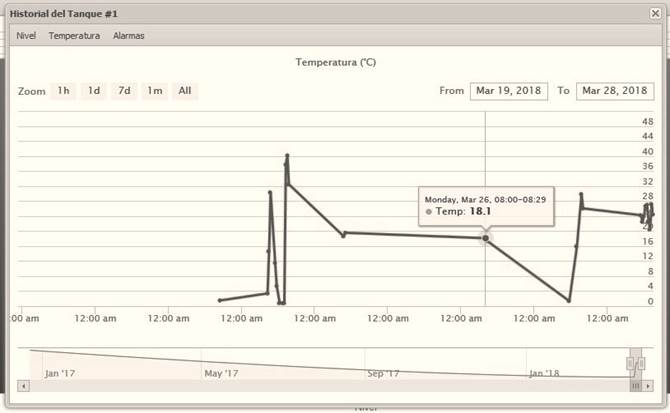 Published: 2019-01-30
Section
Electrical and Electronic Engineering
Copyright (c) 2019 Ingeniería
This work is licensed under a Creative Commons Attribution-NonCommercial-ShareAlike 4.0 International License.