Red de Sensores Inalámbricos para la Adquisición de Datos en Casas de Cultivo
Wireless Sensor Network in the Acquisition of Data in Greenhouses
Alexandra Madruga Peláez

UCLV

Abel Alejandro Estevez Pérez

Richar Sosa López

Iván Santana Ching

Carlos Manuel García Algora
Resumen (es_ES)
Contexto: La adquisicion y almacenamiento de parámetros ambientales, a través de redes de sensores inalámbricos, posibilita el análisis del crecimiento y desarrollo de cultivos protegidos. Dicho análisis en la agricultura presenta retos por tratarse de seres vivos, además de que no es posible controlar todas las variables.
Método: En este trabajo se diseñó una arquitectura de hardware y software ´utilizando una red de
sensores inalámbricos para la adquisición de datos en casas de cultivo. Las simulaciones de la propuesta se realizaron en la unidad empresarial básica de cultivos varios Valle del Yabú de Santa Clara durante dos horas con seis nodos de medicion, un coordinador y el gateway. Se realizó un análisis energético de la propuesta calculando el tiempo de vida real de las bater´ıas.
Resultados: Los experimentos demostraron la efectividad del diseño, almacenando todas las mediciones transmitidas desde diferentes lugares dentro de las casas de cultivos protegidos. El análisis energético garantizó una alta durabilidad de las baterías de los nodos de medición.
Conclusiones: Con el sistema de adquisición expuesto se podrían mantener o modificar los valores de las variables efectivas para reducir perdidas de recursos y mejorar la eficiencia productiva.
Resumen (en_US)
Context:
The acquisition and storage of environmental parameters, through wireless sensor networks, makes it possible to analyze the growth and development of protected crops. This analysis in agriculture impose challenges because are living organisms and where it is not possible to control all the variables.  
Method:
A hardware and software architecture is designed using a wireless sensor network for acquisition of data in greenhouses. The simulations are carried out in the UEB of Various Crops "Valley of the Yabu" of Santa Clara for two hours with six measurement nodes, a coordinator and gateway. An energetic analysis of the proposal was made calculating the real life time of batteries.  
Results:
The experiments demonstrate the effectiveness of the design, storing all the measurements transmitted from different places inside the greenhouses. The energetic analysis guarantees high durability of the batteries of the measurement nodes.  
Conclusions:
With the acquisition system exposed, the values of the effective variables could be maintained or modified for reducing losses of resources and improving productive efficiency.
Descargas
La descarga de datos todavía no está disponible.
Referencias
L. Romero, F.M. Pina y M.M Goire. "Red de sensores inalámbricos para las casas de cultivos protegidos San José", Ingeniería Electrónica, Automática y Comunicaciones, vol. 39, no. 1, pp. 16-26, 2018.
I. Mohanraj, K. Ashokumar and J. Naren, "Field monitoring and automation using IOT in agriculture domain", Procedia Computer Science, vol. 93, pp. 931-939, 2016. https://doi.org/10.1016/j.procs.2016.07.275
A. Anaya-Isaza, D.H. Peluffo-Ordonez, J. Ivan-Rios, J.A. Castro-Silva, D.A.C. Ruiz y L.H.E. Llanos, "Sistema de Riego Basado En La Internet De Las Cosas (IoT)", 2016.
J. Arriaga, "Modelado, simulación y control del uso del agua en la agricultura, PhD thesis, Universidad de Sevilla: Escuela Técnica Superior de ingeniería, Sevilla, 2015.
E.G. Leijia-Loredo, H. Reyes-Hernandez, O. Reyes-Pérez, J.L. Flores-Flores y F.S. Sahagún-Sánchez, "Cambios en la cubierta vegetal, usos de la tierra y escenarios futuros en la región costera del estado de Oaxaca, México", Madera y bosques, vol. 22, no. 1, pp. 125-140, 2016. https://doi.org/10.21829/myb.2016.221481
A.Z. Abbasi, N. Islam, Z.A. Shaikh, "A review of wireless sensors and networks' applications in agriculture", Computer Standards & Interfaces, vol. 36, no. 2, pp. 263-270, 2014. https://doi.org/10.1016/j.csi.2011.03.004
X. Zhang, Q. Wen, D. Tian and J. Hu, "PVIDSS: Developing a WSN-based Irrigation Decision Support System (IDSS) for Viticulture in Protected Area", Applied Mathematics & Information Sciences, vol. 9, no. 2, pp. 669, 2015.
H. Navarro-Hellín, R. Torres-Sánchez, F. Soto-Valles, C. Albaladejo-Pérez, J.A López-Riquelme and R. Domingo-Miguel, "A wireless sensors architecture for efficient irrigation water management", Agricultural Water Management, vol. 151, pp. 64-74, 2015. https://doi.org/10.1016/j.agwat.2014.10.022
K. Taneja and S. Bhatia, "Automatic irrigation system using Arduino UNO". In Intelligent Computing and Control Systems (ICICCS), 2017 International Conference on, june 2017. https://doi.org/10.1109/ICCONS.2017.8250693
A.K. Meeradevi and M.R. Mundada, "ZigBee Based Wireless Sensor Networks in Precision Agriculture-The Survey", International Journal of Application or Innovation in Engineering & Management (IJAIEM), vol. 4, no.5, 2015.
G. Deepika and P. Rajapirian. "Wireless sensor network in precision agriculture: A survey". In Emerging Trends in Engineering, Technology and Science (ICETETS), International Conference on, february 2016. https://doi.org/10.1109/ICETETS.2016.7603070
M.S. Pujari and M.N. Bogiri, "A Survey on Wireless Sensor Network For Agriculture", International Journal on Recent and Innovation Trends in Computing and Communication, vol. 5, no. 7, pp. 269-272, 2017.
J. Carranza, "Soluciones de automatización para sistemas de regadío en caña de azúcar", Tesis, Universidad Central "Marta Abreu" de Las Villas, Santa Clara, 2016.
D.D. Chaudhary, S.P. Nayse and L.M. Waghmare. "Application of wireless sensor networks for greenhouse parameter control in precision agriculture", International Journal of Wireless & Mobile Networks (IJWMN), vol. 3, no.1, pp. 140-149, 2011. https://doi.org/10.5121/ijwmn.2011.3113
S. Angal, "Raspberry pi and Arduino Based Automated Irrigation System", International Journal of Science and Research (IJSR), vol. 5, no. 7, 2016. https://doi.org/10.21275/v5i6.NOV164836
J. Baviskar, A. Mulla, A. Baviskar, S. Ashtekar and A. Chintawar. "Real time monitoring and control system for green house based on 802.15. 4 wireless sensor network". In Communication Systems and Network Technologies (CSNT), 2014 Fourth International Conference on, pp. 98-103, april 2014. https://doi.org/10.1109/CSNT.2014.28
Z.A.S. Rhman, "Wirelessly Controlled Irrigation System", Iraqi Journal for Electrical And Electronic Engineering, vol. 10, no. 2, pp. 89-99, 2014. https://doi.org/10.33762/eeej.2014.95596
E.R.J. Espinosa, "Parámetros de explotación y uniformidad de riego en la máquina de pivote central OTECH-IRRIMEC", Revista Ingeniería Agrícola, vol.1, no. 1, pp. 7-12, 2017.
Aosong Electronics, "Temperature and humidity module DHT11 Product Manual", Guangzhou, 2016.
Sunrom Co, Disponible en: www.sunrom.com/p/light-sensing-module-ldr.
P. Thubert and T. Watteyne, "An Architecture for IPv6 over the TSCH mode of IEEE 802.15. 4". Working Draft, IETF Secretariat, Internet- Draft draft-ietf-6tisch-architecture-08, 2015.
C. M. García Algora, V. A. Reguera, N. Deligiannis and K. Steenhaut. "Review and Classification of Multichannel MAC Protocols for Low-Power and Lossy Networks". IEEE Access, vol. 5, pp. 19536-19561, 2017. https://doi.org/10.1109/ACCESS.2017.2748178
Cómo citar
Madruga Peláez, A., Estevez Pérez, A. A., López, R. S., Santana Ching, I., & García Algora, C. M. (2019). Red de Sensores Inalámbricos para la Adquisición de Datos en Casas de Cultivo. Ingeniería, 24(3), 224-234. https://doi.org/10.14483/23448393.14437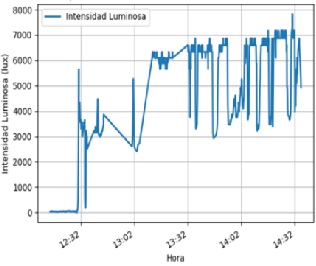 Publicado: 2019-09-15
Sección
Ingeniería Eléctrica y Electrónica
A partir de la edición del V23N3 del año 2018 hacia adelante, se cambia la Licencia Creative Commons "Atribución—No Comercial – Sin Obra Derivada" a la siguiente:
Atribución - No Comercial – Compartir igual: esta licencia permite a otros distribuir, remezclar, retocar, y crear a partir de tu obra de modo no comercial, siempre y cuando te den crédito y licencien sus nuevas creaciones bajo las mismas condiciones.