Determinación de las Ponderaciones de los Criterios de Sustentabilidad Hidroeléctrica mediante la Combinación de los Métodos AHP y GP Extendida
Determination of the Weightings of Hydroelectric Sustainability Criteria by Combining AHP and GP extended Methods
José Andrés Gómez Romero

Comisión Federal de Electricidad

https://orcid.org/0000-0002-8337-124X

Rocío Soto Flores

Instituto Politécnico Nacional

Susana Garduño Román

Instituto Politécnico Nacional
Abstract (es_ES)
Contexto: La hidroelectricidad es una tecnología madura y de larga duración, pero ha presentado problemas ambientales y sociales, para hacerle frente a estos problemas se crearon iniciativas de sustentabilidad hidroeléctrica desde hace más de dos décadas. En México los proyectos hidroeléctricos presentan problemas ambientales y sociales que ocasionan retrasos en su construcción o retrasos en su entrada a operación. El objetivo de este estudio fue determinar las ponderaciones de los criterios de sustentabilidad hidroeléctrica mediante métodos multicriterio de toma de decisiones a un grupo de expertos.
Método: Mediante la combinación de los métodos multicriterio Analítico Jerárquico del Proceso y la Programación por Metas se obtuvo la opinión de un grupo de expertos en la planeación de proyectos hidroeléctricos.
Resultados: Una vez aplicada la combinación de los métodos AHP-GP se ponderaron las perspectivas de sustentabilidad hidroeléctrica con lo que se encontró que la solución más cercana a la opinión de todos los grupos fue la emitida por el grupo de expertos en gobernanza.
Conclusiones: Los resultados indican que al cuestionar a un grupo heterogéneo de expertos se observó que se presentaron acuerdos significativos entre los grupos, lo cual llamó la atención por tratarse de grupos de expertos con especialidades diferentes.
Abstract (en_US)
Context: Hydropower is a mature and long-lasting technology, but it has presented environmental and social problems. To address these problems, hydropower sustainability initiatives have been created for more than two decades. In Mexico, hydropower projects present environmental and social problems that cause delays in their construction or delays in their entry into operation. The objective of this study was to determine the weightings of the criteria of hydropower sustainability through multicriteria decision-making methods to a group of experts.
Method: Through the combination of the multicriteria Analytical Hierarchical Process and the Programming of Goals the opinion of a group of experts was obtained in the planning of hydropower projects.
Results: Once the AHP-GP methods were applied to determine the weighting of the hydropower sustainability perspectives, it was found that the weights closest to the opinion of all the groups are those issued by the group of governance experts.
Conclusions: The results indicate that, when questioning a heterogeneous group of experts, it was observed that significant agreements are presented between the groups, which is noteworthy because they are groups of experts that have different specialties.
Downloads
Download data is not yet available.
How to Cite
Gómez Romero, J. A., Soto Flores, R., & Garduño Román, S. (2019). Determination of the Weightings of Hydroelectric Sustainability Criteria by Combining AHP and GP extended Methods. Ingeniería, 24(2). https://doi.org/10.14483/23448393.14469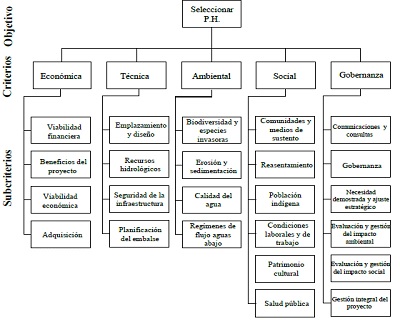 Published: 2019-05-26
Section
Industrial Engineering
Copyright (c) 2019 Ingeniería
This work is licensed under a Creative Commons Attribution-NonCommercial-ShareAlike 4.0 International License.