Generación de Nubes de Puntos 3D con Escáner Laser Terrestre. Georreferenciación y Evaluación de la Calidad
Generation of 3D Point Clouds with Terrestrial Laser Scanner. Georeferencing and Quality Evaluation
Sofia Falip

Universidad Nacional de La Plata

Daniel Del Cogliano

Universidad Nacional de La Plata
Abstract (es_ES)
Contexto: La técnica LiDAR (Light Detection and Ranging) permite el modelado 3D de estructuras con un nivel de resolución inédito y precisión milimétrica. Esta tecnología está naturalmente relacionada con la Agrimensura, más aún cuando los modelos forman parte de espacios georreferenciados con respecto a sistemas de referencia geodésicos y verticales. Diferentes mediciones LiDAR deben ser vinculadas geométricamente con técnicas topográficas clásicas ó geodésicas como GNSS, lo que condiciona la calidad geométrica externa del modelo integrado. La comparación en el tiempo de modelos 3D de precisión milimétrica requiere de un conocimiento de los sistemas de referencia con por lo menos, el mismo nivel de confianza. En consecuencia, la exactitud de las determinaciones debe ser validada.
Método: Se relevaron dos edificios pertenecientes a la Universidad Nacional de la Plata mediante LiDAR terrestre estático. Estos escáneres miden la superficie directamente visible, y el relevamiento completo de un objeto requiere de varias estaciones de registro. El producto final resulta del empate de los diferentes escaneos. Para ello existen distintas técnicas, la utilizada en este trabajo es la de elementos comunes identificables desde estaciones aledañas. Los resultados son expresados en un marco de referencia terrestre a partir de una poligonal de apoyo que involucró mediciones con estación total, nivel automático y equipos GNSS. La calidad de los modelos 3D obtenidos fue evaluada internamente, a partir de los parámetros estadísticos del procesamiento y en forma externa, mediante las coordenadas de puntos de control obtenidas con métodos independientes.
Resultados: La calidad geométrica interna de los puntos de las nubes de puntos generadas por el LiDAR terrestre estático Trimble TX5, fue estimada en 1 a 3 milímetros (1RMS). Las técnicas topográficas clásicas utilizadas en la poligonal de apoyo arrojaron una coherencia de 3 mm en cada una de las componentes, mientras que para la georreferenciación obtenida mediante mediciones GNSS, fue de 1 cm.
Conclusiones: La calidad geométrica interna de los puntos de las nubes generadas muestran la capacidad de representación de estos modelos 3D y su potencial para el análisis de deformaciones internas (como ángulos y distancias). Las diferentes nubes LiDAR 3D inicialmente desvinculadas entre sí, pueden ser integradas a través de métodos geodésicos-topográficos y georreferenciadas en un marco de referencia geodésico de calidad adecuada.
Abstract (en_US)
Context: LIDAR technique allows the 3D modeling of structures with an unprecedented resolution and millimetric precision. This technology is naturally related to Surveying, even more when models are linked to geodesic and vertical reference systems.
Diverse LIDAR surveys should be geometrically linked with topographic classic techniques or with geodetic methods such as GNSS. Such linkage conditions the geometric external quality of the integrated model.
In order to compare 3D models of millimetric quality through time, the accuracy of the geodetic determinations should be validated.
Method: Two buildings that belong to the National University of La Plata were surveyed with TLS (terrestrial laser scanning).  These scanners measure the visible surface. Therefore, the complete survey of any complex object requires a series of stations of registration.  The final product results from the spatial vinculation of the different adjacent point clouds. In order to do that, there are different techniques. The one used in this case is that of common elements identified from neighboring stations. The results referred to a terrestrial geodetic frame were obtained through a polygonal based on measurements of total stations, automatic level and GNSS.
The quality of the 3D final models obtained was assessed internally considering the processing statistical parameters, and externally through the coordinates of control points obtained with independent methods.
Results: The internal geometric quality of the point clouds generated with the TLS Trimble TX5, was estimated in 1 to 3 millimeters (1RMS). The classical topographic techniques used in the polygonal gave a coherence of 3 mm in each components, while for the georeferencing obtained with GNSS measurements was 1 cm.
Conclusions: The internal geometric quality of the 3D models shows the capacity of representation of LIDAR and its potential for internal deformations' analysis. The different 3D point clouds, initially dissociated, can be integrated through geodetic-topographic methods, and expressed in a suitable geodetic reference frame.
Downloads
Download data is not yet available.
How to Cite
Falip, S., & Del Cogliano, D. (2019). Generation of 3D Point Clouds with Terrestrial Laser Scanner. Georeferencing and Quality Evaluation. Ingeniería, 24(2). https://doi.org/10.14483/23448393.14542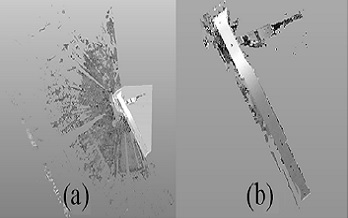 Published: 2019-05-26
Section
Cadastral Engineering and Geodesy
Copyright (c) 2019 Ingeniería
This work is licensed under a Creative Commons Attribution-NonCommercial-ShareAlike 4.0 International License.