A Compressive System Matrix Design in Spectral Imaging by a Homogenization Algorithm
Diseño de la Matriz de un Sistema Compresivo en Imágenes Espectrales por Medio de un Algoritmo de Homogeneización
Camilo Noriega

Universidad Industrial de Santander

Yuri Mejía

Universidad Industrial de Santander

Henry Arguello

Universidad Industrial de Santander
Palabras clave:
Colored coded apertures, C-CASSI, spectral images, random algorithms
(en_US)
Resumen (en_US)
Context:  Compressive spectral imaging systems (CSI) use a focal plane array (FPA) to measure two-dimensional (2D) coded projections of a three-dimensional (3D) spatiospectral scene. A reconstruction algorithm based on compressive sensing theory exploits the projections to retrieve the underlying 3D scene. Compressive sensing relies on two principles: Sparsity and incoherence. Higher incoherence drives to better-reconstructed image quality. In CSI systems, a random design of the coded apertures elements guarantees a high incoherence between the sensing matrix and the representation basis. However, when a coded aperture is designed completely random, it is possible that some voxels not be sensed at all or they be sensed more than once.
Method: This paper presents a random algorithm for a colored coded apertures design by homogenizing defined parameters of the colored coded aperture snapshot spectral imaging system (C-CASSI) representative matrix. Homogenization parameters guarantee that all voxels are sensed at least once. The homogenization is achieved by weighting the selected parameters of the matrix, in this case, the average of unblocking elements per column and the average of unblocking elements per row.
Results/Conclusions: Simulations show a higher performance in the PSNR of the reconstructed images by using the proposed approach, as compared to traditional random coded apertures. 
Resumen (es_ES)
Contexto: Los sistemas de muestreo compresivo de imágenes espectrales (CSI, por su sigla en inglés) cuentan con una matriz de plano focal (FPA) para medir proyecciones codificadas bidimensionales (2D) de una escena espacio-espectral de tres dimensiones. Un algoritmo de reconstrucción basado en la teoría de muestreo compresivo aprovecha las proyecciones para recuperar la escena 3D. La teoría de muestreo compresivo se basa en dos principios: dispersión e incoherencia. Un alto grado  de incoherencia conduce a mayor calidad en las reconstrucciones. En los sistemas CSI, un diseño aleatorio de las aperturas codificadas asegura una alta incoherencia entre la matriz de muestreo y la base de representación dispersa. Sin embargo, si un código de apertura se diseña completamente aleatorio es probable que algunos voxeles no sean muestreados en absoluto, o, por el contrario, que la información sea muestreada redundantemente.
Método: Este artículo presenta un algoritmo aleatorio para el diseño de las aperturas codificadas de color por medio de la homogeneización de los parámetros de la matriz representativa del sistema de muestreo de imágenes espectrales basado en aperturas codificadas de color (C-CASSI, por su sigla en inglés). Los parámetros de homogeneización garantizan que todos los voxeles sean muestreados al menos una vez. La homogeneización se logra mediante la ponderación de algunos parámetros de la matriz representativa, en este caso, el promedio de elementos de paso por columnas y por filas.
Resultados/Conclusiones: Las simulaciones muestran que usando el método propuesto se obtiene una mejora en la calidad en términos de PSNR con las imágenes reconstruidas en comparación con las aperturas aleatorias tradicionales. 
Descargas
La descarga de datos todavía no está disponible.
Referencias
D. Kittle, K. Choi, A. Wagadarikar, and D. J. Brady, "Multiframe image estimation for coded aperture snapshot spectral im-agers," Appl. Opt., vol. 49, no. 36, p. 6824, Dec. 2010.
H. Arguello and G. R. Arce, "Colored Coded Aperture Design by Concentration of Measure in Compressive Spectral Imaging," IEEE Trans. Image Process., vol. 23, no. 4, pp. 1896–1908, Apr. 2014.
E. J. Candès and M. B. Wakin, "An Introduction To Compressive Sampling," IEEE Signal Process. Mag., vol. 25, no. 2, pp. 21–30, Mar. 2008.
D. L. Donoho, "Compressed sensing," IEEE Trans. Inf. Theory, vol. 52, no. 4, pp. 1289–1306, Apr. 2006.
G. R. Arce, D. J. Brady, L. Carin, H. Arguello, and D. S. Kittle, "Compressive Coded Aperture Spectral Imaging: An Introduc-tion," IEEE Signal Process. Mag., vol. 31, no. 1, pp. 105–115, Jan. 2014.
A. Wagadarikar, R. John, R. Willett, and D. Brady, "Single disperser design for coded aperture snapshot spectral imaging," Appl. Opt., vol. 47, no. 10, pp. B44–B51, 2008.
H. Arguello, H. Rueda, Y. Wu, D. W. Prather, and G. R. Arce, "Higher-order computational model for coded aperture spectral imaging," Appl. Opt., vol. 52, no. 10, p. D12, Apr. 2013.
S. Kim, E. Lee, M. H. Hayes, and J. Paik, "Multifocusing and Depth Estimation Using a Color Shift Model-Based Computational Camera," IEEE Trans. Image Process., vol. 21, no. 9, pp. 4152–4166, Sep. 2012.
Y. Bando, B.-Y. Chen, and T. Nishita, "Extracting Depth and Matte Using a Color-filtered Aperture," in ACM SIGGRAPH Asia 2008 Papers, New York, NY, USA, 2008, pp. 134:1–134:9.
H. Arguello and G. R. Arce, "Code aperture optimization for spectrally agile compressive imaging," J. Opt. Soc. Am. A, vol. 28, no. 11, p. 2400, Nov. 2011.
H. Arguello and G. R. Arce, "Rank Minimization Code Aperture Design for Spectrally Selective Compressive Imaging," IEEE Trans. Image Process., vol. 22, no. 3, pp. 941–954, Mar. 2013.
C. Noriega, Y. Mejía, and H. Arguello, "A random algorithm for designing the system matrix in compressive spectral imaging by homogenizing its structure," in 2015 Workshop on Engineering Applications - International Congress on Engineering (WEA), 2015, pp. 1–6.
M. A. T. Figueiredo, R. D. Nowak, and S. J. Wright, "Gradient Projection for Sparse Reconstruction: Application to Compressed Sensing and Other Inverse Problems," IEEE J. Sel. Top. Signal Process., vol. 1, no. 4, pp. 586–597, Dec. 2007.
D. F. Galvis-Carreño, Y. H. Mejía-Melgarejo, and H. Arguello-Fuentes, "Efficient reconstruction of Raman spectroscopy imaging based on compressive sensing," DYNA, vol. 81, no. 188, pp. 116–124, Dec. 2014.
H. F. R. Chacon, C. A. V. García, and H. A. Fuentes, "Single-pixel optical sensing architecture for compressive hyperspectral imaging," Rev. Fac. Ing., vol. 0, no. 73, pp. 134–143, Nov. 2014.
Cómo citar
Noriega, C., Mejía, Y., & Arguello, H. (2016). Diseño de la Matriz de un Sistema Compresivo en Imágenes Espectrales por Medio de un Algoritmo de Homogeneización. Ingeniería, 21(2), 201-213. https://doi.org/10.14483/udistrital.jour.reving.2016.2.a06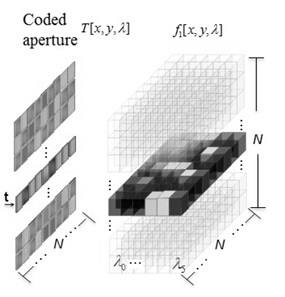 Publicado: 2016-05-26
Sección
Sección Especial: Mejores Artículos Extendidos - WEA 2015
A partir de la edición del V23N3 del año 2018 hacia adelante, se cambia la Licencia Creative Commons "Atribución—No Comercial – Sin Obra Derivada" a la siguiente:
Atribución - No Comercial – Compartir igual: esta licencia permite a otros distribuir, remezclar, retocar, y crear a partir de tu obra de modo no comercial, siempre y cuando te den crédito y licencien sus nuevas creaciones bajo las mismas condiciones.