Análisis Bibliométrico de la Revista Ingeniería (2010-2017)
Bibliometric Study of the Journal Ingeniería (2010-2017)
Carolina Suárez R.

Universidad Cooperativa de Colombia

Nathalia Chaparro

Universidad Distrital Francisco José de Caldas

Sergio Rojas-Galeano

Universidad Distrital Francisco José de Caldas
Abstract (es_ES)
Contexto: Ingeniería es una revista científica editada en Colombia por la Universidad Distrital Francisco José de Caldas, que publica investigación multidisciplinaria en todos los campos de la ingeniería. El objetivo de este trabajo es realizar un análisis bibliométrico de su producción científica durante el período 2010-2017.
Método: Se examinó un corpus de 144 artículos publicados, se recopilaron sus metadatos bibliográficos y se realizaron varios análisis bibliométricos, incluidos productividad, autoría, citas, cobertura geográfica y temática, redes de colaboración, mapas conceptuales temáticos y métricas de impacto.
Resultados: Entre los resultados se encuentran: promedio de citas por artículo de 2.1, índice de colaboración de 2.22, tasa de crecimiento de publicación es 19 %, h-index de h = 10, g-index de g = 13, hi5-index de hi5 = 9, el total de citas es de 298, hay diez grupos de autores muy conectados y cuatro grupos temáticos obtenidos a partir del análisis de coincidencia de las palabras clave y los resúmenes.
Conclusiones: El perfil de la revista con respecto a citaciones e impacto es prometedor, aunque requiere mejorar su visibilidad y reconocimiento, ya que las métricas de cobertura, autoría y áreas temáticas, parecen incipientes. También es deseable ampliar las redes de colaboración de su base de autores.
Abstract (en_US)
Context: Ingeniería is a scholarly journal edited in Colombia by Universidad Distrital FJC, publishing multi–disciplinary research across all fields of engineering. The aim of this paper is to conduct a bibliometric analysis of its scientific output during the period 2010–2017.
Method: A corpus of 144 published papers were examined, their bibliographic metadata collected, and several bibliometric analysis were conducted, including productivity, authorship, citation, subject and geographic coverage, along with collaboration networks, thematic conceptual maps and impact metrics.
Results: Some of our findings include: the average citations per article is 2.1, the collaboration index is 2.22, the output growth rate is 19%, h-index of h = 10, g-index of g = 13, hi5-index of hi5 = 9, total cites are 298, there are 10 strongly connected cluster of authors, and 4 thematic clusters obtained from co–ocurrence analysis of the keywords and abstracts.
Conclusions: The profile of the journal regarding citation and impact metrics is promising, although it needs to improve its visibility and recognition, as locality of coverage and authorship metrics as well as incipient thematic areas seem to suggest. Extending its authorship base to broader collaboration networks is also desirable.
Downloads
Download data is not yet available.
How to Cite
Suárez R., C., Chaparro, N., & Rojas-Galeano, S. (2019). Bibliometric Study of the Journal Ingeniería (2010-2017). Ingeniería, 24(2). https://doi.org/10.14483/23448393.14678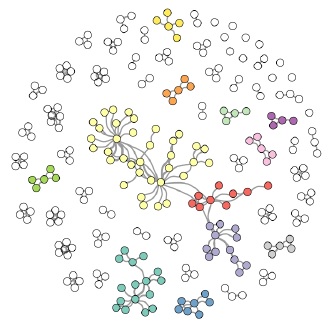 Published: 2019-05-26
Section
Systems Engineering
Copyright (c) 2019 Ingeniería
This work is licensed under a Creative Commons Attribution-NonCommercial-ShareAlike 4.0 International License.