Detección de Candidatos a Microcalcificaciones Mamarias Agrupadas en Mamografías
Clustered Microcalcifications Candidates Detection in Mammograms
Alvaro Andres Sandino Garzon

Universidad Nacional de Colombia

Rodrigo Javier Herrera García

Universidad Distrital Francisco José de Caldas
Abstract (es_ES)
Contexto: Las microcalcificaciones mamarias son lesiones no palpables que están presentes aproximadamente en el 55% de los casos de cáncer de mama. Son un hallazgo muy frecuente en mamografías y pueden ser un indicador de esta enfermedad en sus primeras fases.
Método: Se implementa un método para el realce de microcalcificaciones mamarias basado en análisis multirresolución a través de la transformada wavelet. Posteriormente se realiza una segmentación aproximada de candidatos utilizando los parámetros estadísticos de la distribución de coeficientes y se seleccionan aquellos que cumplan con ciertos parámetros de longitud y distribución. Por último, se emplea un modelo de clasificación binaria utilizando máquinas de soporte vectorial para clasificar imágenes con microcalcificaciones mamarias agrupadas.
Resultados: Se realizó la tarea de clasificación binaria entre imágenes con tejido mamario sano y con microcalcificaciones utilizando una máquina de soporte vectorial (SVM) utilizando kernel lineal. Las métricas de evaluación para el algoritmo fueron: área bajo la curva (AUC) de 93.6 %, precisión de 89.4 %, sensibilidad de 88.4% y especificidad de 90.5 %.
Conclusiones: En el presente trabajo se utilizó el tamaño y la distribución como criterios para la segmentación y caracterización de microcalcificaciones mamarias agrupadas, que en la evaluación clínica son medidas cuantitativas para la detección de cáncer de seno en sus primeras etapas. Dado que el tejido mamario presenta un bajo contraste se propuso un método de realce que logra desenmascarar algunas microcalcificaciones que son poco evidentes. Con el enfoque propuesto se logró clasificar correctamente la mayoría de imágenes de tejido mamario con microcalcificaciones agrupadas ya sea en distribuciones segmentarias, lineales o ramificadas.
Abstract (en_US)
Context: Mammary microcalcifications are not-palpable lesions that are present in approximately 55% of breast cancer. These are a frequent finding in mammograms and may be an indicator of this disease in its firsts phases.
Method: A method was implemented in order to get mammary microcalcifications enhancement based on multi-resolution analysis through wavelet transform. Then, candidates were segmented using thresholding, in this technique, the threshold was determined through statistical parameters from Wavelet distribution coefficients. Later, a support vector machines model was used to classify images that contains mammary microcalcifications.
Results: Classification task was performed using support vector machines (SVM). The following evaluation metrics was achieved: AUC of 93.6 %, accuracy of 89.4 %, sensivity of 88.4% and especificity of 90.5%
Conclusions: In this approach the length and distribution of microcalcifications was used such as features to select candidates. These features also used as criteria in clinical evaluation to detects mammary cancer in early stages. The proposed method to image enhanced can unmask microcalcifications that at naked eye are not visible. In most mammographies the proposed algorithm classify correctly microcalcifications in different distributions
Downloads
Download data is not yet available.
References
L. M. Mina and A. Mat, "Microcalcification Diagnosis in Digital Mammograms Based OnWavelet Analysis and Neural Networks," 2015 IEEE International Conference on Control System, computing and Engineering, vol. 1, no. November, pp. 27–29, 2015.
A. Khalaf and I. Yassine, "Novel features for microcalcification detection in digital mammogram images based on wavelet and statistical analysis," in ICIP, pp. 1825–1829, 2015.
M. Mustra and M. Grgic, "Detection of Areas Containing Microcalcifications in Digital Mammograms," in lWSSIP 2014, 21st International Conference on Systems, Signals and Image Processing, no. May, pp. 12–15, 2014.
A. Mencattini, G. Rabottino, M. Salmeri, and R. Lojacono, "A study on the automatic detection of clustered microcalcifications in mammograms," International Symposium on Applied Sciences in Biomedical and Communication Technologies, 2010.
P. Arancibia, T. Taub, and K. De Grazia, "Microcalcificaciones mamarias: revisi´on de los descriptores y categorías BI-RADS," Revista Chilena de Obstetricia y Ginecología., vol. 78, no. 5, pp. 383–394, 2013.
T. Balakumaran, I. Vennila, and C. Shankar, "Detection of Microcalcification in Mammograms Using Wavelet Transform and Fuzzy Shell Clustering," International Journal of Computer Science and Information Security, vol. 7, no. 1, pp. 121–125, 2010.
C. Madrigal, R. Prada, and D. Fernández, "Detección Automática de Microcalcificaciones en una Mamografía Digital, Usando Técnicas de Inteligencia Artificial," Tecno Lógicas, pp. 743–756, 2013.
C. Santamaría, "Construcción de una base de datos de imágenes de mamografía para la identificación de microcalcificaciones,"
R. Buffa, S. Gamarra, and M. Viniegra, "Manual operativo para el uso de mamografía en tamizaje," tech. rep., 2015.
K. Junemann, "Patología mamaria e imágenes," Rev. Obstet. Ginecol.- Hospital Santiago Oriente, vol. 4, no. 3, pp. 189–194, 2009.
S. Díaz, M. Piñeeros, and O. Sánchez, "Detección temprana del cáncer de mama : aspectos críticos para un programa de tamizaje organizado en Colombia.," Revista colombiana de cancerlogía, no. 528, pp. 93–105, 2005.
L. Vivona, D. Cascio, F. Fauci, and G. Raso, "Fuzzy technique for microcalcifications clustering in digital mammograms.," BMC medical imaging, vol. 14, no. 1, p. 23, 2014.
M. Lagzouli and Y. Elkettani, "A New Morphology Algorithm for Microcalcifications Detection in Fuzzy Mammograms Images," International Journal of Engineering Research & Technology (IJERT), vol. 3, no. 1, pp. 729– 733, 2014.
L. Song, Q. Wang, and J. Gao, "Microcalcification detection using combination of wavelet transform and morphology," pp. 694–697, 2006.
N. Ben Hamad and K. Taouil, "Exploring wavelets subband decomposition toward a computer aided detection of micro calcification in breast cancer," in Proceedings of DFMA 2006 - 2nd International Conference on Distributed Frameworks for Multimedia Applications, pp. 229–236, 2007.
M. Mustra, M. Grgic, and K. Delac, "Enhacement of microcalcifications in digital mammograms," IWSSIP 2012,
no. April, pp. 11–13, 2012.
E. Hashemi, "Microcalcification Detection in Mammography using Wavelet Transform and Statistical Parameters," 2012.
A. S. Bharadwaj and M. Celenk, "Detection of microcalcification with top-hat transform and the Gibbs random fields," Proceedings of the Annual International Conference of the IEEE Engineering in Medicine and Biology Society, EMBS, pp. 6382–6385, 2015.
P. J. García, "Mejora en la detección de microcalcificaciones en mamografías digitalizadas mediante la aplicación de arquitecturas neuronales.," 2004.
S. Mallat, "A Theory for Multiresolution Signal Decomposition : The Wavelet Representation," IEEE Transactions on pattern analysis and machine intelligence, vol. I, no. 7, pp. 674–693, 1989.
P. Hedaoo and S. Godbole, "Wavelet Thresholding Approach for Image Denoising," International Journal of Network Security & Its Applications (IJNSA), vol. 3, no. 4, pp. 16–21, 2011.
How to Cite
Sandino Garzon, A. A., & Herrera García, R. J. (2019). Clustered Microcalcifications Candidates Detection in Mammograms. Ingeniería, 24(2). https://doi.org/10.14483/23448393.12512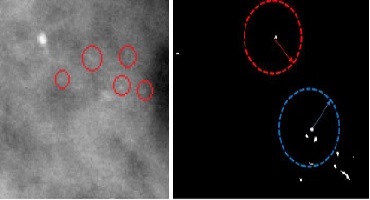 Published: 2019-05-26
Section
Electronic Engineering
Copyright (c) 2019 Ingeniería
This work is licensed under a Creative Commons Attribution-NonCommercial-ShareAlike 4.0 International License.