Segmentación y Conteo de las Líneas de la Nariz del Feto en Imágenes Ecográficas de las 11-13+6 Semanas de Gestación
Segmentation and nasal line counting in ultrasound fetal images at the 11-13+6 weeks of gestation
Angee Paola Ballesteros Maldonado

Universidad Distrital Francisco José de Caldas

Laura Catalina López Alza

Universidad Distrital Francisco José de Caldas

Rodrigo Javier Herrera Garcia

Universidad Distrital Francisco José de Caldas
Keywords:
Homomorphic filtering, H-maxima transform, morphological reconstruction, geodesic dilation, eccentricity and clustering
(en_US)
Keywords:
Filtro homomórfico, transformada H-máxima, reconstrucción morfológica, dilatación geodésica, excentricidad, agrupamiento
(es_ES)
Abstract (es_ES)
Este documento presenta un método para la segmentación de la nariz y el posterior conteo de las líneas correspondientes a la piel, el hueso nasal y la punta de la nariz en imágenes de ultrasonido fetales 2D del primer trimestre de gestación, de 11 a 13 semanas y 6 días (11-13+6 semanas). La presencia de las tres líneas del área nasal es una de las características que debe cumplir el feto en la ecografía para garantizar la confiabilidad de la medición del grosor traslucencia nucal. Dicha medición se emplea para identificar la posible existencia de síndromes o anomalías cromosómicas. El método se aplica a la región correspondiente al corte sagital medio de la cabeza donde se han resaltado las regiones con mayor intensidad. La  segmentación es jerarquica: primero, se identifica la región de la nariz a través de máximos regionales y alta excentricidad; posteriormente las líneas ya mencionadas son extraídas con agrupamiento basado en K-medias y morfología matemática. 
Dada la incertidumbre entre las imágenes con respecto a posición fetal, resolución, nivel de ruido y rango dinámico, los resultados obtenidos van desde casos en los que no se encuentra la región de interés, hasta otros en los que son claramente identificables las líneas.
Abstract (en_US)
This document introduces a method for nasal segmentation and the subsequent counting of lines corresponding to the skin, nasal bone and the tip of the nose in 2D fetal ultrasound images of the first gestational trimester from 11 to 13 weeks and 6 days (11-13+6 weeks). Presence of the three lines in the nasal region is one of the features that should have the fetus on ultrasound image to ensure the reliability of the measurement of fetal nuchal translucency thickness; this measurement is used to identify the possible existence of syndromes or chromosomal abnormalities. The method is applied to the mid-sagittal head plane where the hyperintense regions have been identified. The segmentation is hierarchical: first, the nose is identified by the combination of a regional maxima and high eccentricity detection algorithms; then the aforementioned lines are identified using K-means clustering and mathematical morphology. 
Because of uncertainty between images with respect to fetal position, resolution, noise and dynamic range, the results ranging from cases in which the region of interest is not found, to those where the lines are clearly identifiable.
Downloads
Download data is not yet available.
References
Kypros H. Nicolaides y Orlando Falcón, La ecografía de las 11- 13+6 semanas. Fetal Medicine Foundation, Londres, 2004.
K. T. a. Anjit and S. Rishidas, "Identification of nasal bone for the early detection of down syndrome using Back Propagation Neural Network," 2011 International Conference on Communications and Signal Processing, 2011, pp. 136–140.
Sami Abdulla y Haidi Ibrahim, "Mathematical Equations for Homomorphic Filtering in Frequency Domain : A Literature Survey," 2012 International Conference on Information and Knowledge Management (ICIKM), 2012, pp. 74–77.
Rafael. C. Gonzalez y Richard. E. Woods, Digital Image Processing, 3rd ed. Pearson International, 2009.
Nikhil J. Dhinagar y Mehmet Celenk, "Ultrasound Medical Image Enhancement and Segmentation Using Adaptive Homomorphic Filtering and Histogram Thresholding," 2012 International Conference on Biomedical Engineering and Sciences, 2012, pp. 349–353.
Departamento de Electrónica y Automática - Facultad de Ingeniería - U.N.S.J Capítulo 3: Técnicas de realce de Imá-genesImágenes en Medicina (Bioingeniería), disponible en http://dea.unsj.edu.ar/imagenes/recursos/capitulo3.pdf
P. Soille, Morphological Images Analysis, Principles and Applications. 2nd ed, springer, Italia, 2003-2004.
Luc Vincent, "Morphological grayscale reconstruction in image analysis: applications and efficient algorithms". IEEE Transactions on Image Processing, volumen 2, Número 2, 1993, pp.176-201.
Miguel Garre, Juan Cuadrado, Miguel A. Sicilia, Daniel Rodríguez y Ricardo Rejas, "Comparación de diferentes algoritmos de clustering en la estimación de coste en el desarrollo de software." Revista Española de Innovación, Calidad e Ingeniería del Software, Volumen 3, Número 1, 2007, pp. 6–22.
Matteo Matteucci, A tutorial on Clustering algorithms: Fuzzy K-means, 2013, disponible en http://home.deib.polimi.it/matteucc/Clustering/tutorial_html/cmeans.html
Omer Demirkaya, Prasanna K. Sahoo, and Musa Hakan, Images Processing with MATLAB, Aplications in Medicine and Biology, CRC Press, 2009J. Jones, Networks, 10 de Mayo de 1991, disponible en http://www.atm.com.
Ranjan Maitra y Ivan P. Ramler, A k -mean-directions Algorithm for Fast Clustering of Data on the Sphere, disponible en http://www.public.iastate.edu/~maitra/papers/kmndirs.pdf
Bharati R.Jipkate y V.V.Gohokar, "A Comparative Analysis of Fuzzy C Means Clustering and K Means Clustering Algorithms", International Journal Of Computational Engineering Research, Volumen 2, Número 3, May-June 2012, pp. 737–739.
Klaus D. Toennies, Guide to Medical Image Analysis. Springer, London, 2012.
Luigi Di Stefano y Andrea Bulgarelli, "A simple and efficient connected components labeling algorithm," 10th International Conference on Image Analysis and Processing. IEEE Comput. Soc, 1999, pp. 322–327.
James D. Leeper, What is the difference between categorical, ordinal and interval variables?, 2014, disponible en http://www.ats.ucla.edu/stat/mult_pkg/whatstat/nominal_ordinal_interval.htm
Rajul Parikh, Annie Mathai, Shefali Parikh, G Chandra Sekhar, y Ravi Thomas, "Understanding and using sensitivity, specificity and predictive values", Indian journal of ophthalmology, Volumen 56, Número 1, 2008, pp. 45–50.
How to Cite
Ballesteros Maldonado, A. P., López Alza, L. C., & Herrera Garcia, R. J. (2015). Segmentation and nasal line counting in ultrasound fetal images at the 11-13+6 weeks of gestation. Ingeniería, 20(1), 65 -78. https://doi.org/10.14483/udistrital.jour.reving.2015.1.a04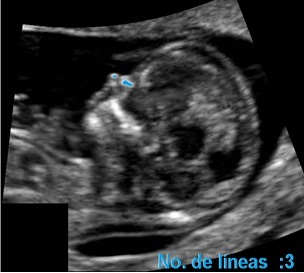 Published: 2015-04-07
From the edition of the V23N3 of year 2018 forward, the Creative Commons License "Attribution-Non-Commercial - No Derivative Works " is changed to the following:
Attribution - Non-Commercial - Share the same: this license allows others to distribute, remix, retouch, and create from your work in a non-commercial way, as long as they give you credit and license their new creations under the same conditions.