Diseño y Evaluación del Desempeño de una Red de Comunicaciones para Medición Inteligente en Network Simulator–2
Design and Performance Evaluation of a Communication Network for Smart Metering in Network Simulator–2
Juan Manuel Aranda

Universidad Sergio Arboleda
Palabras clave:
AMI, 3G mobile communications, DLMS/COSEM, PLC, Smart Grids
(en_US)
Resumen (es_ES)
Este artículo presenta los resultados de diseño y evaluación del desempeño de una red de comunicaciones para Medición Inteligente o AMI (Advanced Metering Infrastructure), empleando el simulador de redes Network Simulator-2 (NS-2). La red de comunicaciones propuesta combina las tecnologías PLC (PowerLine Communication) y HSDPA (High Speed Downlin Packet Access), así como el uso de concentradores de datos (DCs) y de protocolos aplicación y transporte como DLMS/COSEM y TCP-UDP/IP. Los resultados de evaluación indicaron que al introducir dispositivos DCs dentro del diseño de red de comunicaciones, la red presenta un desempeño superior frente a otras que no emplean DCs para concentrar la información de diferentes medidores inteligentes. Finalmente, se observó una mayor cobertura y un menor número de acceso directos a la red de comunicaciones al considerar DCs en el diseño.
Resumen (en_US)
This article presents the results of design and performance evaluation of a Smart Metering
or AMI network, using the Network Simulator-2. The communication network
proposed combines technologies such as, PLC and HSPDA, using data concentrators
(DCs) and application and transport protocols such as DLMS/COSEM and TCP/IP. The
performance evaluation results shown that introducing data concentrator inside a communication network provides a superior performance compared with others that not use
it. Finally, the employment of DCs on the design also extended communication coverage
and reduce direct accesses to the network.
Descargas
La descarga de datos todavía no está disponible.
Referencias
J. Wang and V. Leung, " A Survey of Technical Requirements and Consumer Application Standards for IP-based Smart Grid AMI Network," in 2011 Int. Conf. Information Networking (ICOIN), pp. 114–119.
H. Sui, H. Wang, M. Lu, and W. Lee, " An AMI System for the Deregulated Electricity Markets," IEEE Trans. on Industry Applications, vol. 45, no. 6, pp. 2104–2108, December 2009.
A. Zaballos, "Survey and Performance Comparison of AMR over PLC Standards" , IEEE Transactions of Power Delivery, vol. 24, No 2, pp. 604-613, April 2009.
A. M. Ruíz y H. G. Narvaez, " Evaluación de desempeño de una red de medidores inteligentes, implementada sobre tecnología celular HSDPA," Tesis de Magíster, Departamento de Ingeniería Eléctrica y Electrónica, ´ Universidad de los Andes, Bogotá, pp. 1–154, 2011.
High-level Smart Meter Data Traffic Analysis, Engage Consulting, United Kingdom, May 2010. Available on: www.engage-consulting.co.uk
Electricity metering-data exchange for meter reading, tariff and load control: IEC-62056 Parts 47 and 53, IEC, 2006.
J. M. Aranda, " Evaluación del desempeño de una red AMI implementada sobre las tecnologías PLC y HSDPA," Bogotá: Tesis Magíster, Universidad de los Andes, 2012, pp. 1-148.
EURANE [Online]. Available on: http://yotrew.blogspot.com/2014/01/patch-ns2-to-support-umts.html
A. Alexiou, C. Bouras, and V. Igglesis (2007, March). Performance Evaluation of TCP over UMTS Transport Channels [Online]. Research Unit 6 (RU6) of Computer Technology Institute & Press " Diophantus" , University of Patras. Available on: http://ru6.cti.gr/ru6/publications/
I. de BRUIN et al., "Performance Analysis of Hybrid-ARQ Characteristics in HSDPA," Wireless Personal Communications, Springer, 2007, pp. 337–353.
R. Shreevastav, C. McGoldrick, and M. Huggard, " Delivering Improved QoS and Cell Throughput in UMTS Based HSDPA Networks," in 2009 IEEE International Symposium on a Word of Wireless, Mobile and Multimedia Networks & Workshops, pp. 1-9.
A. Brkanic, A, M. Hadzialic. M, and D. Borovina, " Effects of Choice of MAC Protocol on QoS Parameters in BPL Network," in 2008 International Symposium ELMAR-2008, Croatia, pp. 285-288.
US Department of Energy (October, 2010). Report: Communications Requirements for Smart Grid Technology [Online]. Available on: http://energy.gov/sites/prod/files/gcprod/documents/ [14] 3GPP TS 22.105 Technical Specification, 3GPP, V8.4.0, June 2006. [15] ITU-T G.1050, Telecommunication Standardization Sector of ITU, November 2007.
ITU-T G.1050, Telecommunication Standardization Sector of ITU, November 2007.
Cómo citar
Aranda, J. M. (2015). Diseño y Evaluación del Desempeño de una Red de Comunicaciones para Medición Inteligente en Network Simulator–2. Ingeniería, 20(1), 21 -35. https://doi.org/10.14483/udistrital.jour.reving.2015.1.a02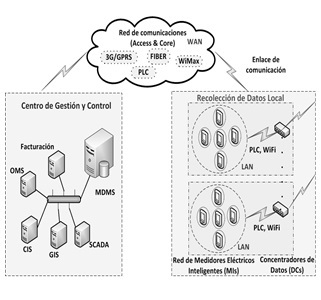 Publicado: 2015-02-18
A partir de la edición del V23N3 del año 2018 hacia adelante, se cambia la Licencia Creative Commons "Atribución—No Comercial – Sin Obra Derivada" a la siguiente:
Atribución - No Comercial – Compartir igual: esta licencia permite a otros distribuir, remezclar, retocar, y crear a partir de tu obra de modo no comercial, siempre y cuando te den crédito y licencien sus nuevas creaciones bajo las mismas condiciones.