Towards a New Generation of Passive Optical Net-works
Hacia una Nueva Generación de Redes Ópticas Pasivas
Elkin Fabián Aguas Martinez

Universidad Distrital Francisco José de Caldas

Gustavo Adolfo Puerto Leguizamón

Universidad Distrital Francisco José de Caldas

Carlos Arturo Suárez Fajardo

Universidad Distrital Francisco José de Caldas
Palabras clave:
Optical Fiber, Optical Access Network, Radio over Fiber, Wired-Wireless Convergence
(en_US)
Palabras clave:
convergencia fija-inalámbrica, fibra óptica, red óptica de acceso, radio sobre fibra
(es_ES)
Resumen (en_US)
Context: Growth in bandwidth demand has boosted the development of new techniques for the transmission of information in telecommunication networks. Passive Optical Networks (PON) are presented as an alternative to conventional networks based on copper. This paper proposes and assesses the performance of an optical access network with TDM-WDM and wired-wireless convergence.
Method: A teletraffic study was performed using a discrete event simulator. A simulation scenario was set up in order to obtain the packet loss and throughput of an optical access network under different load values, percentage of ONUs demanded bandwidth and number of wavelengths.
Results: As the number of wavelengths used to cope with the exceeding traffic demanded by users, the results show that packet loss tends to decrease and throughput tends to increase in the network.
Conclusions: The behavior of the variables analyzed in the results shows that when dimensioning a channel wavelength, which is required to determine the amount of resources needed to meet the bandwidth demand of the users, the proposed model positively influences the network behavior.
Resumen (es_ES)
Contexto: El crecimiento en la demanda de ancho de banda ha impulsado el desarrollo de nuevas técnicas para la transmisión de información en redes de telecomunicaciones. Las redes ópticas pasivas se presentan como una alternativa a las redes de acceso basadas en cobre. Este artículo propone y evalúa el desempeño de un modelo de red óptica de acceso que tiene en cuenta TDM-WDM y la convergencia fija-inalámbrica.
Método: A través de un estudio de teletráfico realizado haciendo uso de un simulador de eventos discretos, fue configurado un escenario de simulación con el fin de obtener la pérdida de paquetes y el volumen de tráfico de la red para diferentes valores de carga, porcentaje de ONUs con exceso de demanda de ancho de banda y el número de longitudes de onda.
Resultados: A medida que se usa un mayor número de longitudes de onda para hacer frente al tráfico en exceso demandado por los usuarios, los resultados muestran que la pérdida de paquetes tiende a disminuir y el volumen de tráfico en la red tiende a aumentar en la red.
Conclusiones: El comportamiento de las variables analizadas en los resultados muestra que al dimensionar los canales de longitud de onda, aspecto requerido para determinar la cantidad de recursos necesarios para hacer frente a las demandas de ancho de banda de los usuarios, el modelo propuesto influye positivamente en el comportamiento de la red.
Descargas
La descarga de datos todavía no está disponible.
Referencias
Rayesh Yadav, "Passive-optical-network- (PON-) based converged access network [invited]", IEEE/OSA Journal of Optical Commu-nications and Networking, Volume 4, Issue 11, November, 2012, pp. B124-B130.
M.E. Abdalla, S.M. Idrus and A.B. Mohammad, "Hybrid TDM-WDM 10G-PON for high scalability next generation PON", 8th IEEE Conference on Industrial Electronics and Applications (ICIEA), 2013, pp. 1448-1450.
Way Ji, Xiao Li, Zhaoyuan Kang and Xuwei Xue, "Design of WDM-RoF-PON Based on Improved OFDM Mechanism and Optical Co-herent Technology", IEEE/OSA Journal of Optical Communications and Networking, Volume 7, Issue 2, February, 2015, pp. 74-82.
Paul W. Shumate, "Fiber-to-the-Home: 1977-2007", Journal of Lightwave Technology, Volume 26, Issue 9, May, 2008, pp. 1093-1103.
Yoichi Maeda, kenji Okada and Dave Faulkner, "FSAN OAN-WG and Future issues for broadband optical access networks", IEEE Communications Magazine, Volume 39, Issue 12, December, 2001, pp. 126-132.
Marek Hajduczenia and Henrique J.A. da Silva, "Next generation PON systems – Current status", 11th International Conference on Transparent Optical Networks (ICTON), July, 2009, pp. 1-8.
Hao Feng, Chang-Joon Chae and A. Nirmalathas, "Seamless handover scheme in energy-efficient long reach WDM/TDM PON sys-tems", 17th Opto-Electronics and Communications Conference (OECC), July, 2012, pp.711-712.
Saikrishna Reddy K, Deepa Venkitesh, Colm Browning and Liam P Barry, "Demonstration of a 30 Gbps Intensity Modulation Di-rect Detection OFDM-based Passive Optical Network", 2015 Twenty First National Conference on Communications (NCC), Feb-ruary-March, 2015, pp. 1-4.
Gerd Keiser, FTTX Concepts and Applications, Wiley-IEEE Press, Hoboken, New Jersey, 2006, pp. 155-169.
CISCO, The Zettabyte Era: Trends and Analysis, May, 2015, Available at http://www.cisco.com/c/en/us/solutions/collateral/service-provider/visual-networking-index-vni/VNI_Hyperconnectivity_WP.pdf
CISCO, Cisco Visual Networking Index: Global Mobile Data Traffic Forecast Update, 2014-2019, February 15, 2014, Avail-able at http://www.cisco.com/c/en/us/solutions/collateral/service-provider/visual-networking-index-vni/white_paper_c11-520862.pdf
Ming Zhu, Liang Zhang, Cheng Liu, Shu-Hao Fan and Gee-Kung Chang, "Delivery of Wireless and Wired Services Using a Single-drive Mach-Zehnder Modulator for Bidirectional Radio-over-Fiber Systems", 2012 IEEE Photonics Society Summer Topical Meeting Series, July, 2012, pp. 90-91.
Priya Dane and Hemani Kaushal, "Characterization of RoF GPON performance for different modulation schemes", Tenth International Conference on Wireless and Optical Communications Networks (WOCN), July, 2013, pp. 1-6.
V. Polo, A. Martinez, J. Marti, F. Ramos, A. Griol and R. Llorente, "Simultaneous baseband and RF modulations scheme in Gbit/s millimetre-wave Wireless-fibre networks", International Topical Meeting on Microwave Photonics (MWP), September, 2000, pp. 168-171.
Tomotada Kamisaka, Toshiaki Kuri and Ken-ichi Kitayama, "Simultaneous modulation and fiber-optic transmission of 10-Gb/s baseband and 60-GHz-band radio signals on a single wavelength", IEEE Transactions on Microwave Theory and Techniques, Volume 49, Issue 10, October, 2001 pp. 2013-2017.
Norashidah Md Din, Nurul Asyikin MdRadzi, Sajaa Kh Sadon and Mohammed Hayder Al-Mansoori, "Approaches in Dynamic Bandwidth Allocation in Passive Optical Network Systems", 2013 IEEE 4th International Conferenceon Photonics (ICP), October, 2013, pp. 10-14.
Kun Wang, Claus Popp Larsen, Anders Gavler, Bart Lannoo, Dominique Chiaroni and Mikhail Popov, "A Comparative Mod-el and Techno-Economic Analysis of Next Generation AON Ethernet and TDM PON", Asia Communication and Photonics Confer-ence and Exhibition (ACP), December, 2010, pp. 716-717.
HUAWEI, Next-Generation PON Evolution, 2010, Available at http://www.huawei.com/de/static/HW-077443.pdf
T. Jiménez, N. Merayo, R.J. Durán, J.C. Aguado, I. de Miguel, P. Fernández, R.M. Lorenzo and E.J. Abril, "Adaptive-Tunning Method Base don Neural Networks for PID Controllers Applied to Passive Optical Networks (PONs)", 2015 17th International Conference on Transparent Optical Networks (ICTON), July, 2015, pp. 5-9.
John S. V ardakas, V assilios G. V assilakis, and Michael D. Logothetis, "Calculating blocking probabilities in single-hop WDM traffic-groomed optical networks", Proc. of the International Conference on Transparent Optical Networks, July, 2007, pp. 1-5
H. Akimaru, K. Kawashima, Teletraffic – Theory and Applications, Springer-Verlag, 1993.
H. H. Lee et al., "WDM PON experience and direction", FSAN Workshop, November, 2009, Laforet Biwako.
Cómo citar
Aguas Martinez, E. F., Puerto Leguizamón, G. A., & Suárez Fajardo, C. A. (2016). Hacia una Nueva Generación de Redes Ópticas Pasivas. Ingeniería, 21(1), 49-62. https://doi.org/10.14483/udistrital.jour.reving.2016.1.a04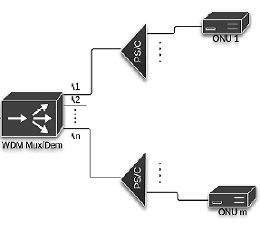 Publicado: 2016-01-12
Sección
Electrónica y Telecomunicaciones
A partir de la edición del V23N3 del año 2018 hacia adelante, se cambia la Licencia Creative Commons "Atribución—No Comercial – Sin Obra Derivada" a la siguiente:
Atribución - No Comercial – Compartir igual: esta licencia permite a otros distribuir, remezclar, retocar, y crear a partir de tu obra de modo no comercial, siempre y cuando te den crédito y licencien sus nuevas creaciones bajo las mismas condiciones.