Adaptive Beamforming for Moving Targets Using Genetic Algorithms
Formación de Haz Adaptativo para Objetos Móviles usando Algoritmos Genéticos
Diego Fernando Burgos Beltrán

Universidade Federal de Goiás

http://orcid.org/0000-0002-5836-3512

Rodrigo Pinto Lemos

Universidade Federal de Goiás

Hugo Vinícius Leão e Silva

Instituto Federal de Educação Ciência e Tecnologia de Goiás

Jonas Augusto Kunzler

Universidade Federal de Goiás

Ednas Lúcia Flôres

Universidade Federal de Uberlândia
Keywords:
Smart Antenna, beamforming, moving targets, CDMA, genetic algorithms
(en_US)
Keywords:
Antena Inteligente, beamforming, CDMA, algoritmos genéticos
(es_ES)
Abstract (en_US)
Context: This works investigates the use of Genetic Algorithm (GA) for beamforming on a Code Division Multiple Access (CDMA) environment under different Signal-to-Noise Ratios (SNR), assuming a reference signal is known.
Method: The GA is a method inspired in evolutionary principles to optimize an objective function by choosing the best candidates of a population. The population is randomly generated to ensure high diversity and get a global optimization. On the other hand, the Least Means squares (LMS) algorithm is an adaptive algorithm with guaranteed convergence as long as a reference signal is known.
Results: The GA converged faster than the LMS in all tested scenarios. Besides, GA achieved best results in pointing the beam for uncorrelated static sources. Additionally, proper tuning of GA parameters allowed fast convergence and improved tracking of moving targets.
Conclusions: The simulation results confirm that the GA is able to obtain a convergent and accurate tool for beamforming and tracking of moving targets, given a reference signal. Hence, GA turns to be promising in replacing LMS on Smart Antenna Systems for increasing channel capacity.
Abstract (es_ES)
Contexto: En este trabajo se investiga el uso de un Algoritmo Genético (GA) para la conformación del haz de un arreglo de antenas en ambientes de Acceso Múltiple por División de Código (CDMA) bajo diferentes relaciones Señal a Ruido, asumiendo que la señal de referencia es conocida.
Método: El Algoritmo Genético es un método inspirado en principios evolutivos, usado para optimizar una función objetivo seleccionando los mejores candidatos de una población. La población es generada aleatoriamente para asegurar alta diversidad y conseguir una optimación global. Por otro lado, el algoritmo LMS es un algoritmo que garantiza la convergencia siempre y cuando la señal de referencia sea conocida.
Resultados: El GA converge más rápidamente en que el algoritmo LMS en todos los escenarios probados. Además, el GA consiguió mejores resultados apuntando el haz para fuentes estáticas descorrelacionadas. Adicionalmente, una apropiada selección de los parámetros del GA permite una mayor  velocidad de convergencia y un mejorado rastreamiento de fuentes en movimiento.
Conclusiones: Los resultados de las simulaciones confirman que el GA es una herramienta capaz de obtener una convergencia y precisión en la conformación del haz y el rastreamiento de fuentes en movimiento dada una señal de referencia. Por lo tanto, el GA resulta prometedor para sustituir el algoritmo LMS en sistemas de antenas inteligentes y aumentar la capacidad del canal.
Downloads
Download data is not yet available.
References
A. Paulraj, R. Roy, and T. Kailath, "A subspace rotation approach to signal parameter estimation" Proceedings of the IEEE, vol. 74, no. 7, pp. 1044 – 1046, July 1986
Y. R. Ferreira, "Métodos de Estimação de Ângulos DOA", Tese de Mestrado, Universidade Federal de Goiás, Goiânia, 2005.
R. O. Schmidt, Multiple emitter location and signal parameter estimation. In: Proc. RADC Spectral Estimation Workshop. [S.l.: s.n.], 1979. p. 243.258.A. J.
A. J. Barabell, "Improving the resolution performance of eigenstruture-based direcion - finding algorihtms. In: Proc. of the IEEE Int'l. Conf. on Acoustic, Speech, and Signal Processing-83. [S.l.: s.n.], pp. 336 – 339, 1983.
P. Stoica and K. Sharman, "Novel eigenanalysis method for direction estimation" In: PROCEEDINGS, I. (Ed.). IEE Proceedings. [S.l.: s.n.], v. 137, n. 1,1990.
H. V. Leão e Silva "Redução da complexidade computacional do método de estimação de ângulos de incidência através da diferença entre os valores singulares da matriz de covariância espacial" Tese de Mestrado, Universidade Federal de Goiás, Goiânia, 2009.
S. B. Puttini, "Emprego de Antenas Adaptativas para Estimação de Dados em Ambiente CDMA", Tese de Mestrado, Universida-de Federal de Brasília, Brasília, Março 2006.
V. V. de Faria, "Antenas Adaptativas para Sistemas de Comunicações sem Fio" Tese de Mestrado, Instituto Nacional de teleco-municações, Santa Rita do Sapucaí, 2003.
W. L. Stutzman e G. A. Thiele, "Antenna Theory and Desing", John Wiley & Sons, Nova Iorque EUA, 1981.
C. Arévalo e J. Rojas, "Material Didáctico para el Estudio y Simulación de CDMA: Aplicación a Comunicaciones Móviles", Escue-la Politécnica Nacional, Quito, 2012.
A. E. Zooghby, "Smart Antenna Engineering", Artech House, Norwood EUA, 2005.
S. Haykin, "Modern Filters", Macmillan Publ Company, Nova Iorque EUA,1989.
G. Blanchet & M. Charbit, "Digital Signal and Image Processing Using MATLAB", ISTE Ltd, Londres UK, 2006.
J. C. Liberti e T.S. Rappaport, "Smart Antennas for Wireless Communications: IS-95 and Third Generation CDMA Applications", Prentice Hall, Nova Jersey EUA, 1999.
M. Vitale, G. Vesetini, N.N. Ahmad & L. Hanzo," Genetic Algorithm Assisted Adaptive Beamforming", Vehicular Technology Conference, vol. 1, pp. 601 – 605, 2002.
A. S. Rocha, "Otimização Multiobjetivo e Multirestrição da Cobertura de Redes de Frequência Única", Tese de Doutorado, Universidade Federal de Brasília, Brasília, Agosto 2013.
D. Burgos, R. Lemos, J. Kunzler & H. Silva, "Adaptive Beamforming for Moving Traget Using Genetics Algorithms and a CDMA Reference Signal", IEEE COLCOM, pp. 1-5, 2015.
R.L. Haupt, "Phase-only adaptive nulling with a GA", IEEE Transactions on Antennas and Propagation., vol. 45, pp.1009- 1015, 1997.
D. Burgos, R. Lemos, J. Kunzler & H. Silva, "Adaptive Beamforming for Moving Traget Using Genetics Algorithms", IEEE WEA, pp. 1-5, 2015.
J. Hung & A. Chang, "Combining genetic algorithm and iterative MUSIC searching DOA estimation for the CDMA system", Expert Systems with Applications, pp. 1895-1902, 2011.
How to Cite
Burgos Beltrán, D. F., Pinto Lemos, R., Leão e Silva, H. V., Kunzler, J. A., & Flôres, E. L. (2016). Adaptive Beamforming for Moving Targets Using Genetic Algorithms. Ingeniería, 21(2), 214-224. https://doi.org/10.14483/udistrital.jour.reving.2016.2.a07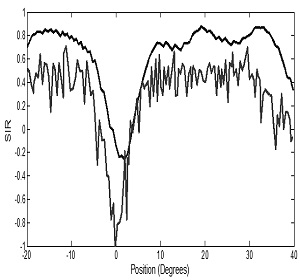 Published: 2016-05-26
Section
Special Section: Best Extended Articles - WEA 2015
From the edition of the V23N3 of year 2018 forward, the Creative Commons License "Attribution-Non-Commercial - No Derivative Works " is changed to the following:
Attribution - Non-Commercial - Share the same: this license allows others to distribute, remix, retouch, and create from your work in a non-commercial way, as long as they give you credit and license their new creations under the same conditions.