Modelo de encriptación simétrica basada en atractores caóticos
Symmetric Encryption Model Based on Chaotic Attractors
Edilma Isabel Amaya Barrera

Universidad Distrital Francisco José de Caldas

César Augusto Suárez Parra

Universidad Distrital Francisco José de Caldas

Rafael Esteban Huérfano Ortiz

Universidad Distrital Francisco José de Caldas

José David Moreno Posada

Universidad Distrital Francisco José de Caldas

Fabio Andrés Parra Fuentes

Universidad Distrital Francisco José de Caldas
Palabras clave:
Chaos, chaotic attractors, digital communications, encryption, security, synchronization
(en_US)
Palabras clave:
sincronización, caos, encriptación, atractor de Lorenz, comunicaciones digitales
(es_ES)
Resumen (es_ES)
Contexto: El aumento en la capacidad de procesamiento de las máquinas y los desarrollos en los algoritmos de búsqueda combinatoria disminuyen el tiempo necesario para descifrar fraudulentamente la información; por esta razón se plantea la necesidad de generar nuevas formas de codificar la  información para su transmisión segura.
Método: En este artículo se presenta un modelo de encriptación simétrico extensible para comunicaciones digitales, aprovechando el caos generado por sistemas dinámicos no lineales.  
Resultados: El modelo desarrollado demostró estar en la capacidad de encriptar mensajes en tiempos de sincronización, encriptación y desencriptación inferiores a 1 ms con una entropía superior a 6 usando el atractor de Rossler para su implementación.
Conclusiones: El algoritmo se presenta como una alternativa a los algoritmos tradicionales de combinatoria demostrando una mayor eficiencia en la gestión de recursos computacionales y plantea las bases para su continuar con su estudio en la comunidad académica interesada, debido a la variedad de los sistemas dinámicos no lineales.
Resumen (en_US)
Context: the increase in the processing capacity of machines and developments in combinatorial search algorithms reduces the time required to decipher the information fraudulently. Bear in mind this, there is a need to generate new ways of encoding information for secure transmission.
Method: in this paper a symmetrical and extensible model for digital communications encryption is presented, taking advantage of the chaos generated by nonlinear dynamic systems.
Results: the developed model proved to encrypt messages in time synchronization, encryption and decryption less than 1 ms with an entropy higher than 6 using the Rössler attractor for its implementation.
Conclusions: the algorithm is presented as an alternative to traditional algorithms demonstrating greater efficiency in the management of computing resources and raises the groundwork for continuing their study on the interested academic community due to the variety of dynamical systems nonlinear.
Descargas
La descarga de datos todavía no está disponible.
Referencias
P. Anghelescu, S. Ionita and E. Sofron, "Block Encryption Using Hybrid Additive Cellular Automata". 7th Interna-tional Conference on Hybrid Intelligent Systems (HIS 2007), Kaiserlautern, 2007, pp. 132-137.
R. S. Vignesh, S. Sudharssun and K. J. J. Kumar, "Limitations of Quantum & the Versatility of Classical Cryptog-raphy: A Comparative Study". Environmental and Computer Science, 2009. ICECS '09. Second International Confer-ence on, Dubai, 2009, pp. 333-337.
Louis M. Pecora y Thomas L. Carroll, "Synhronization in chaotic systems". Physical Review Letters, Volumen 64, Número 8, Febrero 1990, pp. 821- 824.
Li S., Alvarez G., Li Z. y Halang W. A., 2007. Analog chaos-based secure communications and cryptanalysis: a brief survey. PhysCon.
L. Kocarev, "Chaos-based cryptography: A brief overview". IEEE Circuits and Systems Magazine, 2001, 1(2): 6-21.
K. M. Cuomo, A. V. Oppenheim, y Steven H. Strogatz, "Synchronization of Lorenz-Based Chaotic Circuits with Applications to Communications". IEEE transactions on circuits and systems-II: analog and digital signal processing, Volumen 40, Número 10, Octubre 1993, pp. 626-633.
V. Milanovic and M.E. Zaghloul, "Improved masking algorithm for chaotic Communication systems". Electronic Letters, 1996, 32(1): 11-12.
M. S. Azzaz, C. Tanougast, et al., "Real-time FPGA implementation of Lorenz's chaotic generator for ciphering telecommunications". IEEE North-East Workshop on Circuits and Systems and TAISA Conference, 2009, pp. 1-4.
Camilo A. Ramírez, "Enmascaramiento de Información Mediante Sistemas Caóticos Sincronizados", Tesis de ma-gister, Departamento de matemáticas, Universidad Nacional de Colombia, Bogotá D.C., Colombia, 2011.
N.K. Pareek, Vinod Patidar y K.K. Sud. "Image encryption using chaotic logistic map". Image and Vision Compu-ting, 2006, 24(9): 926-934.
M.S. Baptista, "Cryptography with chaos". Physics Letters A. Vol 240, 1998, pp 50-54.
Murillo-Escobar M.A. y Cruz-Hernández C. "Cifrado caótico de plantilla de huella dactilar en sistemas biomé-tricos". Congreso Latinoamericano de Control Automático, 2014, 18-23.
Yuling Luo, Lvchen Cao, Senhui Qiu, Hui Lin, Jim Harkin y Junxiu Liu, "A chaotic map-control-based and the plain image-related cryptosystem". 2016. Nonlinear Dynamics. Volume 83, Issue 4, pp 2293-2310.
A. Akgül, S. Kaçar, B. Aricıoğlu and İ Pehlivan, "Text encryption by using one-dimensional chaos generators and nonlinear equations". Electrical and Electronics Engineering (ELECO), 2013 8th International Conference on, Bursa, 2013, pp. 320-323.
Steven H. Strogatz, Nonlinear Dynamics and Chaos with Applications to Physics, Biology, Chemistry, and Engi-neering. Perseus Books, Reading, Estados Unidos, 1994, pp. 301-347.
Cómo citar
Amaya Barrera, E. I., Suárez Parra, C. A., Huérfano Ortiz, R. E., Moreno Posada, J. D., & Parra Fuentes, F. A. (2016). Modelo de encriptación simétrica basada en atractores caóticos. Ingeniería, 21(3), 378-390. https://doi.org/10.14483/udistrital.jour.reving.2016.3.a08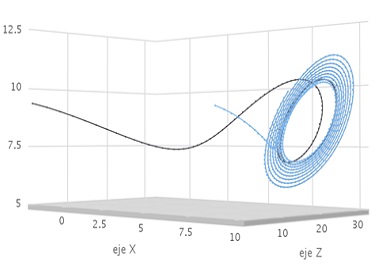 Publicado: 2016-10-09
Sección
Dossier "Complejidad e Ingeniería"
A partir de la edición del V23N3 del año 2018 hacia adelante, se cambia la Licencia Creative Commons "Atribución—No Comercial – Sin Obra Derivada" a la siguiente:
Atribución - No Comercial – Compartir igual: esta licencia permite a otros distribuir, remezclar, retocar, y crear a partir de tu obra de modo no comercial, siempre y cuando te den crédito y licencien sus nuevas creaciones bajo las mismas condiciones.