David Cronenberg y el cuerpo abierto
David Cronenberg and the open body
Johanna Rodríguez Ahumada

Universidad Distrital Francisco José de Caldas
Palabras clave:
body, crush, transit
(en_US)
Palabras clave:
cuerpo, máquina, crush, tránsito
(es_ES)
Resumen (es_ES)
En la sociedad actual, la relación entre el cuerpo y la tecnología ha planteado una de las fisuras más importantes en la concepción de la subjetividad. La relación enigmática y fascinante entre humanos y máquinas, explorada tanto por películas como por otros medios (viejos y nuevos) en el campo de la ciencia ficción, ha presentado la figura del cyborg ("organismo cibernético") como una criatura híbrida y ambigua. que rompe la dicotomía naturaleza-artificialidad. ¿Cómo deberíamos leer los nuevos productos culturales que surgen como resultado de la revolución tecnológica? El tema de este estudio es Crash (1995), dirigida por David Cronenberg, una interpretación visual de la novela de J.G Ballard que aborda las fantasías que rodean la hibridación del yo con el otro, de lo orgánico con lo inorgánico; en resumen, de cuerpos en tránsito.
Resumen (en_US)
In today's society, the relationship between the body and technology has raised one of the most important cracks in the conception of subjectivity. The enigmatic and fascinating relationship between human and machine, explored both by film and by other (old and new) media in the field of science fiction, has put forward the figure of the cyborg ("cybernetic organism") as a hybrid and ambiguous creature that breaks the dichotomy nature-artificiality. How should we read the new cultural products that emerge as a result of the technological revolution? The subject of this study is Crash (1995), directed by David Cronenberg, a visual interpretation of the novel by J.G Ballard that addresses fantasies surrounding the hybridization of the self with the other, of the organic with the inorganic; in short, of bodies in transit.
Descargas
La descarga de datos todavía no está disponible.
Referencias
Ballard, J.G. (2009). Entrevista con Graeme Revell, en RE/Search 8/9 (1984). Disponible en http://www.v-search.net/books/ballexc4.shtml.
Baudrillard, Jean (1991). "Two Essays: 1. Simulacra and Science Fiction. 2. Ballard's Crash," translated by Arthur H. Evans.
Science-Fiction Studies 18 (3): 309– 20.
Blakesley, David (1992) "Eviscerating David Cronenberg", en Enculturation. Vol 2. No 1. Fall: 7. 1998. Acceso: 9 feb. www.uta.edu/huma/enculturation/2_1/blakesley/
Cortés, José Miguel G. (1997). Orden y Caos. Un estudio sobre lo monstruoso en el arte. Colombia: Anagrama. Barcelona: Argumentos.
De Beauvoir, Simone (1974). The Second Sex. New York: Vintage.
De Lauretis, Teresa (2010). "Becoming Inorganic: Cronenberg's eXistenZ, Virtuality and the Death Drive", en Freud's drive: Psychoanalysis, Literature and Film, NewYork: Palgrave Macmillan.
Duque, Pedro (1999). "Larga vida a la carne nueva", en Goremanía 2. Alberto Santos (ed.).
Gombrich, E. H. (1980). "Standards of Truth: The Arrested Image and the Moving Eye", en The Language of Images (W. J. T. Mitchell. ed.). Chicago: University of Chicago Press.
Haraway, Donna (1991). Simians, Cyborgs, and Women: The Reinvention of Nature. New York: Routledge.
Hegel, G. W. F. (1977). Phenomenology of Spirit. Oxford: Clarendon Press.
Hoberman, J. (1997). "Body Work!" Rev. of Crash, en Village Voice. Marzo 25.:75.
Kauffman, Linda (2000). Malas y perversos. Fantasías en la cultura y el arte contemporáneos. Madrid: Cátedra.
Mauss, Marcel (1973). "Techniques of the Body." Economy and Society 2: 70– 88.
Merleau-Ponty, Maurice (1968). The Visible and the Invisible. Evanston, Ill: Northwestern University Press.
Merleau-Ponty, Maurice (1964). The Primacy of Perception. Evanston, Ill.: Northwestern University Press.
Merleau-Ponty, Maurice (1962). Phenomenology of Perception. London and New York: Routledge.
MacCarthy, Todd (1996). "Crash", Rev. of Crash, en Variety 363.3. Mayo 20-26:30.
Rayner, Richard (1997). "Auto Erotica", Rev. of Crash, en Harper's Bazaar. Abril: 132.
Scarry, Elaine (1985).The Body in Pain: The Making and Unmaking of the World. Oxford: Oxford University Press.
Sobchack, Vivian (2004).Carnal Thoughts: Embodiment and Moving Image Cultures. Berkeley: University of California Press.
Sobchack, Vivian(1992).The Address of the Eye: A Phenomenology of Film Experience. Princeton, N.J.: Princeton University Press.
Sobchack, Vivian(1991)."Baudrillard's Obscenity", en Science Fiction Studies 18 (3).
Cómo citar
Rodríguez Ahumada, J. (2014). David Cronenberg y el cuerpo abierto. Calle 14 Revista De investigación En El Campo Del Arte, 9(14), 106-117. https://doi.org/10.14483/udistrital.jour.c14.2014.2.a08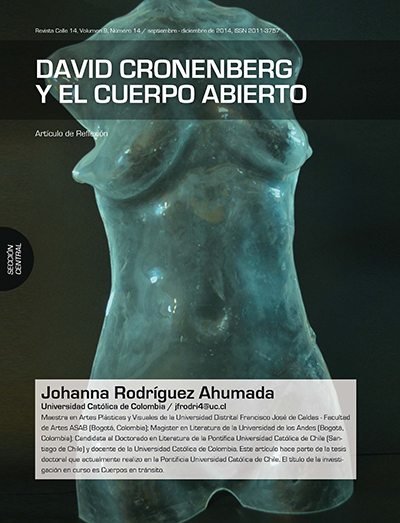 Publicado: 2014-12-24
Este obra está bajo una
licencia de Creative Commons Reconocimiento 4.0 Internacional
.