Modelado Semántico 3D de Ambientes Interiores basado en Nubes de Puntos y Relaciones Contextuales
3D Semantic Modeling of Indoor Environments based on Point Clouds and Contextual Relationships
Angie Quijano

Flavio Prieto

Universidad Nacional de Colombia
Palabras clave:
Indoor environment, Kinect, point cloud, semantic modeling
(en_US)
Palabras clave:
Ambientes interiores, Kinect, modelado semántico, nube de puntos.
(es_ES)
Resumen (es_ES)
Contexto: Se propone una metodología para identificar y etiquetar los componentes de la estructura de un ambiente interior típico y así generar un modelo semántico de la escena. Nos interesamos en la identificación de: paredes, techos, suelos, puertas abiertas, puertas cerradas que forman un pequeño hueco con la pared y ventanas parcialmente ocultas.
Método: Los elementos a ser identificados deben ser planos en el caso de paredes, pisos y techos y deben tener una forma rectangular en el caso de puertas y ventanas, lo que significa que la estructura del ambiente interior es Manhattan. La identificación de estas estructuras se determina mediante el análisis de las relaciones contextuales entre ellos, paralelismo, ortogonalidad y posición de la estructura en la escena. Las nubes de puntos de las escenas fueron adquiridas con un dispositivo RGB-D (Sensor Kinect de Microsoft).
Resultados: Los resultados obtenidos muestran una precisión de 99.03% y una sensibilidad de 95.68%, usando una base de datos propia.
Conclusiones: Se presenta un método para el etiquetado semántico 3D de escenas en interiores basado en relaciones contextuales entre los objetos. Las reglas contextuales usadas para clasificación y etiquetado permiten un buen entendimiento del proceso y, también, una identificación de las razones por las que se presentan algunos errores en el etiquetado. El tiempo de respuesta del algoritmo es corto y la exactitud alcanzada es satisfactoria. Además, los requerimientos computacionales no son altos.
Resumen (en_US)
Context: We propose a methodology to identify and label the components of a typical indoor environment in order to generate a semantic model of the scene. We are interested in identifying walls, ceilings, floors, doorways with open doors, doorways with closed doors that are recessed into walls, and partially occluded windows.
Method: The elements to be identified should be flat in case of walls, floors, and ceilings and should have a rectangular shape in case of windows and doorways, which means that the indoor structure is Manhattan. The identification of these structures is determined through the analysis of the contextual relationships among them as parallelism, orthogonality, and position of the structure in the scene. Point clouds were acquired using a RGB-D device (Microsoft Kinect Sensor).
Results: The obtained results show a precision of 99.03% and a recall of 95.68%, in a proprietary dataset.
Conclusions: A method for 3D semantic labeling of indoor scenes based on contextual relationships among the objects is presented. Contextual rules used for classification and labeling allow a perfect understanding of the process and also an identification of the reasons why there are some errors in labeling. The time response of the algorithm is short and the accuracy attained is satisfactory. Furthermore, the computational requirements are not high.
Descargas
La descarga de datos todavía no está disponible.
Referencias
Xuehan Xiong and Daniel Huber, Using Context to Create Semantic 3D Model of Indoor Environments. Proceedings of the British Machine Vision Conference, 2010, pp. 1-11.
Xuehan Xiong, Antonio Adan, Burcu Akinci and Daniel Huber, Automatic creation of semantically rich 3D building models from laser scanner data. Automation in Construction, Volume 31, May, 2013, pp. 325-337.
Lei Shi, Sarath Kodagoda and Ravindra Ranasinghe, Fast indoor scene classification using 3D point clouds, Proceedings of Australasian Conference on Robotics and Automation (ACRA), 2011.
Lei Shi, Sarath Kodagoda and Gamini Dissanayake, Laser range data based semantic labeling of places, International Conference on Intelligent Robots and Systems (IEEE/RSJ), 2010, pp. 5941-5946.
Radu Rusu, Zoltan Marton, Nico Blodow, Andreas Holzbach and Michael Beetz, Model-based and learned semantic object labeling in 3D point cloud maps of kitchen environments. IEEE/RSJ International Conference on Intelligent Robots and Systems (IROS), 2009, pp. 3601-3608.
Julien Valentin, Vibhav Vineet, Ming Cheng, David Kim, Jaime Shotton, Pushmeet Kohli, Matthias Niessner, Antonio Criminisi, Shahram Izadi and Philip Torr, SemanticPaint: Interactive 3D Labeling and Learning at your Fingertips. ACM Transactions on Graphics, Volume 34, Number 5, 2015.
Seong Park and Ki Hong, Recovering an indoor 3D layout with top-down semantic segmentation from a single image. Pattern Recognition Letters, Volume 68, Part 1, December 2015, pp. 70-75.
Sid Bao, Axel Furlan, Li Fei and Silvio Savarese, Understanding the 3D layout of a cluttered room from multiple images. 2014 IEEE Winter Conference on Applications of Computer Vision (WACV), 2014, pp. 690-697.
Alex Flint, David Murray and Ian Reid, Manhattan scene understanding using monocular, stereo, and 3d features. 2011 International Conference on Computer Vision, 2011, pp. 2228-2235.
Erick Delage, Honglak Lee and Andrew Ng, A dynamic bayesian network model for autonomous 3D reconstruction from a single indoor image. Proceedings of the 2006 IEEE Conference on Computer Vision and Pattern Recognition, 2006, pp. 2418-2428.
Shi Wenxia and J. Samarabandu, Investigating the performance of corridor and door detection algorithms in different environments. Proceedings of the International Conference on Information and Automation, 2006, pp. 206-211.
Ru0 Zhang, Ping Tsai, James Cryer and Mubarak Shah, Shape-from shading: a survey. IEEE Transactions on Pattern Analysis and Machine Intelligence, Volume 21, Number 8, 1999, pp. 690–706.
Hao Wu, Guo Tian, Yan Li, Feng Zhou and Peng Duan, Spatial semantic hybrid map building and application of mobile service robot. Robotics and Autonomous Systems, Volume 62, Number 6, 2014, pp. 923-941.
Pooja Viswanathan, David Meger, Tristram Southey, James Little and Alan Mackworth, Automated spatial-semantic modeling with applications to place labeling and informed search. Proceedings of the Canadian Conference on Computer and Robot Vision, 2009, pp. 284-291.
Angela Budroni and Jan Böhm, Automatic 3D modelling of indoor manhattan-world scenes from laser data. Proceedings of the International Archives of Photogrammetry, Remote Sensing and Spatial Information Sciences, 2010, pp. 115-120.
S.A. Abdul-Shukor, K.W. Young and E. Rushforth, 3D Modeling of Indoor Surfaces with Occlusion and Clutter. Proceedings of the 2011 IEEE International Conference on Mechatronics, 2011, pp. 282-287.
Martin Weinmann, Boris Jutzi, Stefan Hinz and Clément Mallet, Semantic point cloud interpretation based on optimal neighborhoods, relevant features and efficient classifiers. ISPRS Journal of Photogrammetry and Remote Sensing, Volume 105, 2015, pp. 286-304.
Andrés Serna and Beatriz Marcotegui, Detection, segmentation and classification of 3D urban objects using mathematical morphology and supervised learning. ISPRS Journal of Photogrammetry and Remote Sensing, Volume 93, 2014, pp. 243-255.
Microsoft, Kinect, February 2015, [On line], Available on http://www.xbox.com/en-us/kinect
Hema Koppula, Abhishek Anand, Thorsten Joachims and Ashutosh Saxena, Semantic labeling of 3D point clouds for indoor scenes. Proceedings of the Advances in Neural Information Processing Systems, 2011, pp. 1-9.
Xiaofeng Ren, Liefeng Bo, and Dieter Fox, RGB-(D) scene labeling: Features and algorithm. Proceedings of the 2012 IEEE International Conference on Computer Vision and Pattern Recognition, 2012, pp. 2759-2766.
Paul Besl and Neil McKay, A method for registration of 3-D shapes, IEEE Transactions on Pattern Analysis and Machine Intelligence, Volume 14, Number 2, 1992, pp. 239-256.
Óscar Mozos, Cyrill Stachniss and Wolfram Burgard. Supervised learning of places from range data using adaboost. Proceedings of the 2005 IEEE International Conference on Robotics and Automation, 2005, pp. 1730-1735.
Andreas Nüchter and Joachim Hertzberg, Towards semantic maps for mobile robots. Robotics and Autonomous Systems, Volume 56, Number 11, 2008, pp. 915-926.
Alex Flint, Christopher Mei, David Murray and Ian Reid, A dynamic programming approach to reconstructing building interiors. Proceedings of the 13th IEEE European Conference on Computer Vision, 2010, pp. 394-407.
Martin Fischler and Robert Bolles, Random Sample Consensus: A Paradigm for Model Fitting with Applications to Image Analysis and Automated Cartography. Communications of the ACM, Volume 24, Number 6, 1981, pp. 381-395.
Open Kinect Project, Open Kinect, July 2015, [On line], Available on http://openkinect.org/wiki/Main_Page.
Point Cloud Library, Documentation, March 2015, [On line], Available on http://pointclouds.org/documentation/tutorials/
Point Cloud Library, What is it?, September 2015, [On line], Available on http://pointclouds.org/
Ivo Ihrke, Kiriakos N. Kutulakos, Hendrik P. A. Lensch, Marcus Magnor and Wolfgang Heidrich, Transparent and Specular Object Reconstruction. Computer Graphics Forum. Volume 29, Number 8, 2010, pp. 2400–2426.
Cómo citar
Quijano, A., & Prieto, F. (2016). Modelado Semántico 3D de Ambientes Interiores basado en Nubes de Puntos y Relaciones Contextuales. Ingeniería, 21(3), 305-323. https://doi.org/10.14483/udistrital.jour.reving.2016.3.a04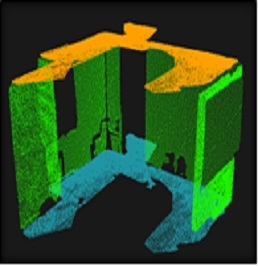 Publicado: 2016-10-09
Sección
Inteligencia Computacional
A partir de la edición del V23N3 del año 2018 hacia adelante, se cambia la Licencia Creative Commons "Atribución—No Comercial – Sin Obra Derivada" a la siguiente:
Atribución - No Comercial – Compartir igual: esta licencia permite a otros distribuir, remezclar, retocar, y crear a partir de tu obra de modo no comercial, siempre y cuando te den crédito y licencien sus nuevas creaciones bajo las mismas condiciones.