Evaluación de las Propiedades Reológicas y Térmicas de un Asfalto Convencional y Uno Modificado con un Desecho de PEBD
Evaluation of rheological and thermic properties of neat and modified asphalt with a waste of LDPE
William Andrés Castro López

Universidad Distrital Francisco José de Caldas

Hugo Alexander Rondón Quintana

Universidad Distrital Francisco José de Caldas

Juan Carlos Barrero Calixto

Universidad Católica de Colombia
Keywords:
Differential Scanning Calorimetry, LDPE, modified asphalt, rheology, temperature, Thermogravimetry
(en_US)
Keywords:
reología, temperatura, cemento asfáltico modificado, PEBD, termogravimetría, calorimetría diferencial de barrido
(es_ES)
Abstract (es_ES)
Contexto: La tecnología de los asfaltos y las mezclas asfálticas modificadas ha sido una técnica ampliamente estudiada y utilizada en el mundo. Con la adición de polímeros al  asfalto se modifican las propiedades mecánicas, químicas y reológicas de las mezclas asfálticas para intentar mejorar su comportamiento cuando son sometidas a diferentes condiciones de carga y del medio ambiente. Se reporta el resultado de un estudio de caracterización reológica y térmica ejecutado sobre un cemento asfáltico CA 60-70 convencional y uno modificado con un desecho de polietileno de baja densidad (PEBD).
Método: La modificación del asfalto se realizó por vía húmeda en una proporción de PEBD/CA=5% con respecto a la masa. Para tal fin, ensayos de reología usando un reómetro dinámico de corte (DSR), y técnicas de Termogravimetría (TGA) y Calorimetría Diferencial de Barrido (DSC) fueron ejecutados sobre ambos asfaltos.
Resultados y Conclusiones: El asfalto modificado con PEBD desarrolla un incremento notable en la rigidez y mejoramiento del grado de funcionamiento del asfalto a altas temperaturas. Adicionalmente, el asfalto modificado es más resistente a la oxidación y al envejecimiento por aumento de temperatura. Sin embargo, experimenta disminución de la resistencia al agrietamiento, bajo temperaturas bajas e intermedias de servicio.
Abstract (en_US)
Context: The asphalt technology and modified asphalt mixtures has been widely used and studied, worldwide. Adding polymers to asphalt modifies mechanical, chemical and rheological properties, trying to improve behavior of the mixtures subjected to different environmental and load conditions. The paper report results from rheological and thermal characterization on conventional 60-70 asphalt cement and 60-70 asphalt cement modified by introducing a waste of low density polyethylene (LDPE).

Method: Modification of the asphalt was performed by wet way in a proportion of LDPE/CA=5% with respect to the mass. Rheological (using DSR), Thermogravimetry (TGA) and Differential Scanning Calorimetry (DSC) techniques were performed.
Results and Conclusions: The modified asphalt develops a remarkable increase in stiffness and improvement of the performance grade at high temperatures of service. Additionally, the modified asphalt is more resistant to oxidation and aging processes due to heat. However, the asphalt modified showed a decrease in crack resistance at low and intermediate temperatures of service.
Downloads
Download data is not yet available.
References
H. A. Rondón y F. A. Reyes, "Pavimentos–Materiales, Construcción y Diseño". Bogotá D.C.: Ed. ECOE, 2015, 573 p.
D. Casey, C. McNally, A. Gibneya and M. Gilchrist, "Development of a recycled polymer modified binder for use in stone mastic asphalt". Journal of Resources, Conservation and Recycling, Volume 52, Number 10, 2008, pp. 1167-1174.
M. Rahi, E. Fini, P. Hajikarimi, and F. Nejad, "Rutting characteristics of styrene-ethylene/propylene-styrene polymer modified asphalt". Journal of Materials in Civil Engineering, Volume 27, Number 4, 2015, 04014154.
X. Yan, X. Jin, W. Li, F. Xiao and Y. Zhang, "The effect of modifying technologies on asphalt pavement performance". CICTP 2014, ASCE, 2014, pp. 1101-1109.
S. Wang, Q. Wang, X. Wu and Y. Zhang, "Asphalt modified by thermoplastic elastomer based on recycled rubber". Construction and Building Materials, Volume 93, 2015, pp. 678–684
M. Domingos, and A. Faxina, "Susceptibility of asphalt binders to rutting: literature review". Journal of Materials in Civil Engineering, 2015, 10.1061/(ASCE)MT.1943-5533.0001364, 04015134.
K. Yan, H. Xu, and L. You, "Rheological properties of asphalts modified by waste tire rubber and reclaimed low density polyethylene". Construction and Building Materials, Volume 83, 2015, pp. 143-149.
F. M. Nejad, A. Azarhoosh, and G. H. Hamedi, "Effect of high density polyethylene on the fatigue and rutting performance of hot mix asphalt – a laboratory study". Road Materials and Pavement Design, Volume 15, Number 3, 2014, pp. 746-756.
M. Arabani, S. M. Mirabdolazimi and A. R. Sasani, "The effect of waste tire thread mesh on the dynamic behaviour of asphalt mixtures". Construction and Building Materials, Volume 24, Number 6, 2010, pp. 1060-1068.
E. Ahmadinia, M. Zargar, M. R. Karim, M. Abdelaziz and P. Shafigh, "Using waste plastic bottles as additive for stone mastic asphalt". Materials and Design, Volume 32, Number 10, 2011, pp. 4844-4849.
K. Alshamsi, M. Baawain, K. Aljabri, R. Taha and Z. Al-kamyani, "Utilizing waste spent catalyst in asphalt mixtures". Procedia - Social and Behavioral Sciences, Volume 53, 2012, pp. 326-334.
L. Widojoko and P. E. Purnamasari, "Study the use of cement and plastic bottle waste as ingredient added to the asphaltic concrete wearing course". Procedia - Social and Behavioral Sciences, Volume 43, 2012, pp. 832-841.
A. Jamshidi, M. R. M. Hasan, H. Yao, Z. You, and M. O. Hamzah, "Characterization of the rate of change of rheological properties of nano-modified asphalt". Construction and Building Materials, Volume 98, 2015, pp. 437-446.
G. Polacco, S. Filippi, F. Merusi, and G. Stastna, "A review of the fundamentals of polymer-modified asphalts:Asphalt/polymer interactions and principles of compatibility". Advances in Colloid and Interface Science, Volume 224, 2015, pp. 72-112.
F. Hussain, S. Roy, K. Narasimhan, K. Vengadassalam and H. Lu, "E-Glass—Polypropylene pultruded nanocomposite: manufacture, characterization, thermal and mechanical properties". Journal of Thermoplastic Composite Materials, Volume 20, Number 4, 2007, pp. 411-434.
J. Yu, L. Wang, X. Zeng, S. Wu, and B. Li, "Effect of montmorillonite on properties of styrene–butadiene–styrene copolymer modified bitumen". Polymer Engineering & Science, Volume 47, Number 9, 2007, pp. 1289-1295.
J. Yu, X. Zeng, S. Wu, L. Wang, and G. Liu, "Preparation and properties of montmorillonite modified asphalts". Materials Science and Engineering, Volume 447, Number 1–2, 2007, pp. 233-238.
Z. You, J. Mills-Beale, J. M. Foley, S. Roy, G. M. Odegard, Q. Dai and S. W. Goh, "Nanoclay-Modified asphalt materials: preparation and characterization". Construction and Building Materials, Volume 25, Number 2, 2011, pp. 1072-1078.
H. A. Rondón, W. Fernández, and W. Castro, "Mechanical properties evaluation of a dense hot asphalt mixture modified with a residue of Low Density Polyethylene (LDPE)". Ingeniería de Construcción, Volume 25, Number 1, 2010, pp. 83-94.
F. A. Reyes y A. F. Figueroa, "Uso de desechos plásticos en mezclas asfálticas – Síntesis de la investigación colombiana". Bogotá D.C.: Editorial Pontificia Universidad Javeriana, 2008, 103 p.
A. Motamed, and H. Bahia, "Influence of test geometry, temperature, stress level, and loading duration on binder properties measured using DSR". Journal of Materials in Civil Engineering, Volume 23, Number 10, 2011, pp. 1422-1432.
J. Puello, "Evolución del comportamiento viscoelástico lineal de fracciones pesadas del petróleo crudo sometidas a envejecimiento acelerado". Tesis de doctorado en Ingeniería Química, Universidad Industrial de Santander, Colombia, 2012.
M. G. Volonté y P. Quiroga, Análisis farmacéutico. La Plata: Ed. La Plata, Universidad Nacional de La Plata, Facultad de Ciencias Exactas, 2013, 347 p.
J. J. Sánchez, "Comportamiento térmico y mecánico del poli(etilén tereftalato) (PET) modificado con resinas poliméricas basadas en bisfenol-A". Tesis de doctorado, Universitat Politècnica de Catalunya. Departament de Ciència dels Materials i Enginyeria Metallúrgica, 2003.
INVIAS - Instituto Nacional de Vías, Especificaciones Generales para Construcción de Carreteras. Bogotá D.C.: Autor, 2013.
INVIAS - Instituto Nacional de Vías, Normas de Ensayos de Materiales para Carreteras. Bogotá D.C.: Autor, 2013a.
How to Cite
Castro López, W. A., Rondón Quintana, H. A., & Barrero Calixto, J. C. (2016). Evaluation of rheological and thermic properties of neat and modified asphalt with a waste of LDPE. Ingeniería, 21(1), 07-18. https://doi.org/10.14483/udistrital.jour.reving.2016.1.a01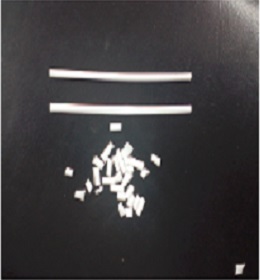 Published: 2016-01-12
Section
Civil and Environmental Engineering
From the edition of the V23N3 of year 2018 forward, the Creative Commons License "Attribution-Non-Commercial - No Derivative Works " is changed to the following:
Attribution - Non-Commercial - Share the same: this license allows others to distribute, remix, retouch, and create from your work in a non-commercial way, as long as they give you credit and license their new creations under the same conditions.