Víctimas del arte: Reflexiones en torno a la representación de la guerra en Colombia
Victims of arts: considerations about war representation in Colombia
Alejandro Gamboa

Universidad de los Andes
Palabras clave:
Unanimity, stereotype, Erika Diettes, humanitarianism, war representation.
(en_US)
Palabras clave:
Arte secuencial, cómic, composición, Llanero Solitario, narrativa, RussHeath. Comic, layout, Lone Ranger, narrative, Russ Heath, sequential art
(es_ES)
Resumen (es_ES)
Pocos temas son tan delicados y problemáticos de representar como el de la memoria de la guerra: cúmulos de testimonios, imágenes y relatos presentan al artista-investigador un reto formal, epistémico y ético. Usando como ejemplo la instalación titulada Sudarios, realizada por la artista colombiana Erika Diettes (Cali, 1978), este artículo reflexiona sobre el actual "boom" de prácticas artísticas que representan la guerra en Colombia.
Se argumentará que las lógicas del "repudio a la guerra" y el "homenaje a las víctimas", vehiculadas acríticamente por algunas obras de arte, pueden estar re-produciendo formas de subjetividad en la que toda identidad es aplanada, donde la historia es suspendida y los conflictos pospuestos. Así, suprimir la complejidad del fenómeno de la guerra (con sus determinaciones económicas, políticas, históricas, ideológicas, entre otros) estaría propiciando el despliegue de sentimientos morales que pueden ser absorbidos por el poder hegemónico.
Resumen (en_US)
Referring to war could somehow be one of the most difficult and complicated issues to be considered. Factors such as testimonies, images, and stories make it a formal, epistemic and ethic challenge for the artist-investigator who may be interested in this field. Using as an example an artistic installation whose name was Sudarios, which was carried out by the Colombian author Erika Diettes in Cali in 1978. This article shows a reflection on the actual "boom" of artistic works representing war episodes and its dangers in Colombia. The logic of "condemnation of war" and the "tribute to war victims" have acritically been analyzed in some artwork, these t Cortesía del Museo de Antioquia al autor, del artículo: "Inauguración de la exposición "Sudarios"", en la iglesia El Señor de las Misericordias. Artista Érika Diettes: "Sudarios", 20 imágenes de rostros de mujeres víctimas de la violencia en Colombia. 25 de octubre de 2012. https://www.flickr.com/photos/ museodantioquia/8126105770/in/album-72157631753013713/ pieces of art may probably be re-producing subjective forms in which identity is disregarded, history remains static and conflicts are put on. Thus, it is visualized that the act of war is a so complex phenomenon because economic, politic, historic, ideological, and other decisions might propitiate moral feelings being absorbed by the hegemonic power.
Descargas
La descarga de datos todavía no está disponible.
Referencias
Acción 13 Noticias al Minuto. (6 de octubre de 2012). Recuperado el 20 de Marzo de 2014, de Accion13: http://www.accion13.org.co/ElLlaneroSolitarioCabalgaDeNuevo.htm
Browser, S., & Irving, C. (2012). Golden Age Western Comics. (S. Browser, Ed.) New York, Estados Unidos: PowerHouse Books.
Castillo, J. M. (2012). La composición de la imagen del renacimiento al 3D.España: Paraninfo.
Chavarría, T. (2009). Indigenous Comics in the United States. World Literature Today , 83 (3), 46.
Dynamic Forces. (s.f.). Recuperado el 1 de Abril de 2014, de http://www.dynamicforces.com/htmlfiles/infodatabase.html?showInfodatabase=NS03230713152
Dynamic Forces. (s.f.). Recuperado el 4 de junio de 2014, de http://www.dynamicforces.com/htmlfiles/infodatabase.html?showInfodatabase=NS03230713152
Eisner, W. (2001). An interview with Will Eisner. badazzmofo. (D. Walker, Entrevistador)
Foster, W. (2003). Horses learn to draw step by step. (H. Kellenberger, Ed.) Estados Unidos: Walter Foster Publishing.
Gabilliet, J. P. (2010). Of comics and men: A cultural history of american comic books.(U. P. Mississippi, Ed., & B. B. Nguyen, Trad.) Estados Unidos: Du Pents.
Garcia, S. (2004). Anatomìa de una historieta. Madrid, España: Sinsentido.
Gluibizzi, A. (2007). The Aesthetics and Academics of Graphic Novels and Comics. Art Documentation: Journal of the Art Libraries Society of North America , 26 (1), 28.
Mateu-Mestre, M. (2010). Framed ink. Design Studio Press.
McCloud, S. (1993). Undestanding comics. New York, Estados Unidos: Harper Perennial.
Mccloud, S. (2006). Creating Comics. (K. T. Williams, Ed.) New York, Estados Unidos: Harper Collins.
Moore, C. (1998). I Was That Masked Man.Estados Unidos: Taylor Trade Publishing.
Pratt, H. J. (2009). Narrative in comics. The Journal of Aesthetics and Art Criticism , 67 (1), 110, 111, 113.
Royal, D. P. (2007). Coloring America: Multi-Ethnic Engagements with Graphic Narrative. Melus, 32 (3), 7.
Schodt, F. L. (1985). Reading the comics. The Wilson Quarterly , 9 (3), 57.
Sheyahshe, M. A. (2008). Native Americans in Comic Books: A Critical Study. Estados Unidos: McFarland.
Vigus, R. (1942). The Art of the Comic Magazine. The Elementary English Review , 19 (5), 168.
Villafañe, J. (2002). Introducción a la teoría de la imagen. Mdrid, España: Pirámide.
Weinschenk, S. M. (2011). 100 things every designer needs to know about people. Estados Unidos: New Riders.
Wright, B. W. (2001). Comic Book Nation: The Transformation of Youth Culture in America. Estados Unidos: The Johns Hopkins University Press.
Zan, M. (2010). Westerns (comics). En M. K. Booker, & M. K. Booker (Ed.), Encyclopedia of comic books and graphic novel (pág. 685, 686). Santa Barbara, California, Estados Unidos: Greenwood.
Cómo citar
Gamboa, A. (2016). Víctimas del arte: Reflexiones en torno a la representación de la guerra en Colombia. Calle 14 Revista De investigación En El Campo Del Arte, 11(19), 30-42. https://doi.org/10.14483/udistrital.jour.c14.2016.2.a03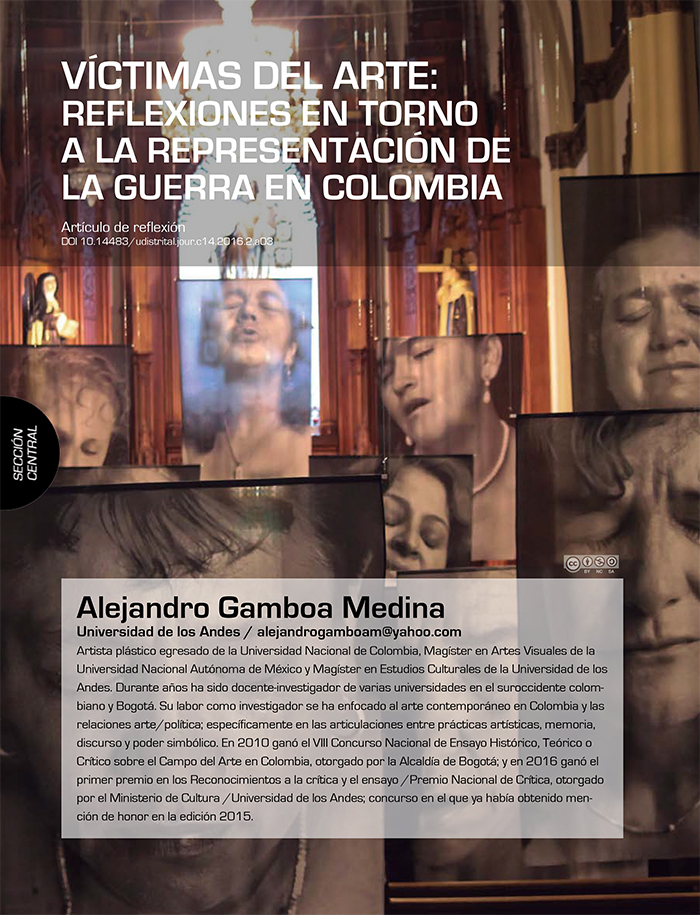 Publicado: 2016-10-21
Este obra está bajo una
licencia de Creative Commons Reconocimiento 4.0 Internacional
.