Exclusión y construcción social en Colombia: una perspectiva desde tres ritmos populares
Exclusion and Social Construction in Colombia: A Perspective From Three Popular Rhythms
Exclusão e construção social na Colômbia: uma perspectiva de três ritmos populares
Sebastian Olave Soler

Université Paris-Sorbonne, Francia
Resumen (es_ES)
En Colombia, las tradiciones europeas, indígenas y negras se han encontrado e influido mutuamente desde la época colonial. Sin embargo, el predominio político y económico de las élites produjo una subordinación de las prácticas musicales autóctonas y su posterior transformación. Este artículo considera la estructura social colombiana como el elemento a partir del cual las tradiciones musicales colombianas fueron modeladas. De esta manera, buscamos explicar la evolución de ciertas expresiones artísticas del país, en particular de los ritmos erigidos en símbolos nacionales como resultado de la diferenciación étnica que los ideales europeístas de las élites fomentaban.
Resumen (en_US)
In Colombia, European, indigenous and black traditions have met and influenced each other since colonial times. However, the political and economic dominance of the elites produced a subordination of autochthonous musical practices and their subsequent transformation. This article considers the Colombian social structure as the main element that modeled the country's musical traditions. In this way, we seek to explain the evolution of certain artistic expressions of the country, in particular the musical genres erected as national symbols, as a result of the ethnic differentiation encouraged by the Europeanist ideals of the elites.
Resumen (pt_BR)
Na Colômbia, as tradições européias, indígenas e negras se encontraram e se influenciaram desde os tempos coloniais. No entanto, o domínio político e econômico das elites produziu uma subordinação de práticas musicais autóctones e sua transformação subsequente. Este artigo considera a estrutura social colombiana como o principal elemento que modelou as tradições musicais do país. Desta forma, procuramos explicar a evolução de certas expressões artísticas do
país, em particular os gêneros musicais erguidos como símbolos nacionais, como resultado da diferenciação étnica incentivada pelos ideais europeístas das elites.
Descargas
La descarga de datos todavía no está disponible.
Referencias
Arenas, Eliécer (2009). "El precio de la pureza de sangre: ensayo sobre el papel de los músicos mestizos", en (Pensamiento), (Palabra) y Obra, vol. 1 (1), pp. 19-35.
Arias, Julio (2007). Nación y diferencia en el siglo XIX colombiano. Bogotá: Ediciones Uniandes.
Blacking, John (1980). Le sens musical. Éric et Marika Blondel (trad.). Paris: Les éditions de minuit.
Duque, Ellie Anne (2004). Notas al disco Pedro Morales Pino. Obras para piano. Claudia Calderón (pianista). Colección Música y Músicos de Colombia. Bogotá: Banco de la República.
Elias, Norbert (1997). Logiques de l'exclusion : enquête sociologique au cœur des problèmes d'une communauté. Paris: Éditions Fayard.
Fortich, W, Taboada, R, Baldovino, H, Murillo, P, Álvarez, D & López, A. (2014). Las bandas musicales de viento, origen preservación y evolución: casos de Sucre y Córdoba. Sincelejo: Editorial CECAR.
Garay, Narciso (1894). "La música colombiana", en Boletín de programas, Instituto Nacional de Radio y Televisión, vol. 23 (226), pp. 29-33.
González Henríquez, Adolfo. (1990). "La música del caribe colombiano durante la guerra de independencia y comienzos de la republica", en Historia Crítica, N.º 4, pp. 85-112. https://doi.org/10.7440/histcrit4.1990.05
Gruzinski, Serge (2012). La pensée métisse. Paris: Éditions Fayard.
Hobsbawm, Eric. (1983). The Invention of Traditions. Cambridge: Cambridge University Press.
Miñana, Carlos. (1997). "Los caminos del bambuco en el siglo xix", en A contratiempo, N.º 9, pp. 7-11.
Morillo, O. (2016). Arte popular y crítica a la modernidad. Calle 14 Revista De investigación En El Campo Del Arte, 11(18), 94-105. https://doi. org/10.14483/udistrital.jour.c14.2016.1.a08
Ocampo López, Javier. (1976). Música y Folclor de Colombia. Bogotá: Plaza y Janes Editores Colombia S.A. Phan, Bernard (2017). Colonisation et décolonisation (XVIe-XXe siècle). Paris: Presses Universitaires de France / Humensis.
Rodríguez Melo, Martha (2012). "El bambuco, música 'nacional' de Colombia: entre costumbre, tradición inventada y exotismo", en Revista del Instituto de Investigación Musicológica Carlos Vega, N.º 26, pp. 297-342.
Urdapilleta, Marco y Núñez, Herminio (2014). "Civilización y barbarie. Ideas acerca de la identidad latinoamericana", en La Colmena, N.º 82, pp. 31-40.
Cómo citar
Olave Soler , S. (2019). Exclusión y construcción social en Colombia: una perspectiva desde tres ritmos populares. Calle 14 Revista De investigación En El Campo Del Arte, 15(27), 140-151. https://doi.org/10.14483/21450706.15417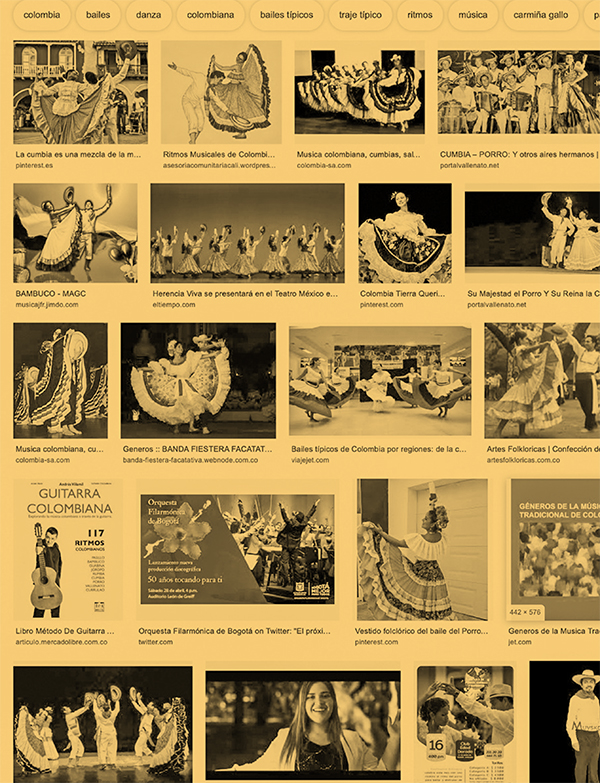 Publicado: 2019-10-18
Este obra está bajo una
licencia de Creative Commons Reconocimiento 4.0 Internacional
.