Pasarela para Usar Transmisores HART desde una Red DeviceNe
Gateway to use HART transmitters from a DeviceNet network
Asfur Barandica López

Universidad del Valle

Andrés Ernesto Guevara Escobar

Carvajal Tecnología y Servicios
Palabras clave:
DeviceNet, gateway, HART protocol, industrial communications, industrial networks
(en_US)
Palabras clave:
comunicaciones industriales, DeviceNet, pasarela, protocolo HART, redes industriales
(es_ES)
Resumen (es_ES)
Este artículo demuestra la viabilidad de compatibilizar dos protocolos industriales con características muy diferentes, mediante la implementación de una interfaz hardware-
software. HART es un protocolo de muy baja velocidad que usa el paradigma maestro-esclavo, no orientado a la conexión y con un conjunto de comandos definidos, mientras que DeviceNet tiene una velocidad al menos 100 veces superior, que funciona con el modelo productor-consumidor, es orientado a la conexión y no utiliza comandos sino objetos. El desarrollo se soporta en un sistema embebido TINI (Tiny InterNet Interface), programable en Java. La
pasarela actúa como esclavo de una red DeviceNet y como maestro de una red HART. Este novedoso equipo puede ser empleado para incluir equipos HART en procesos de manufactura
que requieran pocas variables continuas.
Resumen (en_US)
This paper demonstrates the feasibility of harmonizing two industrial protocols with very different characteristics, through the implementation of a hardware-software interface. HART is a very low speed protocol that operates with master-slave paradigm, connectionless oriented and with a defined set of commands, while DeviceNet is at least 100 times faster, works with the producer-consumer model, is connection-oriented and does not use commands but objects. The development is supported on the TINI (Tiny InterNet Interface) embedded system, which is Java programmable. The gateway acts as a slave on a DeviceNet network and as master of a HART network. This innovative equipment can be used to include HART devices in manufacture processes requiring few continuous variables.
Descargas
La descarga de datos todavía no está disponible.
Referencias
Galloway, B.; Hancke, G.P.; Introduction to Industrial Control Networks, Communications Surveys & Tutorials, IEEE, 15(2), 2013, pp. 860 – 880
Saleh, K.; Jaragh, M.; Rafiq, O.; A methodology for the synthesis of communication gateways for network interoperability, Computer Standards & Interfaces, 17(2), 1995, pp. 193-207
Ninagawa, C.; Host-Based Architecture LON Communication Gateway for Building Air-conditioner Monitoring System, Technical Review, Mitsubishi Heavy Industries Ltd., (43) 2 , 2006.
Yoon, S.S.; Lee, J.C.; Cho S.J.; Jeon, J.W.; Gateway between high-performance Fieldbus and serial communication, International Conference on Control Automation and Systems (ICCAS), 2010, pp. 971–974.
Wu, H.Z.; Zhang, L.J.; Zhang, C.G.; Realization of Ethernet and RS485 communication gateway based on μC/OS-II system, Applied Mechanics and Materials (Volume 39), 2010, pp. 416-420.
Hyncica O., Fiedler P., Bradac Z., Kucera P., Honzik P., Protocol gateways for HART sensors, IFAC Proceedings Volumes (IFAC-PapersOnline), v 9, PART 1, 9th IFAC Workshop on Programmable Devices and Embedded Systems, PDES 2009 – Proceedings, 2009, pp. 194-197.
Yanjun F., Jun X., An approach for interoperation between heterogeneous fieldbus systems, IEEE Symposium on Emerging Technologies and Factory Automation, ETFA, 2 2 OF 2 VOL, 10th IEEE International Conference on Emerging Technologies and Factory Automation, 2005, pp. 239-243.
Liu, J.; Fang, Y. ; Zhang, D.; PROFIBUS-DP and HART Protocol Conversion and the Gateway Development, 2nd IEEE Conference on Industrial Electronics and Applications- ICIEA, 2007, pp. 15–20.
Barandica A., Una propuesta para la apropiación de la tecnología HART y su transferencia hacia el sector industrial,
tesis de maestría, Escuela de Ing. Eléctrica y Electrónica, Universidad del Valle, Cali, Colombia, 2008.
Bowden R., HART Field Communications protocol. A Technical Oveview. HCF, 2007.
RTA Automation, DeviceNet™ Unplugged – A View "Under the Hood" for End Users, 2 de abril de 2015, dis -
ponible en http://www.rtaautomation.com/technologies/devicenet/
Loomis D., The TINI Specification and Developer'sGuide, (Primera Edición), 2001.
Cómo citar
Barandica López, A., & Guevara Escobar, A. E. (2015). Pasarela para Usar Transmisores HART desde una Red DeviceNe. Ingeniería, 20(1), 95-109. https://doi.org/10.14483/udistrital.jour.reving.2015.1.a06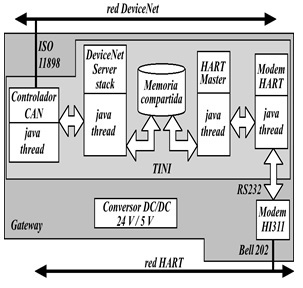 Publicado: 2015-04-30
A partir de la edición del V23N3 del año 2018 hacia adelante, se cambia la Licencia Creative Commons "Atribución—No Comercial – Sin Obra Derivada" a la siguiente:
Atribución - No Comercial – Compartir igual: esta licencia permite a otros distribuir, remezclar, retocar, y crear a partir de tu obra de modo no comercial, siempre y cuando te den crédito y licencien sus nuevas creaciones bajo las mismas condiciones.