Rediseño y Automatización de un Molde para la Fabricación de Vitrinas Refrigeradas usando Inyección de Espuma de Poliuretano
Redesign and Automation of a mold for manufacturing of refrigerated display cases using Polyurethane Foam Injection
Eugenio Yime

Universidad Tecnologica de Bolívar

Jheifer Páez
Palabras clave:
Automation of injection mold, injection of polyurethane foam, polyurethane foam, polyurethane mold
(en_US)
Palabras clave:
Espuma de poliuretano, Inyección de espuma de poliuretano, Molde de poliuretano, Automatización de moldes de Inyección
(es_ES)
Resumen (es_ES)
Contexto: Para mantener la competitividad a lo largo de tiempo, una empresa debe someter continuamente sus procesos a mejoras y actualizaciones. En este caso se proponen mejoras con relacion a la seguridad en el trabajo y la disminucion en los tiempos que ocurren durante la operacion de un molde para la fabricacion de neveras.
Metodo: Se analizan las condiciones de operación del molde y se establecen los factores que afectan el tiempo de proceso y la seguridad del personal operativo. Las debilidades encontradas están relacionadas con el diseño intrínsico del molde, lo cual plantea la necesidad de realizar un rediseño estructural delmolde que además incluya la automatización del mismo.
Resultados: Se presenta una nueva forma de operar el molde el cual reduce el riesgo de accidentes laborales al no tener cargas pesadas sobre la cabeza de los operadores. Otro aporte del rediseño es el aumento en la rigidez del sistema el cual contribuye a disminuir los defectos de fabricación. Por último,se tiene un diseño de automatización el cual favorece la disminución de los tiempos de fabricación.
Conclusiones: Se obtienen mejoras significativas en la operaci´on del molde, como son la reducción de los riesgos laborales y la disminución de los tiempos de fabricación de las neveras. Estas mejoras se traducen en beneficios para la empresa, por medio de la reducción de costos e incremento de la producción. Ambos beneficios ayudan a fortalecer la competitividad de la compañia.
Resumen (en_US)
Context: To stay competitive over time, a company must continually submit their processes to improvements and updates. Herein are proposed some improvements with regard to safety at work and the reduction of time that occurs during the operation of a mold for manufacturing refrigerators.
Method: Some operating conditions of the mold are analyzed and then some factors affecting the processing time and the safety of operating personnel are established. The weaknesses found are related to the intrinsic design of the mold, which raises the need for a structural redesign that also includes automation.

Results: It is presented a new design and way to operate the mold which reduces the risk of accidents at having no heavy loads over operator heads. Another contribution of the redesign is the increase in the system rigidity which helps to reduce manufacturing defects. Finally, it is show a automation design which helps to reduce manufacturing times.
Conclusions: Significant improvements were obtained in the operation of the mold, such as the reduction of occupational hazards and reduced manufacturing time of refrigerators. These improvements translate into benefits for the company, by reducing costs and increasing production. Both benefits help strengthen the competitiveness of the company.
Descargas
La descarga de datos todavía no está disponible.
Referencias
M. Anghel. Polyurethane molded roofing structures, September 2005. US Patent App. 11/047,272.
J. Bikard, J. Bruchon, T. Coupez, and L. Silva. Numerical simulation of 3d polyurethane expansion during manufacturing process. A Collection of Papers Presented at the 6th Eufoam Conference, Potsdam, Germany, 2-6 July, 2006, 309(1-3):49–63, November 2007.
Anton Demharter. Polyurethane rigid foam, a proven thermal insulating material for applications between +130c and -196c. Cryogenics, 38(1):113–117, January 1998.
Wiebke Drenckhan and Arnaud Saint-Jalmes. The science of foaming. Advances in Colloid and Interface Science, (222):228–259, 2015.
B.J. Falline and B.W. Weihrauch. Lacquer coating process for polyurethane-molded articles, December 1990. US Patent 4,980,107.
T. Fujita. Method of producing polyurethane mold foam and polyurethane mold foam, May 2007. US Patent App. 10/566,176.
Lorna J. Gibson and Michael F. Ashby. Cellular Solids. Cambridge University Press, 2 edition, 1999.
P. Grob and J. Marosfalvi. Investigation of the pressure generated in the mould cavity during polyurethane integral skin foam moulding. eXPRESS Polymer Letters, 2(7):511–519, 2008.
Douglas C. Hall. Automating injection moulding-some economic considerations. Production Engineer, 67(4):29–31, April 1988.
K. Kobayashi and N. Mise. Method for preparing polyurethane molded articles, 1971.
M. Kurokawa, T. Ito, and T. Asaya. Process for producing polyurethane molded articles, May 2002. US Patent 6,383,423.
M. Mohamed, S. Anandan, Z. Huo, V. Birman, J. Volz, and K. Chandrashekhara. Manufacturing and characterization of polyurethane based sandwich composite structures. Composite Structures, 123:169–179, May 2015.
G. Mohiuddin. Process for preparing polyurethane molded part, August 1981. US Patent 4,282,285.
H. M¨uhlfeld, T. Schauber, and S. Wagener. Molded polyurethane body, June 2003. US Patent 6,573,341.
M. Okubo, K. Kiuchi, R. Hashimoto, T. Nomura, M. Mori, and K. Miyamoto. Process for producing molded article, November 2003. US Patent App. 10/465,751.
Hoors Plat. Making fridge cabinets in an automated press line. Production Engineer, 64(2):37, February 1985.
Fabrice Saint-Michel, Laurent Chazeau, and Jean-Yves Chavaill´e. Mechanical properties of high density polyurethane foams: II Effect of the filler size. Composites Science and Technology, 66(15):2709–2718, December 2006.
Nihal Sarier and Emel Onder. Thermal characteristics of polyurethane foams incorporated with phase change materials. Thermochimica Acta, 454(2):90–98, March 2007.
Hesham Tuwair, Matthew Hopkins, Jeffery Volz, Mohamed A. ElGawady, Mohaned Mohamed, K. Chandrashekhara, and Victor Birman. Evaluation of sandwich panels with various polyurethane foam-cores and ribs. Composites Part B: Engineering, 79:262–276, September 2015.
R. Valentino, E. Romeo, and D. Stevanoni. An experimental study on the mechanical behaviour of two polyurethane resins used for geotechnical applications. Mechanics of Materials, 71:101–113, April 2014.
Chunguang Yang, Ludger Fischer, Simon Maranda, and J¨org Worlitschek. Rigid polyurethane foams incorporated with phase change materials: A state-of-the-art review and future research pathways. Energy and Buildings, 87:25–36, January 2015
Cómo citar
Yime, E., & Páez, J. (2016). Rediseño y Automatización de un Molde para la Fabricación de Vitrinas Refrigeradas usando Inyección de Espuma de Poliuretano. Ingeniería, 21(3), 290-304. https://doi.org/10.14483/udistrital.jour.reving.2016.3.a03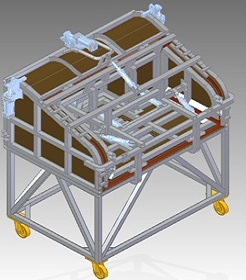 Publicado: 2016-10-09
Sección
Ingeniería Mecánica
A partir de la edición del V23N3 del año 2018 hacia adelante, se cambia la Licencia Creative Commons "Atribución—No Comercial – Sin Obra Derivada" a la siguiente:
Atribución - No Comercial – Compartir igual: esta licencia permite a otros distribuir, remezclar, retocar, y crear a partir de tu obra de modo no comercial, siempre y cuando te den crédito y licencien sus nuevas creaciones bajo las mismas condiciones.