Evaluación de los Parametros Fisicoquímicos en Reactores Discontinuos de Lodos Activados para el Tratamiento de Aguas con Metanol.
Evaluation of Physicochemical Parameters in Discontinuous Reactors of Activated Sludge for the Treatment of Waters with Methanol
Marvin Carabali Lasso

Universidad Distrital Francisco José de Caldas

Martha Liliana Lote Veloza

Lena Carolina Echeverry Prieto

Universidad Distrital Francisco José de Caldas
Palabras clave:
Activated sludge, batch reactor, methanol, physicochemical, water treatment
(en_US)
Palabras clave:
metanol, lodos activados, fisicoquímica, reactor discontinuo, tratamiento de aguas
(es_ES)
Resumen (es_ES)
Contexto: en la actualidad existen varios tipos de tecnologías limpias que ayudan a la descontaminación del agua residual industrial, como los sistemas de lodos activados. Dichas tecnologías han resultado efectivas en la remoción de materia orgánica y coloidal en aguas residuales domésticas e industriales, biosorción de metales pesados y remoción de patógenos y nutrientes (N y P). Lo anterior motiva la propuesta de trabajar con un sistema de tratamiento de lodos activados a escala en un ambiente controlado, a fin de demostrar su efectividad en tratamiento de aguas con metanol.
Método: el sistema de tratamiento de lodos activados se diseña y construye a escala a nivel de laboratorio para estudiar diferentes concentraciones de metanol en aguas residuales de una industria. En los montajes de cinco sistemas de tratamiento se realizan mediciones de parámetros fisicoquímicos como: pH, oxígeno disuelto, temperatura, demanda química de oxígeno, sólidos suspendidos totales y la pérdida de metanol; a las 0, 24 y 48 h por cuadruplicado para observar el comportamiento de dichos parámetros durante la reducción de metanol.
Resultados: para los sistemas de lodos activados se demuestra una pérdida promedio de metanol del 10,3 %. Los promedios de oxígeno disuelto decrecieron en el tiempo, aunque la demanda química de oxígeno es variable. Cada sistema con concentración diferente de metanol presenta comportamiento particular.
Conclusiones: esta investigación indica que la biodegradación de metanol en aguas residuales industriales es posible, teniendo en cuenta que en el sistema de tratamiento a escala se obtuvo una disminución de metanol en el tiempo. Además, los resultados motivan a continuar investigando sobre esta tecnología limpia, de la cual no se dispone suficiente literatura en lo que respecta al manejo de lodos activados para la eliminación de metanol.
Resumen (en_US)
Context: There are currently several types of clean technologies aimed at decontamination of industrial waste water, such as activated sludge systems. These systems have proven effective in the removal of organic matter and colloidal in domestic wastewater and industrial, biosorption of heavy metals, and removal of pathogens and nutrients (N and P). The latter motivates the study of a controlled treatment system of activated sludge to scale, so as to demonstrate whether it can also be useful in industrial plants for treating water with methanol.
Method: The treatment system of activated sludge was designed and built to scale in laboratory level to study different concentrations of methanol in waste water from one industry. We assembled five treatment systems and then measured physicochemical parameters as: pH, dissolved oxygen, temperature, chemical oxygen demand, total suspended solids, and loss of methanol. These measures were taken at 0, 24 and 48 hours by quadruplicate to observe the behaviour of the system in attempting the reduction of methanol.
Results: The treatment system obtained an average loss of 10.3% methanol. On the other hand the average dissolved oxygen decreased in the time although chemical oxygen demand is variable. Each system with different concentration of methanol exhibits particular behaviour.
Conclusions: This research suggests that biodegradation of methanol in waste water is possible, as it was shown in the controlled treatment systems. In addition, it indicates that further investigation on this type of clean technology is promising for the management of activated sludge for methanol removal at industrial scale.
Descargas
La descarga de datos todavía no está disponible.
Referencias
Methanex Corporation. "Formulario de información anual". [online]. 2011. Disponible en: http://www.methanex.cl/noticias/2011/noticia0324.pdf
Osorio, R. "Metanol obtención y usos". Petroblogger.com: Blog sobre la industria de petróleo y gas natural. [online]. 2011. Disponible en: http://www.ingenieriadepetroleo.com/metanol-obtencion-y-usos.html.
E. Rodriguez y M. Uribe Echavarria. "Obtención de metanol: propiedades – usos". Editorial de la Universidad Tecnológica Nacional. [Online]. Disponible en: www.edutecne.utn.edu.ar/procesos_fisicoquimicos/Obtencion_de_Metanol.pdf
Methanol Institute. "Manual de manipulación segura del Metanol". [online]. 2012. Disponible: http://methanol.org/Health-And-Safety/Safety-Resources/Health---Safety/Methanol-Safe-Handling-Manual-Spainish.aspx
L. Yuan, W. Zhi, Y. Liu, E. Smiley, D. Gallagher, X. Chen, A.M. Dietrich and H. Zhang. "Degradation of cis- and trans-(4-methylcyclohexyl) methanol in activated sludge Journal of hazardous materials". Journal of Hazardous Materials. vol. 306, pp. 247 – 256. 2016.
República de Colombia. Artículos 20 y 21: Decreto 1594 de 1984. [online]. República de Colombia. 1984. Disponible en: http://www.alcaldiabogota.gov.co/sisjur/normas/Norma1.jsp?i=18617
Ministerio de Ambiente, Vivienda y Desarrollo Territorial. Decreto 3930 de 2010. [online]. República de Colombia. 2010. Disponi-ble en: http://www.alcaldiabogota.gov.co/sisjur/normas/Norma1.jsp?i=40620#
Ministerio de Ambiente y Desarrollo Sostenible. Decreto 303 de 2012. [online]. República de Colombia. 2012. Disponible en: https://www.crq.gov.co/Documentos/JURIDICA/decreto%20303%20de%202012.pdf
Ministerio de Medio Ambiente y Desarrollo Sostenible. "Colombia se prepara para su participación en la COP 21 en París". [onli-ne]. República de Colombia. 2016. Disponible en: http://www.minambiente.gov.co/index.php/component/content/article/126-noticias-cambio-climatico/2115-colombia-se-prepara-para-su-participacion-en-la-cop-21-en-paris-2
IDEAM-ONU. "Información científica al servicio de la planificación. Tercera comunicación nacional de cambio climático". [onli-ne]. 2016. Disponible: https://prezi.com/j6gz4upbmi74/informacion-cientifica-al-servicio-de-la-planificacion-sectorial-ideam-onu/?utm_campaign=share&utm_medium=copy
IDEAM, UNDP y Republica de Colombia. "Primer Informe bienal de actualización de Colombia ante la convención marco de las naciones unidas sobre el cambio climático". [online]. 2015. Disponible: http://documentacion.ideam.gov.co/openbiblio/bvirtual/023422/Primer_Informe_Bienal.pdf
Superintendencia de Servicios Públicos. "Informe técnico sobre sistemas de tratamiento de aguas residuales en Colombia". [online]. 2013. Disponible en: http://www.superservicios.gov.co/content/download/4989/47298
"Capítulo 1: El estado del agua, el alcantarillado y los residuos sólidos en los municipios". El agua potable y el saneamiento básico en los planes de desarrollo". [online]. Disponible: de http://www.procuraduria.gov.co/portal/media/file/descargas/publicaciones/parte3_agua.pdf
Ministerio de Ambiente. [online]. 2003. Disponible: http://www.minambiente.gov.co/documentos/Guia19.pdf
A. Kaviraj, F, Bhunia, and N.C. Saha. "Toxicity of Methanol to Fish, Crustacean, Oligochaete Worm, and Aquatic Ecosystem". Int J Toxicol. vol. 23, pp. 55-63. 2004.
C. Idrobo, y J. Gutierrez. "Electrooxidación catalítica de metanol en agua". [online]. Facultad de Ciencias Agropecuarias Universidad del Cauca. vol 4. no. 1. pp. 87-94. Marzo, 2006. Disponible en: http://revistabiotecnologia.unicauca.edu.co/revista/index.php/biotecnologia/article/viewFile/32/21.
N.R. Louzeiro, D.S. Mavinic, W.K. Oldham, A. Meisen and I.S. Gardner. "Methanol-induced biological nutrient removal kinetics in a full-scale sequencing batch reactor". Water research. vol. 36, pp. 2721 – 2732. 2002
L. Narváez, R. Cáceres y O. Marfà. "Depuración de lixiviados procedentes de viveros de ornamentales mediante humedales artificiales. Eficacia del metanol como fuente carbonada". En VI Jornadas Ibéricas de Horticultura Ornamental, Valencia, España, 1-3 octubre. 2014. Actas de horticultura. no. 68. pp. 239 – 244. ISBN 978846173029-9.
B. Liu and B. Li. "Single chamber microbial fuel cells (SCMFCs) treating wastewater containing methanol". International journal of hydrogen energy. vol.39, pp. 2340-2344. 2014
G. Cao, Y. Zhang, L. Chen, J. Liu, K. Mao, K. Li and J. Zhou. "Production of a bioflocculant from methanol wastewater and its application in arsenite removal". Chemosphere. vol. 141, pp. 274-281. 2015.
E. Shimoda, T. Fujii, R. Hayashi and Y. Oshima. "Kinetic analysis of the mixture effect in supercritical water oxidation of ammonia/methanol". J. of supercritical fluids. vol. 116, pp. 232-238. 2016.
E. Torresi, M. Escolà Casas, F. Polesel, B.G. Plósz, M. Christensson and K. Bester. "Impact of external carbon dose on the removal of micropollutants using methanol and ethanol in post-denitrifying moving bed biofilm reactors". [online] Water Research. In Press, Accepted Manu-script. Oct. 2016. doi:10.1016/j.watres.2016.10.068.
O.A. Kamanina, D.G. Lavrova, V.A. Arlyapov, V.A. Alferov, and O. N. Ponamoreva. "Silica sol-gel encapsulated methylotrophic yeast as filling of biofilters for the removal of methanol from industrial wastewater". Enzyme and Microbial Technology. vol. 92, pp. 94-98. 2016.
S. Saha, N. Badhe, J. De Vrieze, R. Biswas and T. Nandy. "Methanol in-duces low temperature resilient methanogens and improves methane generation from do-mestic wastewater at low to moderate temperatures". Bioresource Technology. vol. 189, pp. 370-378. 2015.
Metcalf and Eddy. Wastewater Engineering Treatment and Reuse. Fifth Edition. New York. Mc Graw Hill Education. 2014.
T. Matsumoto y I. Sánchez Ortiz. "Desempeño de la planta de tratamiento de aguas residuales de São João de Iracema (Brasil)". Ingeniería. Vol.21, no. 2, pp 176-186. Abril, 2016.
Eddy, & Metcalf. Procesos biológicos unitarios. [online]. Universidad de Salamanca. Centro de investigación de desarrollo tecnológico del agua. 1996. Disponible en: http://cidta.usal.es/residuales/libros/logo/pdf/Procesos_biologicos_unitarios.pdf
F.J. Molina Perez y D.C. Rodríguez. Manual de laboratorio de procesos biológicos. Universidad Nacional de Colombia. Medellín, Colombia. 2008.
Norma técnica colombiana 3629. Calidad del agua.demanda química de oxígeno (DQO). ICONTEC. Bogotá D.C., 2002.
Norma Técnica Colombiana 5159. Bebidas alcoholicas. Método colorimétrico para determinar el contenido de Metanol. ICONTEC. Bogotá D.C., 2003.
Al-D. Salam. "Methanol removal from methanol-water mixture using municipal activated sludge". Journal of Engineering Science and Technology. vol 8, no 5, pp 578-587. 2013.
Protocolo de vigilancia y control de intoxicaciones por Metanol. Instituto Nacional de Salud. Bogotá D.C., 2011.
Cómo citar
Carabali Lasso, M., Lote Veloza, M. L., & Echeverry Prieto, L. C. (2017). Evaluación de los Parametros Fisicoquímicos en Reactores Discontinuos de Lodos Activados para el Tratamiento de Aguas con Metanol. Ingeniería, 22(1), 83-97. https://doi.org/10.14483/udistrital.jour.reving.2017.1.a05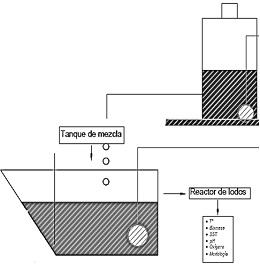 Publicado: 2017-01-30
Sección
Ingeniería Ambiental
A partir de la edición del V23N3 del año 2018 hacia adelante, se cambia la Licencia Creative Commons "Atribución—No Comercial – Sin Obra Derivada" a la siguiente:
Atribución - No Comercial – Compartir igual: esta licencia permite a otros distribuir, remezclar, retocar, y crear a partir de tu obra de modo no comercial, siempre y cuando te den crédito y licencien sus nuevas creaciones bajo las mismas condiciones.