On the Fuzzy Extension Principle for LP Problems with Interval Type-2 Technological Coefficients
Acerca Del Principio De Extensión Para Problemas LP Con Parámetros Difusos Tipo-2 De Intervalo
Juan Carlos Figueroa

Universidad Distrital Francisco José de Caldas
Palabras clave:
Fuzzy sets, Linear Programming, Extension Principle
(en_US)
Resumen (en_US)
A special kind of Linear Programming (LP) problems involve linguistic uncertainty that can be represented by Interval Type-2 Fuzzy numbers using the extension principle for fuzzy sets. This principle has been widely used in decision making, computation of a function of fuzzy sets, fuzzy optimization, etc, so this paper focuses to clarify some aspects about its use in LPs with interval Type-2 fuzzy technological parameters. 
Resumen (es_ES)
Una familia especial de problemas de programación lineal (LP) incluyen incertidumbre lingüística que puede ser representada a través de números difusos Tipo-2 de intervalo que a su vez se operacionalizan a través del principio de extensión. Este principio ha sido ampliamente utilizado en toma de decisiones, cómputo de funciones de conjuntos difusos, optimización difusa, etc, por lo que en este artículo hacemos algunas claridades acerca de su aplicación en problemas LP con coeficientes tecnológicos definidos como números difusos Tipo-2 de intervalo.
Descargas
La descarga de datos todavía no está disponible.
Referencias
R. E. Bellman and Lofti A. Zadeh. Decision-making in a fuzzy environment. Management Science, 17(1):141– 164, 1970.
Juan Carlos Figueroa-García. An approximation method for type reduction of an interval Type-2 fuzzy set based on α-cuts. In IEEE, editor, Proceedings of FEDCSIS 2012, pages 1–6. IEEE, 2012.
Juan Carlos Figueroa-García. A general model for linear programming with interval type-2 fuzzy technological coefficients. In 2012 Annual Meeting of the North American Fuzzy Information Processing Society (NAFIPS), pages 1–6. IEEE, 2012.
Juan Carlos Figueroa-García, Yurilev Chalco-Cano, and Heriberto Roma ́n-Flores. Distance measures for in- terval type-2 fuzzy numbers. Discrete Applied Mathematics, To appear(1), 2015.
Rafail N. Gasimov and Kursat Yenilmez. Solving fuzzy linear programming problems with linear membership functions. Turk J Math, 26(2):375–396, 2002.
George J. Klir and Tina A. Folger. Fuzzy Sets, Uncertainty and Information. Prentice Hall, 1992.
George J. Klir and Bo Yuan. Fuzzy Sets and Fuzzy Logic: Theory and Applications. Prentice Hall, 1995.
Jerry Mendel. Uncertain Rule-Based Fuzzy Logic Systems: Introduction and New Directions. Prentice Hall, 1994.
Jerry M. Mendel, Robert I. John, and Feilong Liu. Interval type-2 fuzzy logic systems made simple. IEEE Transactions on Fuzzy Systems, 14(6):808–821, 2006.
Jaroslav Ramík. Soft computing: overview and recent developments in fuzzy optimization. Technical report, Institute for Research and Applications of Fuzzy Modeling, 2001.
Jaroslav Ramík. Optimal solutions in optimization problem with objective function depending on fuzzy pa- rameters. Fuzzy Sets and Systems, 158(17):1873–1881, 2007.
Jaroslav Ramík and Josef Rimánek. Inequality relation between fuzzy numbers and its use in fuzzy optimiza- tion. Fuzzy Sets and Systems, 16:123–138, 1985.
Heinrich Rommelfanger. FULPAL - An interactive method for solving multiobjective fuzzy linear programming problems, pages 279–299. Reidel, Dordrecht, 1990.
Heinrich Rommelfanger. FULP - A PC-supported procedure for solving multicriteria linear programming problems with fuzzy data, pages 154–167. Springer-Verlag, 1991.
Heinrich Rommelfanger. Entscheiden bei UnschSrfe - Fuzzy Decision Support-Systeme 2nd ed. Springer-Verlag, Berlin/Heidelberg, 1994.
Heinrich Rommelfanger. A general concept for solving linear multicriteria programming problems with crisp, fuzzy or stochastic values. Fuzzy Sets and Systems, 158(17):1892–1904, 2007.
Cómo citar
Figueroa, J. C. (2015). Acerca Del Principio De Extensión Para Problemas LP Con Parámetros Difusos Tipo-2 De Intervalo. Ingeniería, 20(1), 129-138. https://doi.org/10.14483/udistrital.jour.reving.2015.1.a08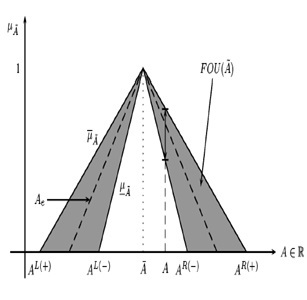 Publicado: 2015-03-10
Sección
Sección Especial: Mejores Trabajos "VII Simposio en Optimización"
A partir de la edición del V23N3 del año 2018 hacia adelante, se cambia la Licencia Creative Commons "Atribución—No Comercial – Sin Obra Derivada" a la siguiente:
Atribución - No Comercial – Compartir igual: esta licencia permite a otros distribuir, remezclar, retocar, y crear a partir de tu obra de modo no comercial, siempre y cuando te den crédito y licencien sus nuevas creaciones bajo las mismas condiciones.