An Approach for Solving Goal Programming Problems using Interval Type-2 Fuzzy Goals
Un Enfoque para Resolver Problemas de Programación de Metas utilizando Intervalo Tipo-2 Objetivos difusos
Juan Carlos Figueroa-García

Universidad Distrital Francisco José de Caldas

Juan Sebastian Patiño-Callejas

Universidad Distrital Francisco José de Caldas

Krisna Yoel Espinosa-Ayala

Universidad Distrital Francisco José de Caldas
Palabras clave:
Fuzzy programming, Type-2 Fuzzy sets, Goal programming
(en_US)
Resumen (en_US)
This paper presents a proposal for solving goal problems involving multiple experts opinions and perceptions. In goal programming problems where no statistical data about their goals exist, the use of information coming from experts becomes the last reliable source. This way, we propose an approach to model this kind of goals using Interval Type-2 fuzzy sets, and a simple method for finding an optimal solution based on previous methods that have been proposed for classical fuzzy sets.
Resumen (es_ES)
Este trabajo presenta un acercamiento a la solución de problemas de programación por metas que incluyen la opinión y percepción  de múltiples expertos. En problemas de metas que no tienen información estadística adecuada para definir los valores meta, el uso de información proveniente de expertos se convierte en la última fuente confiable de información. Así pues, proponemos una aproximación al modelado de este tipo de problemas utilizando conjuntos difusos de Intervalo Tipo-2, y un método sencillo para encontrar soluciones usando métodos propuestos por otros autores para conjuntos difusos clásicos.
Descargas
La descarga de datos todavía no está disponible.
Referencias
A Charnes and WW Cooper. Management models and industrial applications of linear programming, vol. i, 1961.
Abraham Charnes and William Wager Cooper. Goal programming and multiple objective optimizations: Part 1. European Journal of Operational Research, 1(1):39–54, 1977.
Liang-Hsuan Chen and Feng-Chou Tsai. Fuzzy goal programming with different importance and priorities. European Journal of Operational Research, 133(3):548–556, 2001.
Ting-Yu Chen. An electre-based outranking method for multiple criteria group decision making using interval type-2 fuzzy sets. Information Sciences, 263:1–21, 2014.
Edward L Hannan. On fuzzy goal programming*. Decision Sciences, 12(3):522–531, 1981.
Chaofang Hu, Shaokang Zhang, and Na Wang. Enhanced interactive satisficing method via alternative tolerance for fuzzy goal programming with progressive preference. Applied Mathematical Modelling, 38(19):4673–4685, 2014.
Kaveh Khalili-Damghani, Soheil Sadi-Nezhad, and Madjid Tavana. Solving multi-period project selection problems with fuzzy goal programming based on topsis and a fuzzy preference relation. Information Sciences, 252:42–61, 2013.
George Klir and Bo Yuan. Fuzzy sets and fuzzy logic, volume 4. Prentice Hall New Jersey, 1995.
Gang Li. Fuzzy goal programming–a parametric approach. Information Sciences, 195:287–295, 2012.
Jerry M Mendel. Uncertain rule-based fuzzy logic system: introduction and new directions. Prentice Hall PTR, 2001.
Ram Narasimhan. Goal programming in a fuzzy environment. Decision sciences, 11(2):325–336, 1980.
Jindong Qin and Xinwang Liu. Multi-attribute group decision making using combined ranking value under interval type-2 fuzzy environment. Information Sciences, 297:293–315, 2015.
Turgay Safiye and Tas¸kın Harun. Fuzzy goal programming for health-care organization. Computers & Industrial Engineering, 2014.
Abolfazl Doostparast Torshizi and Mohammad Hossein Fazel Zarandi. A new cluster validity measure basedon general type-2 fuzzy sets: Application in gene expression data clustering. Knowledge-Based Systems, 64:81–93, 2014.
Taeyong Yang, James P Ignizio, and Hyun-Joon Kim. Fuzzy programming with nonlinear membership functions: piecewise linear approximation. Fuzzy sets and systems, 41(1):39–53, 1991.
Zhiming Zhang and Shouhua Zhang. A novel approach to multi attribute group decision making based on trapezoidal interval type-2 fuzzy soft sets. Applied Mathematical Modelling, 37(7):4948–4971, 2013.
Cómo citar
Figueroa-García, J. C., Patiño-Callejas, J. S., & Espinosa-Ayala, K. Y. (2015). Un Enfoque para Resolver Problemas de Programación de Metas utilizando Intervalo Tipo-2 Objetivos difusos. Ingeniería, 20(2), 233-244. https://doi.org/10.14483/23448393.8300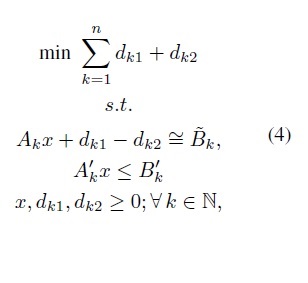 Publicado: 2015-08-10
A partir de la edición del V23N3 del año 2018 hacia adelante, se cambia la Licencia Creative Commons "Atribución—No Comercial – Sin Obra Derivada" a la siguiente:
Atribución - No Comercial – Compartir igual: esta licencia permite a otros distribuir, remezclar, retocar, y crear a partir de tu obra de modo no comercial, siempre y cuando te den crédito y licencien sus nuevas creaciones bajo las mismas condiciones.