Evaluación del Impacto de la Generación Distribuida mediante Índices Normalizados con base en la Normatividad Colombiana y Estándares IEEE
Impact Assessment of Distributed Generation using Standardized Indexes based on Colombian Regulations and IEEE Standards
Diego González Herrera

Applus-Norcontrol

Gustavo Luna Russi

Ospina Padilla Asociados Ltda.

Edwin Rivas Trujillo

Universidad Distrital Francisco Jose de Caldas
Keywords:
Colombian regulations, distributed generation, indexes, power quality
(en_US)
Keywords:
regulación colombiana, generación distribuida, índices, calidad de potencia.
(es_ES)
Abstract (es_ES)
Se presenta una breve revisión de la literatura científica referente a índices normalizados en calidad de potencia y el marco regulatorio colombiano; el trabajo fue motivado por el reto de otros autores de plantear índices para evaluar el impacto de las perturbaciones de calidad de potencia (con enfoque cualitativo y cuantitativo, sin y con generación distribuida). Por ende se presenta una propuesta de índices normalizados (  Regulación de tensión,  sobretensión y subtensión,  corriente de falla,  amplitud de hueco de tensión,  distorsión armónica total en tensión,  distorsión de la demanda total) implementada en un sistema de 34 nodos de IEEE, los cuales son comparados con los propuestos por dichos autores. 
Abstract (en_US)
This paper considers a short review of the scientific literature concerning standard power quality indexes and the colombian regulatory framework; the work was motivated in other studies proposing indexes to assess the impact of disturbances in power quality (with qualitative and quantitative approaches, with and without distributed generation). Thus, a proposal for standardised indexes is provided (voltage regulation, overvoltage and undervoltage, fault current,  amplitude of voltage dip,  total harmonic voltage distortion,  total demand distortion) implemented within a IEEE 34 nodes system; a comparison with the other proposals is also discussed.
Downloads
Download data is not yet available.
References
J. Haan and P. Nguyen, "Social interaction interface for performance analysis of smart grids," Smart Grid Modeling and Simulation (SGMS), IEEE First International Workshop on, pp. 79–83, 2011.
G. Carpinelli, P. Verde, R. Chiumeo, I. Mastrandrea, F. Tarsia, O. Ornago, and C. R. S. A, "A Global Index for Discrete Voltage Disturbances," pp. 1–5, 2002.
V. Gosbell, "Unified power quality index (UPQI) for continuous disturbances," Harmonics and Quality of Power, 2002. 10th International Conference on, vol. 1, pp. 316 – 321, 2002.
P. Caramia and C. Perna, "Power quality indices of distribution networks with embedded generation," Universities Power Engineering Conference, 2006. UPEC '06. Proceedings of the 41st International, vol. 3, pp. 1026 – 1030, 2006.
P. Caramia, G. Carpinelli, a. Russo, and P. Verde, "Power Quality Assessment in Liberalized Market: Probabilistic System Indices for Distribution Networks with Embedded Generation," 2006 International Conference on Probabilistic Methods Applied to Power Systems, pp. 1–6, Jun. 2006.
A. Bracale, P. Caramia, G. Carpinelli, A. Russo, and P. Verde, "Site and System Indices for Power-Quality Characterization of Distribution Networks With Distributed Generation," IEEE Transactions on Power Delivery, vol. 26, no. 3, pp. 1304–1316, Jul. 2011.
ICONTEC, NTC 1340 ELECTROTECNIA. TENSIONES Y FRECUENCIA NOMINALES EN SISTEMAS DE ENERGÍA ELÉCTRICA EN REDES DE SERVICIO PÚBLICO. Colombia, 2004.
ICONTEC, NTC 5001 CALIDAD DE LA POTENCIA ELÉCTRICA. LÍMITES Y METODOLOGÍA DE EVALUACIÓN EN PUNTO DE CONEXIÓN COMÚN. Colombia, 2008.
CREG, Resolución Creg 070 de 1998. Colombia.
CREG, Resolución Creg 024 de 2005. Colombia.
CREG, Regulación Creg 065 de 2012. Colombia.
CREG, Resolución Creg 025 de 1995. 1995.
ICONTEC, NTC 5000 CALIDAD DE LA POTENCIA ELÉCTRICA (CPE). DEFINICIONES Y TÉRMINOS FUNDAMENTALES. Colombia, 2002.
IEEE, IEEE Std 1159TM-2009, IEEE Recommended Practice for Monitoring Electric Power Quality, vol. 2009, no. June. 2009.
L. Zheng, Y. Zhang, and L. Lin, "Studies on Voltage Sag in Distribution Network Containing Distributed Generations," 2012 Asia-Pacific Power and Energy Engineering Conference, pp. 1–5, Mar. 2012.
N. Técnica, NTC 5001, no. 571. 2008.
IEEE, IEEE 519 Recommended Practices and Requirements for Harmonic Control in Electrical Power Systems IEEE Recommended Practices and. 1992.
V. Cloquell, M. . Santamaria, and A. Hospitaler, "Nuevo procedimiento para la normalización de valores numéricos en la toma de decisiones." .
How to Cite
González Herrera, D., Luna Russi, G., & Rivas Trujillo, E. (2015). Impact Assessment of Distributed Generation using Standardized Indexes based on Colombian Regulations and IEEE Standards. Ingeniería, 20(2), 299-315. https://doi.org/10.14483/23448393.8651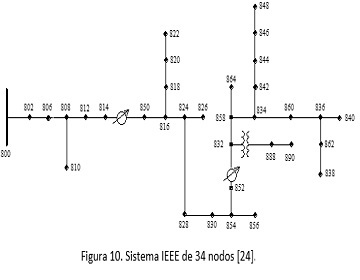 Published: 2015-09-27
From the edition of the V23N3 of year 2018 forward, the Creative Commons License "Attribution-Non-Commercial - No Derivative Works " is changed to the following:
Attribution - Non-Commercial - Share the same: this license allows others to distribute, remix, retouch, and create from your work in a non-commercial way, as long as they give you credit and license their new creations under the same conditions.