Implementación de una Carta de Control para Corridas Cortas en la Industria de Autopartes
Implementation of a Short Run Chart in the Auto Parts Industry
Jesús Fidernan Barrera Cobos

Escuela Colombiana de Ingeniería, Universidad Nacional de Colombia
Palabras clave:
control chart, difference chart, normalized chart, process variability, short run chart
(en_US)
Palabras clave:
Carta de control, Carta para lotes pequeños, variabilidad del proceso, carta normalizada, carta de diferencias.
(es_ES)
Resumen (es_ES)
Contexto: La industria nacional tiene que adaptarse a las necesidades del mercado, lo que implica en algunos casos el cambio en la realización de sus procesos productivos. Uno de estos cambios tiene que ver con el tamaño de lote de producción, el cual ha pasado de un tamaño de miles de unidades a uno quizas, de algunos cientos. El seguimiento de estos procesos con métodos estadísticos, como las cartas de control, ha llevado al uso de las denominadas cartas de control para lotes pequeños.
Método: En este artículo se presenta la propuesta de implementación de una carta de este tipo en un proceso de fabricación de una empresa del sector automotriz nacional. Inicialmente se plantea el estado actual del proceso, el cual se sigue con una carta de control  - R, usada por la empresa para el seguimiento de la producción; luego se hace mención a algunas de las cartas de control para lotes pequeños, que han sido planteadas por diversos autores.
Resultados: Con base en la información del estado actual del proceso se realiza la elección de la carta para lotes pequeños más adecuada.
Conclusiones: Dadas las características de no homogeneidad de la varianza, determinada mediante una prueba no paramétrica para las referencias analizadas, se decide que la carta a ser usada es la normalizada. De las tres propuestas de carta presentadas la decisión de cuál usar depende de la varianza del proceso al fabricar las distintas referencias.
Resumen (en_US)
Context: The national industry has to adapt to market needs, which implies the change in the performance of their production processes. One of these changes has to do with the size of production lot, which has gone from a size of one thousand units of perhaps a few hundred. The monitoring of these processes using statistical methods such as control charts, has led to the use of so-called control charts for short runs.
Method: This article presents the proposed implementation of a chart of this type in a manufacturing process of a company in the national automobile sector. Initially the current state of the process poses with the results shown in the control chart X¯–R, used by the company to monitor production; then the mention of some of the control charts for short production runs that can be used for this type of variables which have been raised by various authors is made.
Results: Based on the information of the current status process the election of the chart is made more suitable for short production runs.
Conclusions: Given the characteristics of non-homogenity of variance, determined by a nonparametric test for references analyzed, it is decided that the letter to be used is the normalized chart. The decision of which chart to use depends on the variance of the process to manufacture the various references.
Descargas
La descarga de datos todavía no está disponible.
Referencias
N. Farnum. Control charts for short runs: nonconstant process and measurement error. Journal of Quality Technology, 24(3):138 – 144, 1992.
L. Haugh and A. Pond. Adjusted individual control charts for short runs. ASQC 49"th Annual Quality congress Proceedings, pages 1117 – 1125, 1995.
D. Holmes and E. Mergen. Process acceptance charts for short runs. Quality Engineering, 1(10):149 – 153,1997.
J. M. Juran and F. M. Gryna. Quality planning and analysis. McGraw Hill International editions, 1993.
Hitoshi Kume. Herramientas estadísticas básicas para el mejoramiento de la calidad. Norma, 1992.
A. Mitra. Fundamentals of quality control and improvement. Prentice Hall, 1998.
P. Sprent. Applied Nonparametric Statistical Methods. Chapman & Hall, 1992.
Wadsworth, Stephens, and Godfrey. Métodos de Control de calidad. Cecsa, 2005.
D. Wheeler. Short Run SPC. SPC press, 1991.
S. Wise and D. Fire. Innovative Control Charting, practical SPC solutions for today's manufacturing environment. ASQ quality press, 1998.
Cómo citar
Barrera Cobos, J. F. (2016). Implementación de una Carta de Control para Corridas Cortas en la Industria de Autopartes. Ingeniería, 21(1), 97-106. https://doi.org/10.14483/udistrital.jour.reving.2016.1.a07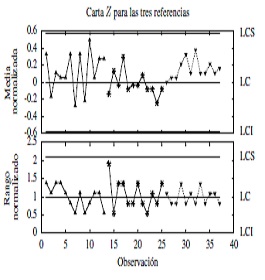 Publicado: 2016-01-22
Sección
Ingeniería Industrial
A partir de la edición del V23N3 del año 2018 hacia adelante, se cambia la Licencia Creative Commons "Atribución—No Comercial – Sin Obra Derivada" a la siguiente:
Atribución - No Comercial – Compartir igual: esta licencia permite a otros distribuir, remezclar, retocar, y crear a partir de tu obra de modo no comercial, siempre y cuando te den crédito y licencien sus nuevas creaciones bajo las mismas condiciones.