Cargador Manual de Baterías: Prototipo Académico
Manual Battery Charger: an Academic Prototype
John Vanegas Varón

Marco Latorre González

José Rairán Antolines
Palabras clave:
battery recharge, efficiency measurement, torque estimation
(en_US)
Palabras clave:
conversión de energía, medida de eficiencia, supercapacitor, baterías NiMH.
(es_ES)
Resumen (es_ES)
Contexto: Cuando se construye un cargador manual de baterías se garantiza una potencia de salida, pero normalmente se omite la eficiencia a la cual se hace la carga. Sin embargo, en el contexto actual de preocupación por el cambio climático, la selección entre un equipo u otro debe hacerse en términos del valor de la eficiencia.
Método: Se estiman las potencias de entrada y de salida, necesarias en el cálculo de la eficiencia. Estas estimaciones requieren la aproximación de la velocidad angular y del torque en una manivela, y del voltaje y la corriente en la batería, las cuales se realizan mediante un procedimiento experimental y el uso de un circuito diseñado para tal fin.
Resultados: Se construye un prototipo para dar un ejemplo de la medición de eficiencia, y se encuentra que mientras la potencia de entrada se acerca a 12 W, la potencia de salida es de 3 W, por lo cual la eficiencia es aproximadamente 25%.
Conclusiones: El método de medición propuesto permite estimar la eficiencia de dispositivos manuales cargadores de baterías. Así, trabajos futuros pueden enfocarse en mejorar el diseño de los cargadores, para incrementar el valor de la eficiencia.
Resumen (en_US)
Context: The building process of a manual charger allows designers to guarantee an output power, but the efficiency of the process usually remains unknown. However, in the current context of preoccupation for the climate change, the selection of a device should regard the efficiency value.
Method: This paper presents the input and output power estimation, as the efficiency computation requires. These estimations involve approximating angular speed and torque in a hand crank, as well as voltage and current in the battery, which depends on an experimental procedure and the use of a circuit designed for that purpose.
Results: The design and building of a prototype allow authors to present an example of the efficiency measurement, which resulted in an input power approaching 12 W, whereas the output power is 3 W, thus the efficiency approximates 25%.
Conclusions: The proposed method of measurement enables the estimation of efficiency for manual battery chargers. Thus, future works can focus efforts on improving the design of the chargers in order to increase the efficiency value.
Descargas
La descarga de datos todavía no está disponible.
Referencias
Y. Song, "American policy on renewable energy and its inspiration," en Management Science and Engineering (ICMSE), 2010 International Conference, Melbourne, VIC, noviembre 24-26, 2010, pp. 1513-1519, doi: 10.1109/ICMSE.2010.5719987
A. Hamid, M. Navid y N. Saied, "Human passive motions and a user-friendly energy harvesting system," J. Intell. Mater. Syst. Struct., vol. 25, nº 8, pp. 923-936, 25 mayo 2014, doi: 10.1177/1045389X13502854
Q. Li, V. Naing, J. A. Hoffer, D. J. Weber, A. D. Kuo y J. M. Donelan, "Biomechanical energy harvesting: Apparatus and method," en Robotics and Automation, 2008. ICRA 2008. IEEE International Conference on, Pasadena, CA, mayo 19-23, 2008, pp. 3672-3677, doi: 10.1109/ROBOT.2008.4543774
J. J. H.Paulides, J. W. Jansen, L. Encica, E. A. Lomonova y M. Smit, "Human-powered small-scale generation system for a sustainable dance club," en Electric Machines and Drives Conference, 2009. IEMDC '09. IEEE International, Miami, FL, mayo 3-6, 2009, pp. 439-444, doi: 10.1109/IEMDC.2009.5075243
M. E. Karagozler, I. Poupyerv, G. K. Fedder, y Y. Suzuki, "Paper Generators: Harvesting Energy from Touching, Rubbing and Sliding", en Procedings of the 26th annual ACM symposium on User Interface Software and Technology, New York, NY, octubre 8-11, 2013, pp. 23-30, doi: 10.1145/2501988.2502054
R. Caliò, U. B. Rongala, D. Camboni, M. Milazzo, C. Steganini, G. de Petris, y C. M. Oddo, "Piezoelectric Energy Harvesting Solutions", en Journal Sensors, marzo 10, 2014, vol. 14, núm. 3, pp. 4755-4790, doi: 10.3390/s140304755
Z. Lei y T. Xiudong, "Large-scale vibration energy harvesting," J. Intell. Mater. Syst. Struct., vol. 24, nº 11, pp. 1405-1430, 2013, doi: 10.1177/1045389X13486707
A. Kokkinopoulos, G. Vogas, y P. Papageorgas, "Energy harvesting implementing embedded piezoelectric generators – The potential for the Atiiki Odos traffic grid", en The International Conference on Technologies and Materials for Renewable Energy, Envionment and Sustainability, TMREES14, Beirut, Lebanon, Abril, 2014, pp. 1070-1085.
V. Goudar, R. Zhi , P. Brochu, P. Qibing y M. Potkonjak, "Optimizing the configuration and control of a novel human-powered energy harvesting system," en Power and Timing Modeling, Optimization and Simulation (PATMOS), 2013 23rd International Workshop, Karlsruhe, septiembre 9-11, 2013, pp. 75-82, doi: 10.1109/PATMOS.2013.6662158
T. Galchev, J. McCullagh, R. L. Peterson y K. Najafi, "Harvesting traffic-induced bridge vibrations," en Solid-State Sensors, Actuators and Microsystems Conference (TRANSDUCERS), 2011 16th International, Beijing, junio 5-9, 2011, pp. 1661-1664, doi: 10.1109/TRANSDUCERS.2011.5969860
K. Dongwon, G. A. Rincon-Mora y E. O. Torres, "Harvesting Ambient kinetic energy with switched-inductor DC-DC converters," en Circuits and Systems (ISCAS), Proceedings of 2010 IEEE International Symposium, Paris, mayo 30, 2010, pp. 281-284, doi:10.1109/ISCAS.2010.5537878
A.C. Hua y B. Z. Syue, "Charge and discharge characteristics of lead-acid battery and LiFePO4 battery," en Power Electronics Conference (IPEC), 2010 International, Sapporo, junio 21-24, 2010, pp.1478-1483, doi: 10.1109/IPEC.2010.5544506
L. Linqiang, W. Dahu, Z. Tong, y H. Mingke, "A Manual Mobile Phone Charger," en Electrical and Control Engineering (ICECE), 2010 International Conference on, Wuhan, junio 25-27, 2010, pp. 79-82, doi: 10.1109/iCECE.2010.28
L. Wu, A. Zachas, R. Harley, T. Habetler, y D. Divan, "Design of a portable hand crank generating system to power remote off-grid communities," en Power Engineering Society Conference and Exposition in Africa, 2007. PowerAfrica '07. IEEE, Johannesburg, julio 16-20, 2007, pp. 1-8, doi: 10.1109/PESAFR.2007.4498043
D. Dai y J. Liu, "Human powered wireless charger for low-power mobile electronic devices," en Consumer Electronics, IEEE Transactions on, vol. 58, no. 3, pp. 767-774, agosto 27, 2012, doi: 10.1109/TCE.2012.6311316
Cómo citar
Vanegas Varón, J., Latorre González, M., & Rairán Antolines, J. (2016). Cargador Manual de Baterías: Prototipo Académico. Ingeniería, 21(1), 83-95. https://doi.org/10.14483/udistrital.jour.reving.2016.1.a06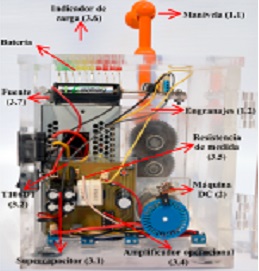 Publicado: 2016-01-12
Sección
Ingeniería Eléctrica
A partir de la edición del V23N3 del año 2018 hacia adelante, se cambia la Licencia Creative Commons "Atribución—No Comercial – Sin Obra Derivada" a la siguiente:
Atribución - No Comercial – Compartir igual: esta licencia permite a otros distribuir, remezclar, retocar, y crear a partir de tu obra de modo no comercial, siempre y cuando te den crédito y licencien sus nuevas creaciones bajo las mismas condiciones.