Metodología para el Diseño de Conjuntos Difusos Tipo-2 a partir de Opiniones de Expertos
Methodology for Designing Type-2 Fuzzy sets from Experts Opinions
Mónica Lorena Rodríguez Ayala

Universidad Distrital Francisco José de Caldas

Yeniffer Estefanía Huertas Moreno

Universidad Distrital Francisco José de Caldas
Keywords:
uncertainty, perception, information, language, Type-2 fuzzy sets
(en_US)
Keywords:
conjuntos difusos Tipo-2, incertidumbre, percepción, información, lenguaje
(es_ES)
Abstract (es_ES)
Resumen
Contexto: Existe una creciente necesidad de procesar la información proveniente del lenguaje humano, la cual incluye incertidumbre, con el fin solucionar problemas definidos en un determinado contexto.
Método: Empleamos conjuntos difusos Tipo-2 a fin de representar y cuantificar el lenguaje humano, para lo cual presentamos una serie de aspectos metodológicos para su diseño. La propuesta se compone de tres actividades clave: (1) determinar la etiqueta lingüística (palabra), (2) definir su función de pertenencia y (3) recolectar la información desde los expertos.
Resultados: Se aplica y valida la propuesta en un escenario real basado en conjuntos triangulares a través de la comparación de dos grupos de expertos. Se modela, procesa y analiza la información de entrada permitiendo hacer un manejo adecuado a la incertidumbre implícita en sus opiniones.
Conclusiones: La metodología propuesta es aplicable a diferentes situaciones, donde múltiples sujetos expresan su opinión o percepción que manifiestan alrededor de determinado problema.
Abstract (en_US)
Context: There is a need for processing information coming from human like language that
includes uncertainty in order to solve problems defined in that context.

Method: We use Type-2 fuzzy sets for defining and measuring human like language, so we
propose a methodology for designing them. The proposal is composed by three key steps:
(1) defining a linguistic label (word), (2) defining its membership function, and (3) collecting
information from experts.

Results: The proposal is applied and validated in a real scenario based on triangular fuzzy
sets through two different groups of experts. We present a proposal to model, process and
analyze input information coming from experts that allows to do an appropriate handling of
uncertainty present in people perceptions.

Conclusions: The proposed methodology is applicable to different problems where different
people express their opinions and/or perceptions about a specific problem.
Downloads
Download data is not yet available.
References
S. R. Anderson, "How many languages are there in the world?." , disponible en http://www.linguisticsociety.org/content/how-many-languages-are-there-world, 2010.
Y. Jiang and Y. Tang, "An interval type-2 fuzzy model of computing with words," Information Sciences, 2014.
J.Mendel and D.Wu, Perceptual computing: aiding people in making subjective judgments, vol. 13. JohnWiley & Sons, 2010.
G. Klir and B. Yuan, Fuzzy sets and fuzzy logic, vol. 4. Prentice Hall New Jersey, 1995.
L. Di Lascio, A. Gisolfi, and A. Nappi, "Medical differential diagnosis through type-2 fuzzy sets," in Fuzzy Systems, 2005. FUZZ'05. The 14th IEEE International Conference on, pp. 371–376, IEEE, 2005.
F. Doctor, H. Hagras, D. Roberts, and V. Callaghan, "A type-2 fuzzy based system for handling the uncertainties in group decisions for ranking job applicants within human resources systems," in Fuzzy Systems, 2008. FUZZ-IEEE 2008.(IEEE World Congress on Computational Intelligence). IEEE International Conference on, pp. 481–488, IEEE, 2008.
R. Chen, P. Liu, and S. Tang, "An evaluation method for enterprise knowledge management performance based on linguistic variable," in Business and Information Management, 2008. ISBIM'08. International Seminar on, vol. 1, pp. 510–513, IEEE, 2008.
S.-Y. Wang, "Applying 2-tuple multigranularity linguistic variables to determine the supply performance in dynamic environment based on product-oriented strategy," Fuzzy Systems, IEEE Transactions on, vol. 16, no. 1, pp. 29–39, 2008.
C. Li, G. Zhang, J. Yi, and M.Wang, "Uncertainty degree and modeling of interval type-2 fuzzy sets: definition, method and application," Computers & Mathematics with Applications, vol. 66, no. 10, pp. 1822–1835, 2013.
J. Qin and X. Liu, "Interval type-2 relational analysis and its application to multiple attribute decision making,"in Fuzzy Systems (FUZZ-IEEE), 2014 IEEE International Conference on, pp. 306–313, IEEE, 2014.
D. Wu and J. M. Mendel, "A comparative study of ranking methods, similarity measures and uncertainty
measures for interval type-2 fuzzy sets," Information Sciences, vol. 179, no. 8, pp. 1169–1192, 2009.
J.M.Mendel and D.Wu, "Determining interval type-2 fuzzy set models for words using data collected from one subject: Person fous," in Fuzzy Systems (FUZZ-IEEE), 2014 IEEE International Conference on, pp. 768–775, IEEE, 2014.
C. Desimpelaere and T. Marchant, "An empirical test of some measurement-theoretic axioms for fuzzy sets,"Fuzzy sets and systems, vol. 158, no. 12, pp. 1348–1359, 2007.
L. A. Zadeh, "Fuzzy sets," Information and control, vol. 8, no. 3, pp. 338–353, 1965.
R. E. Bellman and L. A. Zadeh, "Decision-making in a fuzzy environment," Management science, vol. 17, no. 4, p. 141, 1970.
J. C. Figueroa-García and G. Hernández, "A multiple means transportation model with type-2 fuzzy uncertainty," in Supply Chain Management Under Fuzziness, pp. 449–468, Springer, 2014.
J. C. Figueroa-García, E. J.Medina-Pinzón, and J. D. Rubio-Espinosa, "Non-cooperative games involving type-2 fuzzy uncertainty: An approach," in Computer Information Systems and Industrial Management, pp. 387–396, Springer, 2014.
D. Wu and J. M. Mendel, "Uncertainty measures for interval type-2 fuzzy sets," Information Sciences, vol. 177, no. 23, pp. 5378–5393, 2007.
J. M. Mendel, "Uncertain rule-based fuzzy logic system: introduction and new directions," 2001.
J. M. Mendel and F. Liu, "Super-exponential convergence of the karnik–mendel algorithms for computing the centroid of an interval type-2 fuzzy set," Fuzzy Systems, IEEE Transactions on, vol. 15, no. 2, pp. 309–320,2007.
J. C. Figueroa-García, Y. Chalco-Cano, and H. Román-Flores, "Distance measures for interval type-2 fuzzy numbers," Discrete Applied Mathematics, 2014.
How to Cite
Rodríguez Ayala, M. L., & Huertas Moreno, Y. E. (2016). Methodology for Designing Type-2 Fuzzy sets from Experts Opinions. Ingeniería, 21(2), 121-137. https://doi.org/10.14483/udistrital.jour.reving.2016.2.a01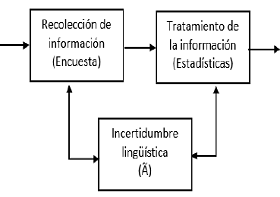 Published: 2016-05-26
Section
Computational Intelligence
From the edition of the V23N3 of year 2018 forward, the Creative Commons License "Attribution-Non-Commercial - No Derivative Works " is changed to the following:
Attribution - Non-Commercial - Share the same: this license allows others to distribute, remix, retouch, and create from your work in a non-commercial way, as long as they give you credit and license their new creations under the same conditions.