Fuzzy Entropy Relevance Analysis in DWT and EMD for BCI Motor Imagery Applications
Análisis de Relevancia con Entropía Difusa en Aplicaciones BCI con Imaginación Motora mediante Descomposiciones DWT y EMD
Boris Medina Salgado

Universidad Distrital Francisco José de Caldas

Leonardo Duque Muñoz

Instituto Tecnológico Metropolitano (ITM)
Palabras clave:
fuzzy entropy, wavelet, EMD, BCI
(en_US)
Resumen (en_US)
Rhythm analysis in advanced signal processing methods has long of interest in application areas such as diagnosis of brain disorders, epilepsy, sleep or anesthesia analysis, and more recently in brain computer interfaces. In this paper the Discrete Wavelet Transform (DWT) and Empirical Mode Decomposition (EMD) techniques are applied to extract the brain rhythms from electroencephalographic (EEG) signals in motor imagination tasks, of left-and right hand, using public dataset BCI Competition 2003. Then the brain rhythms are characterized by statistical features. Additionally, fuzzy entropy algorithm was used to perform the relevance analysis to determine the most important features in the training set. Classification stage was performed using K-NN classifiers and SVM, obtaining classification accuracy up to 100% with EMD. Classification results allow us to infer that the techniques used are appropriate to generate solutions in BCI applications for recognizing motor imagination in people with motor disabilities.
Resumen (es_ES)
El análisis de ritmos en métodos avanzados de procesamiento de señal es de interés en áreas de aplicación, tales como diagnóstico de trastornos cerebrales, epilepsia, análisis del sueño o anestesia, y más recientemente en las interfaces cerebro-computador. En este trabajo se aplican la transformada wavelet discreta (DWT) y descomposición por modos empíricos (EMD) para extraer los ritmos cerebrales de señales electroencefalográficas  (EEG) en tareas de imaginación de motora, de mano izquierda y derecha, utilizando la bases de datos publica BCI Competition 2003. Los ritmos cerebrales se caracterizan mediante funciones estadísticas; además, se utilizó el algoritmo de entropía difusa para realizar el análisis de relevancia y determinar las características más importantes en el conjunto de entrenamiento. La etapa de clasificación se realizó utilizando clasificadores K-NN y SVM, de la que se obtuvieron porcentajes de precisión de hasta el 100 % de  clasificación. Los resultados de la clasificación permiten inferir que las técnicas utilizadas son adecuadas para generar soluciones en aplicaciones BCI para el reconocimiento de la imaginación motora en las personas con discapacidad motora.
Descargas
La descarga de datos todavía no está disponible.
Referencias
T. M. Vaughan, " Guest editorial brain-computer interface technology: a review of the second international meeting," IEEE Transactions on Neural Systems and Rehabilitation Engineering, vol. 11, no. 2, pp. 94– 109, Jun. 2003.
J. Wang, G. Xu, L. Wang, and H. Zhang, " Feature extraction of brain- computer interface based on improved multivariate adaptive autoregressive models," 2010 3rd International Conference on Biomedical Engineering and Informatics, pp. 895–898, Oct. 2010.
D. Croz-Baron, J. M. Ramirez, M. Baker, V. Alarcon-Aquino, and O. Carrera, " A BCI motor imagery experiment based on parametricfeature extraction and Fisher Criterion," CONIELECOMP 2012, 22nd International Conference on Electrical Communications and Computers, pp. 257–261, Feb. 2012.
C. Chen, W. Song, J. Zhang, Z. Hu, and H. Xu, " An Adaptive Feature Extraction Method for Motor-Imagery BCI Systems," 2010 International Conference on Computational Intelligence and Security, pp. 275–279, Dec. 2010.
D. Hu, W. Li, and X. Chen, " Feature extraction of motor imagery EEG signals based on wavelet packet decomposition,"The 2011 IEEE/ICME International Conference on Complex Medical Engineering, pp. 694–697, May 2011.
L. Zou, X. Wang, G. Shi, and Z. Ma, " EEG feature extraction and pattern classification based on motor imagery in brain-computer interface," 9th IEEE International Conference on Cognitive Informatics (ICCI0010), pp.
–541, Jul. 2010.
P. F. Diez, V. Mut, E. Laciar, A. Torres, and E. Avila, " Application of the empirical mode decomposition to the extraction of features from EEG signals for mental task classification," Conf. Proc. IEEE Eng. Med. Biol. Soc., vol. 2009, pp. 2579–82, Jan. 2009.
C. Parameswariah, S. Member, M. Cox, and S. Member, " Frequency Characteristics of Wavelets," vol. 17, no.3, pp. 800–804, 2002.
N. E. Huang, Z. Shen, S. R. Long, M. L.Wu, H. H. Shih, Q. Zheng, N. C.Yen, C. C. Tung, and H. H. Liu," The empirical modedecomposition and Hilbert spectrum for nonlinear and nonstationary time series analysis," Proc. R. Soc. London A, vol. 454, pp. 903–995, 1998.
HU Guang-shu, " Digital Signal Process-Theory, Algorithm, and Realization" [M]. Beijing: Tsinghua University Press, 120, 1997, (in Chinese).
R. Gray. Entropy and Information Theory (1st ed.) New York: Springer Verlag, 1990.
A. De Luca and S. Termini, " A definition of a nonprobabilistic entropy in the setting of fuzzy sets theory," Inf. Control, vol. 20, no. 4, pp. 301–312, May 1972.
RN. Khushaba, S. Kodagoda, S. Lal, and G. Dissanayake, " Driver Drowsiness Classification Using Fuzzy Wavelet Packet Based Feature Extraction Algorithm," IEEE, 2011.
RN. Khushaba, A. Al-Jumaily, A. Al-Ani, " Novel feature extraction method based on fuzzy entropy and wavelet packet transform for myoelectric Control," 2007 Int Symp Commun Inf Technol., pp. 352–357, 2007.
B. Blankertz, K. Muller, G. Curio, T. M. Vaughan, G. Schalk, J. R. Wolpaw, A. Schl ¨ ogl, C. Neuper, G. Pfurtsche- ¨ller, T. Hinterberger, M. Schroder, and N. Birbaumer, " The BCI Competition 2003 : Progress and Perspectives ¨ in Detection and Discrimination of EEG Single Trials," vol. 51, no. 6, pp. 1044–1051, 2004.
Benjamin Blankertz, Gabriel Curio and Klaus-Robert Muller, Classifying Single Trial EEG: Towards Brain ¨ Computer Interfacing, In: T. G. Diettrich and S. Becker and Z. Ghahramani (eds.), Advances in Neural Inf. Proc. Systems 14 (NIPS 01), 2002
A. Zhang, B. Yang & L. Huang. Feature Extraction of EEG Signals Using Power Spectral Entropy. 2008 International Conference on BioMedical Engineering and Informatics, 435–439, 2008.
X. Qiao, Y. Wang, and D. Li, " Feature extraction and classifier evaluation of EEG for imaginary hand movements," 2010 Sixth Int. Conf. Nat. Comput., no. Icnc, pp. 2112–2116, Aug. 2010.
Y. Fang, M. Chen, X. Zheng, and R. F. Harrison, " Feature Extraction of Motor Imagery in BCI with Approximate Entropy," vol. 6, no. March, pp. 2485–2491, 2012.
Cómo citar
Medina Salgado, B., & Duque Muñoz, L. (2015). Análisis de Relevancia con Entropía Difusa en Aplicaciones BCI con Imaginación Motora mediante Descomposiciones DWT y EMD. Ingeniería, 20(1), 9 -19. https://doi.org/10.14483/udistrital.jour.reving.2015.1.a01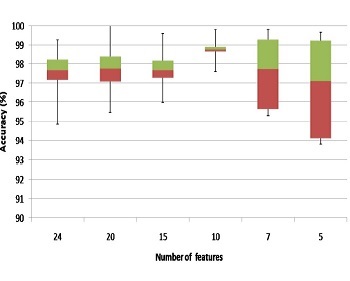 Publicado: 2015-02-18
A partir de la edición del V23N3 del año 2018 hacia adelante, se cambia la Licencia Creative Commons "Atribución—No Comercial – Sin Obra Derivada" a la siguiente:
Atribución - No Comercial – Compartir igual: esta licencia permite a otros distribuir, remezclar, retocar, y crear a partir de tu obra de modo no comercial, siempre y cuando te den crédito y licencien sus nuevas creaciones bajo las mismas condiciones.