Análisis y Comparación del Descriptor Cone Curvature frente al Reconocimiento de Expresiones Faciales
Analysis and Comparison of the Cone Curvature Descriptor in Facial Gesture Recognition Tasks
Julián Severiano Rodriguez Acevedo

Universidad de San Buenaventura Bogotá

Flavio Augusto Prieto Ortiz

Universidad Nacional de Colombia
Palabras clave:
Artificial vision, facial recognized, shape descriptors
(en_US)
Palabras clave:
Descriptores de forma, reconocimiento facial, Visión artificial
(es_ES)
Resumen (es_ES)
Se presenta el resultado de analizar el comportamiento del descriptor de forma Cone Curvature (CC) en la tarea de reconocimiento de expresiones faciales en imágenes 3D. El descriptor CC es una representación del modelo 3D que se calcula a partir de un conjunto de ondas de modelado para cada vértice de una malla poligonal. Se empleó la base de datos de rostros 3D (BU-3DFE), la cual contiene imágenes con 6 expresiones faciales. Con el uso del descriptor CC, las expresiones fueron reconocidas en un porcentaje promedio del 76.67% con una red neuronal, y del 78.88% con un clasificador bayesiano. Al realizar una combinación del descriptor CC con otros descriptores como DESIRE y Spherical Spin Image, se logr´o un porcentaje promedio de reconocimiento de gestos del 90.27% y del 97.2 %, usando los mismos clasificadores mencionados previamente.
Resumen (en_US)
This article presents the results of analyzing the behavior of the Cone Curvature shape
descriptor (CC) in the task of recognition of facial expressions in 3D images. The CC
descriptor is a representation of the 3D model computed from a set of waves modeling
for each vertex of a polygon mesh. The 3D Facial Expression Database (BU-3DFE) was
used, which contains images with six facial expressions. With the use of the CC descriptor,
the expressions were recognized in an average percentage of 76.67% with a neural
network, and of 78.88% with a Bayesian classifier. By combining the CC descriptor with
other descriptors such as DESIRE and Spherical Spin Image, it was achieved an average
percentage of gesture recognition of 90.27%and 97.2 %, using the mentioned classifiers.
Descargas
La descarga de datos todavía no está disponible.
Referencias
P. Ekman, W. V. Friesen, and P. Ellsworth, "How do we determine whether judgments of emotion are accurate?," in Emotion in the Human Face (P. E. V. F. Ellsworth, ed.), vol. 11 of Pergamon General Psychology Series, pp. 15 – 19, Pergamon, 1972.
M. Rosenblum, Y. Yacoob, and L. Davis, "Human emotion recognition from motion using a radial basis function network architecture," in Motion of Non-Rigid and Articulated Objects, 1994., Proceedings of the 1994 IEEE Workshop on, pp. 43–49, Nov 1994.
N. Tsapatsoulis, Y. Avrithis, and S. Kollias, "On the use of radon transform for facial expression recognition," in Proc Int Conf on Information Systems Analysis and Synthesis (ISAS), Orlando, FL, August, 1999.
J.-J. Lien, T. Kanade, J. F. Cohn, and C.-C. Li, "Subtly different facial expression recognition and expression intensity estimation," in Computer Vision and Pattern Recognition, 1998. Proceedings. 1998 IEEE Computer Society Conference on, pp. 853–859, IEEE, 1998.
I. A. Essa, T. Darrell, and A. Pentland, "Tracking facial motion," in Motion of Non-Rigid and Articulated Objects, 1994., Proceedings of the 1994 IEEE Workshop on, pp. 36–42, IEEE, 1994.
A. C. Correa, A. E. S. Jimenez, and F. A. P. Ortiz, "Reconocimiento de rostros y gestos faciales mediante un análisis de relevancia con imágenes 3d," Revista de Investigación, desarrollo e innovación, vol. 4, no. 1, 2014.
C. Conde, L. J. Rodríguez-Aragón, and E. Cabello, "Automatic 3d face feature points extraction with spin images," in Image Analysis and Recognition, pp. 317–328, Springer, 2006.
A. Ceron, A. Salazar, and F. Prieto, "Relevance analysis of 3d curvature-based shape descriptors on interest points of the face," in Image Processing Theory Tools and Applications (IPTA), 2010 2nd International Conference on, pp. 452–457, IEEE, 2010.
J. Kittler, A. Hilton, M. Hamouz, and J. Illingworth, "3d assisted face recognition: A survey of 3d imaging, modelling and recognition approachest," in Computer Vision and Pattern Recognition-Workshops, 2005. CVPR Workshops. IEEE Computer Society Conference on, pp. 114–114, IEEE, 2005.
H. Tang and T. S. Huang, "3d facial expression recognition based on properties of line segments connecting facial feature points," in Automatic Face & Gesture Recognition, 2008. FG'08. 8th IEEE International Conference on, pp. 1–6, IEEE, 2008.
J. Wang, L. Yin, X. Wei, and Y. Sun, "3d facial expression recognition based on primitive surface feature distribution," in Computer Vision and Pattern Recognition, 2006 IEEE Computer Society Conference on, vol. 2, pp. 1399–1406, IEEE, 2006.
J. S. Rodriguez A and F. Prieto, "Analyzing the relevance of shape descriptors in automated recognition of facial gestures in 3d images," in Society of Photo-Optical Instrumentation Engineers (SPIE) Conference Series, vol. 8650, International Society for Optics and Photonics, 2013.
C. Cerrada, A. Adan, J. A. Cerrada, M. Adan, and S. Salamanca, Experiences in Recognizing Free-Shaped Objects from Partial Views by Using Weighted Cone Curvatures. INTECH Open Access Publisher, 2011.
A. E. Johnson and M. Hebert, "Using spin images for efficient object recognition in cluttered 3d scenes," Pattern Analysis and Machine Intelligence, IEEE Transactions on, vol. 21, no. 5, pp. 433–449, 1999.
D. V. Vraníc and D. Saupe, "3d model retrieval," Proc. SCCG 2000, pp. 3–6, 2004.
A. Adán, C. Cerrada, and V. Feliu, "Modeling wave set: Definition and application of a new topological organization for 3d object modeling," Comput. Vis. Image Underst., vol. 79, pp. 281–307, Aug. 2000.
A. Adán, M. Adán, S. Salamanca, and P. Merchán, "Using non local features for 3d shape grouping," in Structural, Syntactic, and Statistical Pattern Recognition (N. da Vitoria Lobo, T. Kasparis, F. Roli, J. Kwok, M. Georgiopoulos, G. Anagnostopoulos, and M. Loog, eds.), vol. 5342 of Lecture Notes in Computer Science,
pp. 644–653, Springer Berlin Heidelberg, 2008.
A. Adan and M. Adan, "A flexible similarity measure for 3d shapes recognition," Pattern Analysis and Machine Intelligence, IEEE Transactions on, vol. 26, no. 11, pp. 1507–1520, 2004.
L. Yin, X. Wei, Y. Sun, J. Wang, and M. J. Rosato, "A 3d facial expression database for facial behavior research," in Automatic face and gesture recognition, 2006. FGR 2006. 7th international conference on, pp. 211–216, IEEE, 2006.
D. V. Vranic, "Desire: a composite 3d-shape descriptor," in Multimedia and Expo, 2005. ICME 2005. IEEE International Conference on, pp. 4–pp, IEEE, 2005.
P. Cignoni, M. Corsini, and G. Ranzuglia, "Meshlab: an open-source 3d mesh processing system," Ercim news, vol. 73, pp. 45–46, 2008.
Cómo citar
Rodriguez Acevedo, J. S., & Prieto Ortiz, F. A. (2015). Análisis y Comparación del Descriptor Cone Curvature frente al Reconocimiento de Expresiones Faciales. Ingeniería, 20(2), 271-285. https://doi.org/10.14483/23448393.8620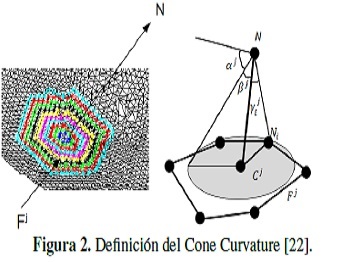 Publicado: 2015-08-31
A partir de la edición del V23N3 del año 2018 hacia adelante, se cambia la Licencia Creative Commons "Atribución—No Comercial – Sin Obra Derivada" a la siguiente:
Atribución - No Comercial – Compartir igual: esta licencia permite a otros distribuir, remezclar, retocar, y crear a partir de tu obra de modo no comercial, siempre y cuando te den crédito y licencien sus nuevas creaciones bajo las mismas condiciones.