Optimización Multiobjetivo en la Gestión de Cadenas de Suministro de Biocombustibles. Una Revisión de la Literatura
Multiobjective optimization in Biofuel Supply Chain Management. A Review of the Literature
Johan Alexander Aranda Pinilla

Universidad Distrital Francisco José de Caldas

Javier Arturo Orjuela Castro

Universidad Distrital Francisco José de Caldas
Palabras clave:
supply chain management, biofuels, multi-objective optimization
(en_US)
Palabras clave:
Gestión de la Cadena de Suministro, Biocombustibles, Optimización Multi-objetivo.
(es_ES)
Resumen (es_ES)
La producción de biocombustibles ha tenido un crecimiento constante durante los últimos años y se espera siga creciendo en el mediano y largo plazo. Este crecimiento ha sido impulsado principalmente por las ventajas ambientales que podrían traer en comparación con el combustible fósil, como reducción en las emisiones de gases efecto invernadero, balance energético positivo y desarrollo económico para los países productores. Sin embargo, a pesar de sus beneficios, existen preocupaciones por los impactos ambientales y sociales que pueden generar su producción y distribución. La teoría de la decisión multi-criterio se ha utilizado en los últimos años como marco para integrar los diferentes objetivos en la toma de decisiones en las cadenas de suministro de biocombustibles.
El propósito de este artículo es presentar una revisión de los conceptos y métodos principales de la optimización multi-objetivo, así como la aplicación de éstos en el diseño y planificación de cadenas de suministro de biocombustibles. El estudio muestra que el costo es el objetivo económico más frecuente, las emisiones de efecto invernadero son el objetivo ambiental más utilizado y el número de empleos creados es el criterio social más considerado, dejando de lado aspectos relevantes como la seguridad alimentaria.
Resumen (en_US)
Biofuel production has had constant growth in recent years and is expected it keeps
growing in the medium and long term, mainly driven by the environmental benefits they
could bring compared to fossil fuel, such as the reduction of greenhouse gas emissions,
positive energy balance and economic development for producer countries. However,
despite its benefits, there are concerns about the environmental and social impacts that its
production and distribution may generate. The multi-objective or multi-criteria decision
theory has been used in recent years as a framework for integrating the various objectives
in decision-making on biofuel supply chains. This article aims to present a review of
the main concepts and multi-objective optimization methods as well as their application
in the design and planning of biofuel supply chains. The study shows that cost is the
most frequent economic objective, greenhouse emissions are the most frequently used
environmental objective and the number of created jobs is the most considered social
criterion, leaving out important aspects such as food safety.
Descargas
La descarga de datos todavía no está disponible.
Referencias
A. Dufey, Producción y comercio de agrocombustibles y desarrollo sustentable: los grandes temas, Londres: Instituto Internacional para el Medio Ambiente y Desarrollo, 2006.
A. Demirbas, "Progress and recent trends in biodiesel fuels," Energy Conversion and Management 50, p. 14–34, 2009.
NACEPT, Strategic Framework for Biofuels Efforts, Estados Unidos: National Advisory Council for Environmental Policy and Technology, 2007.
A. Ajanovic and R. Haas, "Economic challenges for the future relevance of biofuels in transport in EU countries," Energy 35, pp. 3340 - 3348, 2010.
J. P. Arístegui, "Los agrocombustibles desde la perspectiva del comercio internacional y del derecho de la organización mundial del comercio," Revista de Derecho (Austral), vol. XXII, núm. 1, pp. 113-134, 2009.
S. Mathur and A. Kenyon, "Creating Value: Shaping Tomorrow's Business," Butterworth-Heinemann, 1997.
G. Svensson, "Gestión de la Cadena de Suministro frente a Gestión de la Cadena Sostenible," EsicMarket, 129, pp. 239-258, 2007.
A. Nikolopoulou and M. G. Ierapetritou, "Optimal design of sustainable chemical processes and supply chains: A review," Computers and Chemical Engineering 44, p. 94 – 103, 2012.
C. Cambero and T. Sowlati, "Assessment and optimization of forest biomass supply chains from economic, social and environmental perspectives – A review of literature," Renewable and Sustainable Energy Reviews, p. 62–73, 2014.
S. Liu, M. Leat and M. H. Smith, "State-of-the-art sustainability analysis methodologies for efficient decision support in green production operations," International Journal of Sustainable Engineering, pp. 236-250, 2011.
M. Ehrgott and M. M. Wiecek, "MULTIOBJECTIVE PROGRAMMING," in MULTIPLE CRITERIA DECISION ANALYSIS: STATE OF THE ART SURVEYS, Estados Unidos, Springer, 2005, pp. 667-722.
R. Marler and J. Arora, "Survey of multi-objective optimization methods for engineering," Struct Multidisc Optim 26, p. 369–395, 2004.
J. Lopez, Optimización Multiobjetivo: Aplicaciones a problemas del mundo real, Buenos Aires, Argentina: UNIVERSIDAD NACIONAL DE LA PLATA, 2013.
O. L. De Weck, "Multiobjective optimization: History and promise," in Third China-Japan-Korea Joint Symposium on Optimization of Structural and Mechanical Systems, Kanazawa, Japan, 2004.
T. Marler and J. S. Arora, "The weighted sum method for multi-objective optimization: new insights," Struct. Multidisc. Optim. 41, p. 853–862, 2010.
H. O. Alanazi, A. H. Abdullah and M. Larbani, "Dynamic Weighted Sum Multi-Criteria Decision Making: Mathematical Model," International Journal of Mathematics and Statistics Invention, pp. 16-18, 2013.
M. Ehrgott and S. Ruzika, "Improved ε-Constraint Method for Multiobjective Programming," Journal
Optim. Theory Appl. 138, p. 375–396, 2008.
C. A. Coello, "Networking and Emerging Optimization," Septiembre 2002. [Online]. Available:
http://neo.lcc.uma.es/pdf-charlas/MOEA.pdf.
Y. J. Túpac, "Universidad Católica San Pablo," 23 Noviembre 2011. [Online]. Available: http://www.ucsp.edu.pe/~ytupac/speaks/2011/UNJBG_CIIS_MOGA.pdf.
A. Messac and C. A. Mattson, " Generating Well-Distributed Sets of Pareto Points for Engineering Using Physical Programming," Optimization and Engineering Vol. 3, p. 431–450, 2002.
A. Kostin, G. Guillén-Gosálbez, F. Mele, M. Bagajewicz y L. Jiménez, «Design and planning of infrastructures for bioethanol and sugar production under demand uncertainty,» chemical engineering research and design 90, p. 359–376, 2012.
B. Gebreslassie, Y. Yao y F. You, «Design under uncertainty of hydrocarbon biorefinery supply chains: multiobjective stochastic programming models, decomposition algorithm, and a comparison between CVaR and downside risk,» AIChE Journal 58 (7), pp. 2155-2179, 2012.
Y. Huang y W. Pang, «Optimization of Resilient Biofuel Infrastructure Systems under Natural Hazards,» J. Energy Eng., 140(2), 2014.
El-Halwagi, Rosas y Ponce-Ortega, «Multiobjective Optimization of Biorefineries with Economic and Safety Objectives,» AIChE Journal Vol. 59, No. 7, pp. 2427-2434, 2013.
A. Zamboni, N. Shah y F. Bezzo, «Spatially Explicit Static Model for the Strategic Design of Future Bioethanol Production Systems,» Energy Fuels, 23 (10), p. 5134–5143, 2009.
P. Liu, M. Georgiadis y E. Pistikopoulos, «Advances in energy systems engineering,» Ind. Eng. Chem. Res. 50 (9), p. 4915–4926, 2011.
S. Giarola, A. Zamboni y F. Bezzo, «Spatially explicit multi-objective optimisation for design and planning of hybrid first and second generation biorefineries,» Computers and Chemical Engineering, Vol. 35, p. 1782– 1797, 2011.
W. Marvin, L. Schmidt, S. Benjaafar y P. Daoutidis, «Economic and environmental optimization of the biomass-to-biofuel supply chain in the midwest.,» 11AIChE Annual Meeting, Conference Proceedings., 2011.
O. Akgul, N. Shah y L. Papageorgiou, «An optimisation framework for a hybrid first/second generation bioethanol supply chain,» Computers and Chemical Engineering 42, p. 101– 114, 2012.
Čuček, Sabev, Jaromír y Kravanja, «Total footprints-based multi-criteria optimisation of regional biomass energy supply chains,» Energy. Volume 44, Issue 1, p. 135–145, 2012.
Kostin, Guillén-Gosálbez, Mele y Jiménez, «Identifying key life cycle assessment metrics in the multiobjective design of bioethanol,» I&ECR 51 (14), pp. 5282-5291, 2012.
A. Ubando, A. Culaba, K. Aviso, D. Ng y R. Tan, «Fuzzy Multi-Objective Approach for Designing of Biomass Supply Chain for Polygeneration With Triple Footprint Constraints,» ASME 2013 International Mechanical Engineering Congress and Exposition. Volume 12, 2013.
A. Bernardi, S. Giarola y F. Bezzo, «Spatially Explicit Multiobjective Optimization for the Strategic Design of First and Second Generation Biorefineries Including Carbon and Water Footprints,» Ind. Eng. Chem. Res. 52 (22), p. 7170–7180, 2013.
R. Ortiz, S. Giarola y F. Bezzo, «Optimal design of ethanol supply chains considering carbon trading effects and multiple technologies for side-product exploitation,» Environmental Technology. Vol. 34, p. 2189–2199, 2013.
D. Yue, M. Kim y F. You, «Design of Sustainable Product Systems and Supply Chains with Life Cycle Optimization Based on Functional Unit: General Modeling Framework, Mixed-Integer Nonlinear Programming Algorithms and Case Study on Hydrocarbon Biofuels,» ACS Sustainable Chem. Eng. 1 (8), p. 1003–1014, 2013.
F. Xie y Y. Huang, «Sustainable Biofuel Supply Chain Planning and Management Under Uncertainty,» Journal of the Transportation Research Board, pp. 19-27, 2013.
Z. Liu, T. Qiu y B. Chen, «A study of the LCA based biofuel supply chain multi-objective optimization model with multi-conversion paths in China,» Applied Energy 126, p. 221–234, 2014b.
J. Nixon, P. Dey, P. Davies, S. Sagi y R. Berry, «Supply chain optimisation of pyrolysis plant deployment using goal programming,» Energy 68, pp. 262-271, 2014.
Z. Liu, T. Qiu y B. Chen, «A LCA Based Biofuel Supply Chain Analysis Framework,» Chinese Journal of Chemical Engineering, 22(6), p. 669—681, 2014a.
E. Capón, G. Guillén-Gosálbez, L. Jiménez-Esteller y A. Espuña, «Designing the optimal supply chain for biodiesel production in spain,» AIChE 100 Annual Meeting, Conference Proceedings, 2008.
F. You y B. Wang, «Optimal design and operations of cellulosic biofuel supply chains under uncertainty,» 11AIChE Annual Meeting, Conference Proceedings., 2011.
F. You, L. Tao, D. Graziano y S. Snyder, «Optimal Design of Sustainable Cellulosic Biofuel Supply Chains: Multiobjective Optimization Coupled with Life Cycle Assessment and Input–Output Analysis,» AIChE Journal Vol. 58, No. 4, pp. 1157-1180, 2012.
J. Santibañez-Aguilar, J. González-Campos, J. Ponce-Ortega, M. Serna-González y M. El-Halwagi, «Optimal Multi-Objective Planning of Distributed Biorefinery Systems Involving Economic, Environmental and Social Aspects,» Computer Aided Chemical Engineering. Volume 31, p. 470–474, 2012.
L. Turcksin, C. Macharis, K. Lebeau, L. Gorissen y P. L. , «A multi-actor multi-criteria framework to assess the stakeholder support for different biofuel options: The case of Belgium,» Energy Policy 39, p. 200–214, 2011.
A. Halog y Y. Manik, «Advancing Integrated Systems Modelling Framework for Life Cycle Sustainability Assessment,» Sustainability 3 , pp. 469-499, 2011.
S. Zhou, Y. Zhang y X. Bao, «Methodology of Location Selection for Biofuel Refinery Based on Fuzzy TOPSIS,» International Conference on Automation and Logistics - Zhengzhou, China, 2012.
F. Madugu y M. Collu, «Techno-economic modelling analysis of microalgae cultivation for biofuels and co-products,» WIT Transactions on Ecology and the Environment. Volume 190, pp. 1091-1102, 2014.
M. Barón, I. Huertas and J. Orjuela, "Gestión de la cadena de abastecimiento del biodiésel: una revisión de la literatura," Ingeniería, Vol. 18, Num. 1, pp. 84-117, 2013.
FAO, The state of food security in the world 2008. High food prices and food security: Threats and opportunities, Roma: FAO, 2008.
C. CUE, Evaluación del ciclo de vida de la cadena de producción de biocombustibles en Colombia, Medellín, Colombia: Ministerio de Minas y Energía, 2012.
Cómo citar
Aranda Pinilla, J. A., & Orjuela Castro, J. A. (2015). Optimización Multiobjetivo en la Gestión de Cadenas de Suministro de Biocombustibles. Una Revisión de la Literatura. Ingeniería, 20(1), 37-63. https://doi.org/10.14483/udistrital.jour.reving.2015.1.a03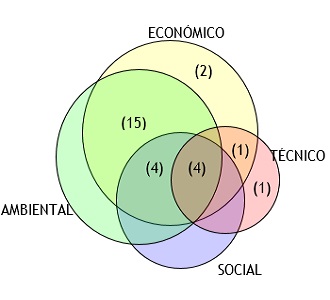 Publicado: 2015-03-12
A partir de la edición del V23N3 del año 2018 hacia adelante, se cambia la Licencia Creative Commons "Atribución—No Comercial – Sin Obra Derivada" a la siguiente:
Atribución - No Comercial – Compartir igual: esta licencia permite a otros distribuir, remezclar, retocar, y crear a partir de tu obra de modo no comercial, siempre y cuando te den crédito y licencien sus nuevas creaciones bajo las mismas condiciones.