Arquitectura FPGA para Simulación de Aprovisionamiento de Alimentos en Colonias de Hormigas Artificiales
A FPGA Architecture for Foraging Behavior in Simulation and Colonies
Cristian David Rodríguez Rodríguez

Universidad Distrital Francisco José de Caldas

Miguel Alberto Melgarejo Rey

Universidad Distrital Francisco José de Caldas
Palabras clave:
ants, biological systems, colony, FPGA, processor
(en_US)
Palabras clave:
hormigas, colonia, sistemas biológicos, FPGA
(es_ES)
Resumen (es_ES)
Este artículo presenta algunos resultados en relación con el diseño y la implementación de una arquitectura que soporta una plataforma experimental para simular el proceso de alimentación de las colonias de hormigas. Los algoritmos Ant-system  y Ant-Cycle modelan el comportamiento de las hormigas. La plataforma permite cambiar parámetros como la cantidad y la velocidad de las hormigas, la cantidad y ubicación de los alimentos y el radio y la frecuencia de difusión de la feromona de las hormigas. Estos parámetros se visualizan a través de una interfaz  VGA. La implementación de hardware se lleva a cabo sobre tecnología FPGA de Xilinx©. La teoría detrás de este diseño considera que los comportamientos complejos pueden surgir de sistemas con una estructura simple . Este trabajo se enfrenta a la pregunta acerca de la complejidad global emergente de un sistema cuya complejidad estructural es mínima o inexistente.
Resumen (en_US)
This paper presents some results regarding the desing and implementation of an architecture that supports an experimental platform for simulating the foraging process of ant colonies. Both the Ant-System and the Ant-Cycle algorithms model the behavior of ants. The platform allows to change parameters like the quantity and speed of ants, the amount and location of food and the ratio and difussion frequency of ant pheromone. These parameters are visualized through a VGA interface. The hardware implementation is carried out over FPGA Xilinx© technology. Theory behind this design considers that complex behaviors can emerge from systems with simple structure. This work confronts the question about global complexity emerging from a system whose structural complexity is minimal or inexistent.
Descargas
La descarga de datos todavía no está disponible.
Referencias
Patricia J. Folgarait, Alejandro G. Farji-brener, Un mundo de hormigas. 1ª edición, Buenos Aires, Argentina, 2005, 15-18.
M. Dorigo, Marco Birattari and Thomas Stutzle. University Libre Bruxelles, Belgium, "Ant Colony Optimization, Artificial Ants as a Computational Intelligence Technique", IEEE Computational Intelligence Magazine, Vol. 1, No.4, November 2006.
Das, S. , Vaze, S. , Singh, G. , Buehler, E.. University Libre Bruxelles, Belgium, "Ant Colony Optimization, Artificial Ants as a Computational Intelligence Technique", IEEE Computational Intelligence Magazine, Vol. 1, No.4, Noviembre 2006. Páginas 28 – 39.
M. Dorigo. Optimization, Learning and Natural Algorithms. PhD thesis, Dipartimento di Elettronica, Politecnico di Milano, Milan, 1992.
Xiang-yang Deng, Wen-long Yu, Li-min Zhang. A new ant colony optimization with global exploring capability and rapid convergence.
Intelligent Control and Automation (WCICA), 2012 10th World Congress on. IEEE. Julio 2012. Páginas 2055 – 2057.
Markid, H.Y.; Dadaneh, B.Z.; Moghaddam, M.E.. Bidirectional ant colony optimization for feature selection. Artificial Intelligence and Signal Processing (AISP), 2015 International Symposium on. IEEE. Marzo 2015. Páginas 53 – 58.
Shih-An Li; Min-Hao Yang; Chung-Wei Weng; Yi-Hong Chen; Chia-Hung Lo; Ching-Chang Wong. Ant colony optimization algorithm design and its FPGA implementation. Intelligent Signal Processing and Communications Systems (ISPACS), 2012 International Symposium on. IEEE. Noviembre 2012. Páginas 262 – 265.
Huang, Hsu-Chih. A Taguchi-Based Heterogeneous Parallel Metaheuristic ACO-PSO and Its FPGA Realization to Optimal Polar-Space Locomotion Control of Four-Wheeled Redundant Mobile Robots. Industrial Informatics, IEEE Transactions on. 2015. Páginas 1 - 8.
Clive Max Maxfield, FPGAs: Instant Access. Elsevier, 2008, 1-12.
Wilensky, U. (1999). NetLogo. http://ccl.northwestern.edu/netlogo/. Center for Connected Learning and Computer-Based Modeling, Northwestern University, Evanston, IL.
Chia-Feng Juang, Chi-Wei Hung, Chia-Hung Hsu. Rule-Based Cooperative Continuous Ant Colony Optimization to Improve the Accuracy of Fuzzy System Design. Fuzzy Systems. IEEE Transactions on. IEEE. Agosto 2014. Volumen: 22, Edición 4. Páginas: 723 – 735.
Wongwirat, O., Anuntachai A., Searching energy-efficient route for mobile robot with ant algorithm. Control, Automation and Systems (ICCAS), 2011 11th International Conference on. IEEE. Agosto 2011. Páginas: 1071 – 1075.
Du Xiang-run, Zhang Jian-long, Feng Min-quan. Water supply route optimization for reservoir emergency based on improved ant colony algorithm. Control and Decision Conference (2014 CCDC), The 26th Chinese. IEEE. Junio 2014. Páginas: 1354 – 1359.
Sales, D.O., Dias, M.A., Osorio, F.S., Grid Ant Colony Optimization Applied to a Multi-robotic Garbage Collection System. Robotics: SBR-LARS Robotics Symposium and Robocontrol (SBR LARS Robocontrol), Joint Conference on. IEEE. Octubre 2014. Páginas: 187 - 192.
Xing Wei, Zhiyuan Li, Jingjing Qu. Research on parameters optimization and simulation of the Ant Colony Algorithm. Cyberspace Technology (CCT 2014), International Conference on. IEEE. 2014. Páginas: 1 – 4.
S. Brown, Fundamentos de lógica digital con diseño VHDL, 2ª edición, McGraw Gil, Ciudad de México, México, 2006, Cap 10, sec 10.2.
Jinbiao Wang; Kaichi Wang. Union-Intersection Ant System. Theories and Applications (BIC-TA), 2010 IEEE Fifth International Conference on. IEEE. Septiembre 2010.Páginas: 364 – 371.
M. Dorigo, V. Maniezzo, and A. Colorni. Ant system: Optimization by a colony of cooperating agents. IEEE Transactions on Systems, Man, and Cybernetics – Part B, 26(1):29–41, 1996.
J.-L. Deneubourg, S. Aron, S. Goss, and J. M. Pasteels. The self-organizing exploratory pattern of the argentine ant. Journal of Insect Behavior, 3(2):159–168, 1990.
Rojas Galeano Sergio A. Optimización de rutas mediante computación bioinspirada, un paralelo entre hormigas artificiales y algoritmos genéticos. Revista de Ingeniería Universidad Distrital Francisco José de Caldas. Vol. 7, Núm. 14 (2004). Páginas: 97 – 104.
.
Cómo citar
Rodríguez Rodríguez, C. D., & Melgarejo Rey, M. A. (2015). Arquitectura FPGA para Simulación de Aprovisionamiento de Alimentos en Colonias de Hormigas Artificiales. Ingeniería, 20(2), 255-270. https://doi.org/10.14483/23448393.8619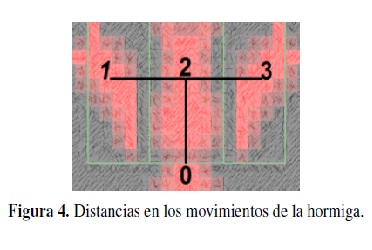 Publicado: 2015-08-31
A partir de la edición del V23N3 del año 2018 hacia adelante, se cambia la Licencia Creative Commons "Atribución—No Comercial – Sin Obra Derivada" a la siguiente:
Atribución - No Comercial – Compartir igual: esta licencia permite a otros distribuir, remezclar, retocar, y crear a partir de tu obra de modo no comercial, siempre y cuando te den crédito y licencien sus nuevas creaciones bajo las mismas condiciones.