Algoritmo de Dimensionamiento de Almacenes para Obras de Edificación del Sector de la Construcción
Warehouse sizing algorithm for edification works of construc-tion sector
Andres Mauricio Hualpa Zuñiga

Universidad Cooperativa de Colombia

Cesar Amílcar López Bello

Universidad Distrital Francisco José de Caldas
Keywords:
Algorithm, warehouse, sizing, load unit
(en_US)
Keywords:
Algoritmo, Almacén, Dimensionamiento, Unidad de carga
(es_ES)
Abstract (es_ES)
Este artículo contiene el desarrollo de un algoritmo aplicado a la solución de problemas de dimensionamiento de espacios en el almacenamiento en empresas del sector de la construcción. El problema se justifica debido al grado de informalidad que se presenta al momento de asignar áreas de almacenamiento, sin considerar parámetros relacionados con las etapas de construcción, las características del producto y las disposiciones de área en la obra. En un estudio previo se identifica que el grado de informalidad, al momento de asignar áreas de almacenamiento, genera bajos índices de utilización de la capacidad y la entrega de pedidos de manera incompleta.
El diseño del algoritmo se sustenta en un modelo integral de dimensionamiento sujeto a un sistema de ecuaciones con variables de cantidad, volumen y dimensiones de material, para establecer finalmente el área necesaria del almacén. El algoritmo es adaptado a lenguaje de programación con el objeto de presentar los resultados en lenguaje gráfico, en donde sea visible el dimensionamiento de espacios de almacenamiento. Estos resultados son validados mediante la evaluación de la utilización de la capacidad de almacenamiento y pedidos completamente entregados para diferentes unidades de carga, demostrando mejoras en estos indicadores.
Abstract (en_US)
This article contains the development of an algorithm applied to the solution of problems of sizing of storage spaces in companies in the construction sector. This problem is justified under the degree of informality that occurs at the time of assigning storage areas, without considering parameters related to stages of construction, the characteristics of the product and the provisions of the work area. In a previous study it is identified that the degree of informality at the moment of assigning storage areas, generates poor rates of capacity utilization and delivery of incomplete orders.
The design of the algorithm is supported by a comprehensive model of sizing subjected to a system of equations with variables of quantity, volume and material dimensions, to finally establish the necessary storage area. The algorithm is adapted to programming language in order to present the results in graphic language where the sizing of storage spaces is visible. These results are validated through the evaluation of storage capacity utilization and completely delivered orders for different cargo units, where improvements in these indicators are shown.
Downloads
Download data is not yet available.
References
DANE. Comunicado de prensa. 19 de Junio de 2014, Disponible en:
http://www.dane.gov.co/files/investigaciones/boletines/pib/bol_PIB_Itrime14.pdf
Santiago, Manrique. (2010) Identificación de los principales problemas en la logística de abastecimiento de las empresas constructoras Bogotanas y propuestas de mejoras, Consultado 15 de Mayo de 2014, disponible en:
http://javeriana.edu.co/biblos/tesis/economia/tesis189.pdf
Andrés Hualpa, Carolina Suarez (2013) Ubicación y dimensionamiento como parámetros en el diseño de almacenes: revisión del estado del arte, Revista de Ingeniería, Volumen 18-1, (ISSN 0121-750X) 65-83
Jinxiang Gu, Marc Goetschalckx, Leon F. McGinnis, (2007) Research on warehouse operation: A comprehensive review, European Journal of Operational Research, Volume 177, Issue 1, (ISSN 0377-2217) 1-21
M.S. Hung, John C. Fisk, (1984) Economic sizing of warehouses: A linear programming approach, Computers & Operations Research, Volume 11, Issue 1, (ISSN 0305-0548) 13-18.
Charles J. Malmborg, Swaminathan Balachandran, Daniel M. Kyle, (1986) A model based evaluation of a commonly used rule of thumb for warehouse layout, Applied Mathematical Modelling, Volume 10, Issue 2, (ISSN 0307-904X) 133-139
Kumar Bhaskaran, Charles J. Malmborg, (1990) Economic tradeoffs in sizing warehouse reserve storage area, Applied Mathematical Modelling, Volume 14, Issue 7, (ISSN 0307-904X) 381-385
Charles J. Malmborg, Krishnakumar Bhaskaran, (1990) A revised proof of optimality for the cube-per-order index rule for stored item location, Applied Mathematical Modelling, Volume 14, Issue 2, (ISSN 0307-904X) 87-95.
O. Hounkonnou, (1990) Modelling and simulation of an automated warehouse in activity, Mathematical and Computer Modelling, Volume 14, (ISSN 0895-7177) 1100-1102.
Gilles Cormier, Eldon A. Gunn, (1992) A review of warehouse models, European Journal of Operational Research, Volume 58, Issue 1, (ISSN 0377-2217) 3-13
Charles J. Malmborg, (1996) An integrated storage system evaluation model, Applied Mathematical Modelling, Volume 20, Issue 5, (ISSN 0307-904X) 359-370.
A.K. Rao, M.R. Rao, (1998) Solution procedures for sizing of warehouses, European Journal of Operational Research, Volume 108, Issue 1, (ISSN 0377-2217) , 16-25
René de Koster, Tho Le-Duc, Kees Jan Roodbergen, (2007) Design and control of warehouse order picking: A literature review, European Journal of Operational Research, Volume 182, Issue 2, (ISSN 0377-2217) 481-501.
Semih Önüt, Umut R. Tuzkaya, Bilgehan Doğaç, (2008) A particle swarm optimization algorithm for the multiple-level warehouse layout design problem, Computers & Industrial Engineering, Volume 54, Issue 4, (ISSN 0360-8352) 783-799.
Venkata Reddy Muppani (Muppant), Gajendra Kumar Adil, (2008) A branch and bound algorithm for class based storage location assignment, European Journal of Operational Research, Volume 189, Issue 2, (ISSN 0377-2217) 492-507.
Lu Chen, André Langevin, Diane Riopel, (2011) A tabu search algorithm for the relocation problem in a warehousing system, International Journal of Production Economics, Volume 129, Issue 1, (ISSN 0925-5273) 147-156.
F. Guerriero, R. Musmanno, O. Pisacane, F. Rende, (2012) A mathematical model for the Multi-Levels Product Allocation Problem in a warehouse with compatibility constraints, Applied Mathematical Modelling, (ISSN 0307-904X)
Felix T.S. Chan, H.K. Chan, (2011) Improving the productivity of order picking of a manual-pick and multi-level rack distribution warehouse through the implementation of class-based storage, Expert Systems with Applications, Volume 38, Issue 3, (ISSN 0957-4174) 2686-2700
Klaus Moeller, (2011) Increasing warehouse order picking performance by sequence optimization, Procedia - Social and Behavioral Sciences, Volume 20, (ISSN 1877-0428) 177-185.
Luis, Joyanes, Concepción Fernandez y Ignacio, Zahonero. (2005) Programación en C: Metodología, algoritmos y estructura de datos. Mc Graw Hill. Ed 2.
Instituto de Desarrollo Urbano, (2008) Procedimiento para el almacenamiento de materiales en campamentos, centros de acopio y frentes de obra, Disponible en: http://webidu.idu.gov.co:9090/jspui/bitstream/123456789/32643/23/60014765-12.pdf
Gianpaolo Ghiani, Gilbert, Laporte y Roberto, Musmanno. (2004) Introduction to logistics systems: Planning and control. Editorial John Wiley & Sons. 193-199
How to Cite
Hualpa Zuñiga, A. M., & López Bello, C. A. (2015). Warehouse sizing algorithm for edification works of construc-tion sector. Ingeniería, 20(2), 189-208. https://doi.org/10.14483/23448393.8381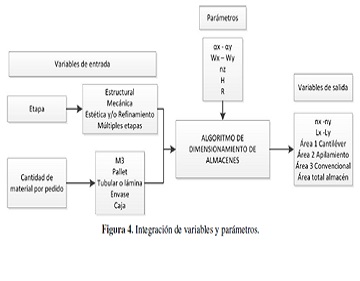 Published: 2015-08-10
From the edition of the V23N3 of year 2018 forward, the Creative Commons License "Attribution-Non-Commercial - No Derivative Works " is changed to the following:
Attribution - Non-Commercial - Share the same: this license allows others to distribute, remix, retouch, and create from your work in a non-commercial way, as long as they give you credit and license their new creations under the same conditions.